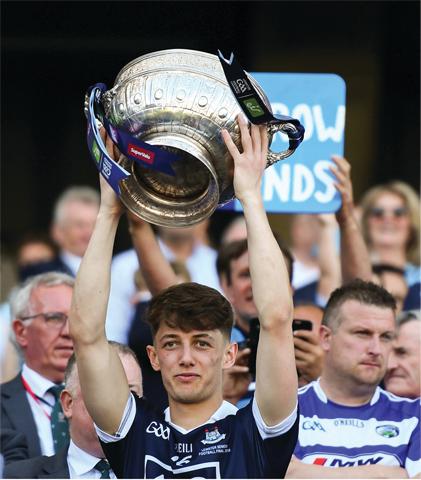 DCU's Evan Comerford success with Dublin Senior Football
Comerford was the second-choice goalkeeper, with legendary footballer and former DCU student Stephen Cluxton starting ahead of him and Comerford revealed that Cluxton was the goalkeeper he always looked up to when growing up. "Funnily enough the goalkeeper I would have looked up to, as I was growing up would have been Stephen."In 2011 I was only young and I wasn't playing for Dublin at all and I suppose his point that year and his performances that year really stuck with me and gave me a bit of inspiration for the next few years to really push on and try to get up to his level. "Will I ever get there or not? I don't know, but it's nice to have a target and to have someone as good as Stephen to bounce off and someone to push after. I really consider myself very lucky to be in the position that I'm in," Comerford said.
Comerford made his Championship debut for Dublin against Longford in the 2018 Leinster Championship semi-final. He also played against Laois in that year's Leinster final and against Tyrone this year in the All-Ireland quarter-final round robin series.The DCU footballer admitted he was lucky to get a chance to make his debut when Cluxton went off injured against Longford. "I was very lucky last year against Longford in the sense that Stephen got injured and I was brought in, in a Championship game. "That was tough at the time because I was nearly caught on my heels a bit, but I suppose it was a great learning curve in the sense that I knew exactly what the process was going to be the next day if Stephen got injured again. "I think during the weeks leading up to an All-Ireland final you just have to prepare as if you're going to be playing and I think that goes from number 1-30 on the squad. It's important to hold yourself to the same standards whether you're not going to be playing or whether you are. "When Cluxton went down and I got the shout from the side-line, you do kind of get a bit of a rush of adrenaline. There are nerves there as well. You probably wouldn't be in a good position if you weren't nervous. "When you get down to the side-line it's just about taking your breath, refocusing myself and just going in to play the game of football. At the end of the day it was just like going into any training session, any club game, any game I've played before. "I knew I had the guys out there looking for kick-outs helping me out as much as they could. Once I got into the game and got my first kick-out out of the way it was grand," he said. DCU Sigerson Cup manager Paddy Christie has been an influential figure in Comerford's career to date and he is delighted to be playing college football under the guidance of Christie. "Paddy's had a huge influence in my career. When I think about it it's funny because he probably gave me my chance with Ballymun Kickhams in the sense that he gave me a game with the older team who went onto to win a Minor Championship and an U-21 Championship with. "It's kind of come full circle in that he's managing DCU now. Being able to go down to DCU and have that Ballymun connection there makes it all that more special. I would owe Paddy quite a huge amount and I think there's probably 10 or 12 lads from Ballymun who'd say the exact same thing," Comerford said.
Comerford's club Ballymun Kickhams were knocked out of the Dublin Championship last week following a loss to Na Fianna, so his focus now turns to playing football with DCU."It was disappointing with the club but there's no point in getting to caught up with it now. I look forward to a good league campaign with DCU. We'll try and get some lads who were freshers last year integrated and just try and enjoy a good campaign with DCU. "When I've been playing freshers and Sigerson football the last two years, it has been great. The big thing for me is you're playing with great guys the same age as yourself who are probably in and around county panels like myself. "Club football finishes and you're waiting for county football to start up. College football bridges that gap nicely. It allows you to keep chipping away at a good standard. "They're probably not the nicest conditions in terms of the winter weather and winter football but I suppose the best thing about it is it keeps you sharp in that winter period. I have to say it's a great experience," the DCU goalkeeper said.