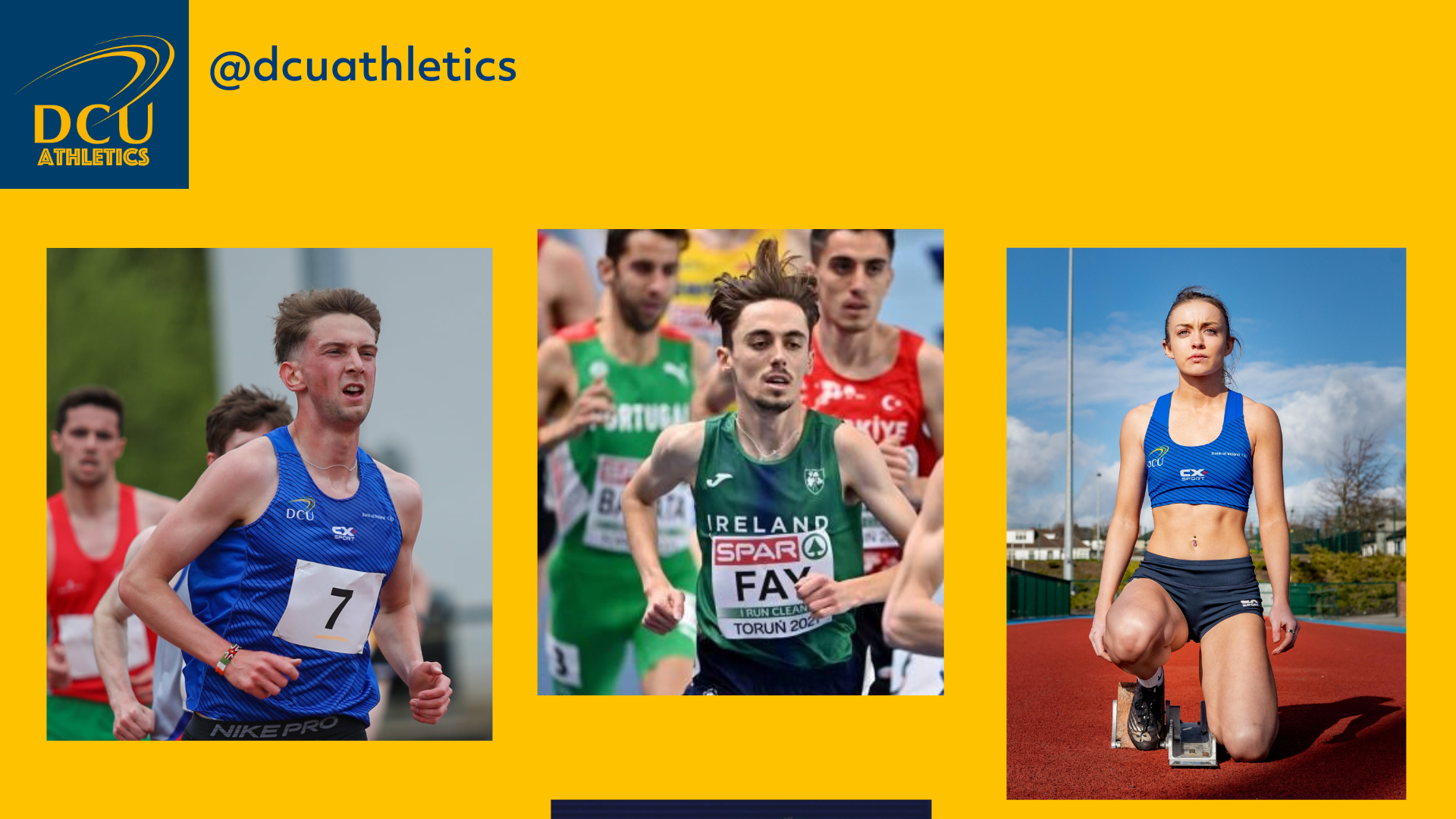 DCU Athletics May Roundup
DCU Athletics Round-up 05/06/2021
by DCU AC PRO Rory Cassidy 
DCU AC athletes have been in exceptional early season form in the last couple of weeks with PB's tumbling as races return at home and abroad. Here's a quick round-up of all the action. There will be more round-ups in the weeks to come as the track season continues at pace!
Belfast IMC
An incredible 20+ athletes travelled to Belfast on Saturday May 29th for the annual Irish Milers Club meet at Mary Peter's Track with high hopes of delivering strong performances given the excellent weather and lack of races in the last year. They certainly didn't disappoint.
The Men's 400m saw three DCU athletes involved in the A and B races. In the A race Cillin Greene and Jack Raftery were in action, both running new PB's. Cillin took the win, ahead of fellow Galway City Harrier, Robert McDonnell, in a time of 46.45s. Jack was 3rd clocking 47.27s and getting a B Standard for the European U23s as a result.  Both performances are cracking season openers. Club Chairman, Shane Monagle made his debut over the distance in the B race and was a comfortable winner. His time of 47.77s would have put him 4th in the A race.
Sophie Becker moved to 5th on the Irish all-time list over 400m with an insane run and new PB of 52.32s in the Women's A race. Sophie finished 2nd to Phil Healy who also ran a PB in what was one of the races of the day. Sophie will now look to build on that performance and continue to gain valuable ranking points which could see her qualify for the Olympics in Tokyo. A big ask but fingers crossed. Caoimhe Rowe ran in the Women's 400m B Race running a time of 62.62s.
Also in action in the sprints were Charles Okafor and Aoife Lynch. Charles finished 7th in the Men's 100m A race (11.10s) while Aoife who has made an excellent start to her season as part of the Irish 4x200m Women's relay team finished 3rd in the 200m A race in a time of 24.40s.
Plenty of DCU athletes were also in action in the hotly contested middle distance races. The Men's 800m A race was one of the races of the day, with Harry Purcell and John Fitzsimmons (Kildare AC) only being separated by a photo finish. For the second week in a row Purcell ran a new PB, this time running 1.46.53. In the B race Eoin Quinn ran a European U20 B Standard, finishing 2nd in a new PB of 1.50.45.
Ciara Deely and Zoe Carruthers raced in the Women's 800m A and B races, respectively. The A race saw British athlete Alexandra Bell securing an automatic qualifier for the Tokyo Olympics running 1.58.52. Ciara had a strong performance bagging herself a new PB of 2.10.29. Zoe finished 3rd in a the very competitive B race also clocking a new PB of 2.12.95.
Cormac Dalton who has already ran PB's over 10,000m and 5,000m this season stepped down to run in the 1500m A race. There's no stopping Dalton at the moment who finished 2nd behind Darragh McElhinney in a new PB of 3.46.50. Garry Campbell also ran in the race, finishing 5th in 3.48.33. Andrew McKenna was 2nd in the D race in a PB of 4.06.80.
Avril Deegan and Alex Murphy ran in the Women's 1500m races. Avril had a solid run in the A race running 4.31.58, while Alex ran in the B race securing a new PB of 4.44.44 to finish 6th.
Daniel Stone and Euan Lagan were in action over 5000m. Daniel ran in the B race running 15.07.02 to finish 7th, while Euan ran a new PB of 15.41.42 in the C race to finish in 6th. Aoife O'Cuill and Claire Fagan ran in the Women's 5000m. In her second race over the distance on the track, Aoife finished 2nd taking over ten seconds off her previous PB from a couple of weeks before, running 16.41.11. Claire came home in 3rd after a great battle with Aoife clocking 16.49.10 which is only a few seconds outside her PB and SB.
Next Generation Meet – Nijmegen, The Netherlands
Also on May 29th, Andrew Coscoran travelled to The Netherlands for the Next Generation Meet. He raced in the 1500m and moved to 11th on the Irish all-time list, with a new PB of 3.36.05. That performance moves Andrew back into a quota place for Olympics qualification.
World Continental Tour – Samorin, Slovakia and Golden Spike Meet – Ostrava, Czech Republic
Nadia Power continued her season racing in the 800m on Wednesday evening in Slovakia at the World Continental Tour event. Power ran a time of 2.02.02 and is now off to Finland for her next race in what will be a busy few weeks.
Power also raced in the Golden Spike event in Ostrava, Czech Republic on the 19th of May where she finished 6th in 2:02.72.
European Paralympic Athletics Championships – Poland
Former DCU AC athlete Greta Streimikyte took gold in Women's T13 1500m at the European Paralympic Athletics Championships on Tuesday night. Streimikyte ran a time of 4.39.28, just outside the PB she set a couple of weeks before although the conditions during her race were unideal. Greta will now be looking ahead to the Tokyo Paralympics later this year where she will be looking to medal once again. Congratulations Greta from all at DCU AC!
Manchester Invitational Meet
Brian Fay moved to 4th on the Irish all-time list over the barriers in the 3000m Steeplechase. Fay ran a new PB of 8:33.93 on Thursday the 27th of May. Fay went onto smash this time once again to go 3rd on the Irish All time List with a time of 8:29.75 in Tatabánya, Hungary on 5th June.  
City of Lisburn AC Meet – Belfast
Harry Purcell and Andrew Coscoran both ran 800m PB's at this meet, to move into the top 20 Irish of all-time over the distance. Purcell would go onto run another PB the following week as previously mentioned, while Coscoran ran 1.46.91. Brian Fay was just outside his PB running 1:51.44.
European Throwing Cup – Split, Croatia
Michaela Walsh finished 5th in the Shot Put at the European Throwing Cup in early May in Croatia. Walsh threw an impressive 15.06m.
T-Meeting – Tilburg, The Netherlands
Aoife Lynch travelled to the Netherlands recently to take part in the T-Meeting. Aoife equalled her 100m PB of 11.91 and followed that performance up with her 2nd fastest 200m ever, 24.23s.
Athletics Ireland Micro-Meet – Cork
Several DCU athletes competed in a special micro-meet in CIT, Cork on May 15th. Cormac Dalton qualified for the European 10,000m Cup running a PB of 29:19.75. A great 10,000m track debut! Aoife O'Cuill ran inside the standard for the European U23 Championships in the 10,000m clocking 34:41.36. Club PRO Mark Smyth ran a new 100m PB of 10.58s (+0.6). Matthew Callinan-Keenan was in action in the Pole Vault with a best of 4.25m, while fellow field events athletes, club PRO Kim O'Hare and Grace Furlong jumped 4.82m and 5.62m respectively in the Long Jump.
Day of 5000m races – Belfast
Cormac Dalton, Aoife O'Cuill and Claire Fagan all ran PB's in Belfast at the start of May. Dalton ran under 14 minutes for the first time (13.59.04), running a massive 47 second PB. Claire ran a PB of 16.43 and Aoife ran 16.53 in her debut over the distance. As highlighted earlier Aoife's PB now stands at 16.41!