Centre for Assessment Research, Policy and Practice in Education (CARPE)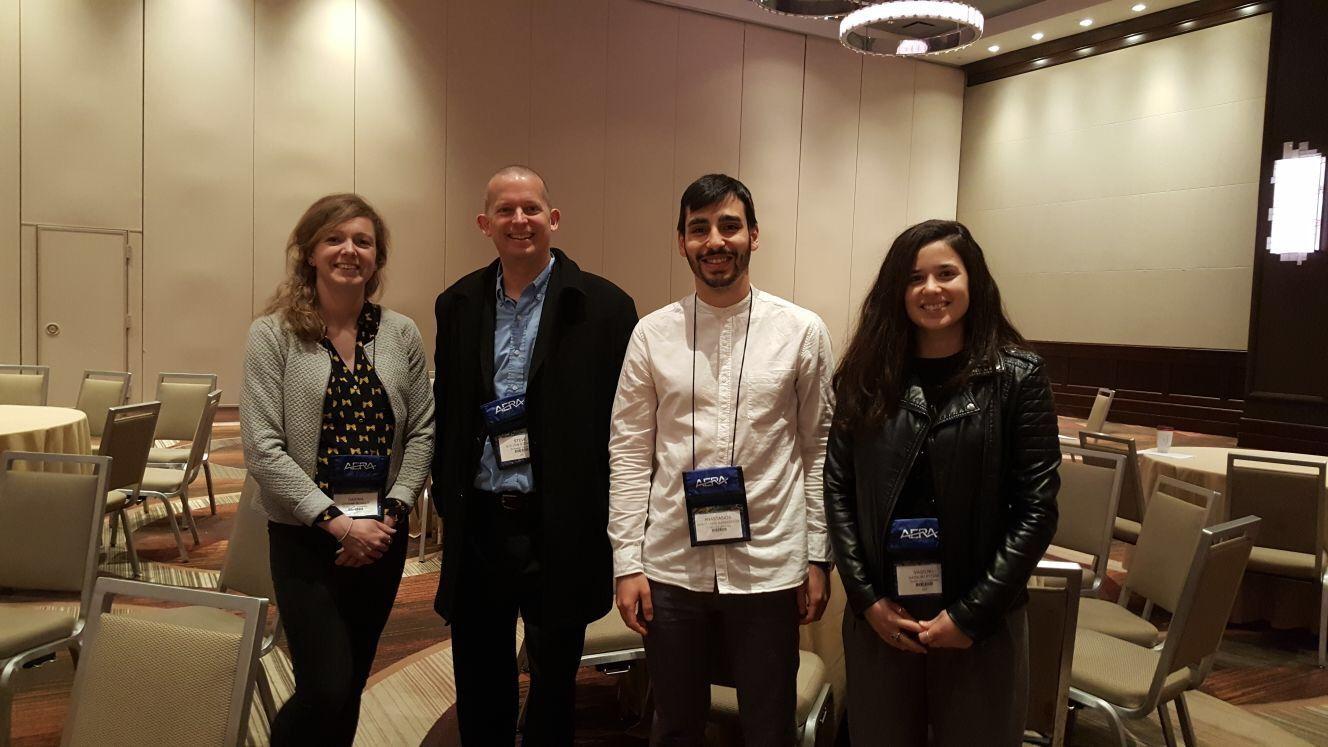 Below Image
AERA 2018
In April 2018, CARPE staff (Dr. Darina Scully) and students (Anastasios Karakolidis and Vasiliki Pitsia) travelled to New York to attend the American Educational Research Association (AERA) Annual Meeting. At the meeting, Darina, Anastasios and Vasiliki presented a paper titled "A Cross Cultural Study of High School Teachers' Tacit Knowledge of Interpersonal Skills" – a recent collaboration between CARPE and Prof. Steven Stemler (Wesleyan University). The presentation formed part of the roundtable session "Critical Teacher Studies: Rethinking Space, Language and Relationships" and was well attended - despite being scheduled in the afternoon on the final day of the conference! Other interesting papers at the session included an exploration of a professional development programme whereby elementary science teachers were encouraged to deliver instructional units as "coherent storylines" as part of efforts to align teaching with Next Generation Science Standards and encourage stuent agency. This was delivered by Jarod Kawasaki (University of California).
CARPE representatives also had the opportunity to participate in extended professional development courses held on site prior to the conference. Darina attended Analysing Data from International Large-Scale Assessments using R directed by Emmanuel Sikali from the U.S. Department of Education, Anastasios attended Introduction to Systematic Review and Meta-Analysis by Amy Dent (University of California) and Vasiliki attended Creative Strategies for Mixing Qualitative and Quantitative Approaches in Mixed Methods Research, delivered by Elizabeth Creamer (Virginia Polytechnic Institute and State University). Some take-aways from the conference and the courses were:
1. Assessment for Learning (AfL), an emerging concept in the field of education in recent years, is now also beginning to influence professional assessment practices – most notably in the context of maintenance of certification. There is a growing awareness of the need to consider ongoing, longitudinal assessment focused on practical and realistic applications of knowledge as an alternative or complement to standalone, secure knowledge-based exams.
2. Qualitative and quantitative research methods can be combined in a variety of creative ways, and importantly - a project does not have to be a mixed methods project from birth. Integration of the two paradigms can happen at various stages (e.g. analysis) and qualitative and quantitative findings can be presented simultaneously in a single graph.
3. Across the entire field of educational research, there is an increasing emphasis on the need for open access research outputs and databases.
Course participation, travel to and attendance at the conference were all facilitated by funding from the 2017 IoE Research Budget. This was a fantastic opportunity for CARPE to be represented at this prestigious meeting and to develop research capacity within the centre.