Centre for Assessment Research, Policy and Practice in Education (CARPE)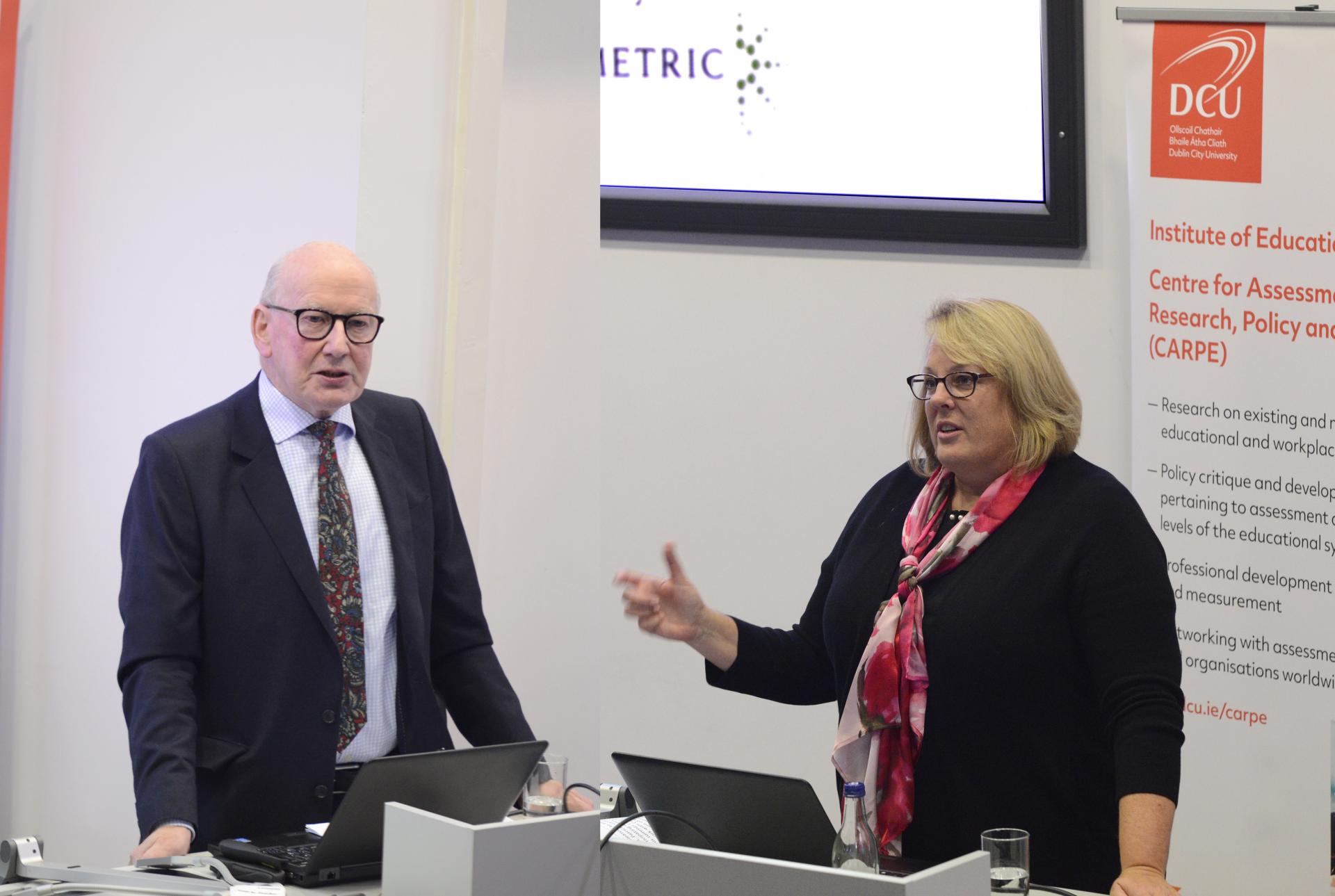 Below Image
Annual CARPE Lecture: The Assessment and Measurement of Non-Cognitive Factors
On Monday, 22nd October 2018, CARPE hosted its third annual public lecture. This year's topic was the assessment and measurement of non-cognitive factors affecting performance in education and workplace, and we were pleased to host two accomplished scholars - Mark Morgan (Cregan Professor Emeritus, DCU) and Lisa Abrams (Associate Professor, Virginia Commonwealth University) - to jointly deliver the lecture.
Drawing on his deep knowledge of education and social psychology, Mark provided the audience with an overview of non-cognitive factors (NCFs), explaining that this term refers to a very broad mix of attributes and skills, including motivation, self-regulation, self-efficacy, emotional intelligence and various personality characteristics such as openness, conscientiousness and extraversion. He explained how, despite the fact that NCFs have been shown to be important predictors of educational achievement, they typically receive much less attention than intellectual factors such as IQ and cognitive ability. Providing compelling examples of their importance in various professional domains (e.g. teaching, nursing and business), Mark argued that the development of children's and young people's NCFs deserves much more attention - particularly in the context of educational disadvantage.
Following on from this, Lisa drew attention to the various challenges and complexities associated with the measurement of NCFs. These include the fact that NCFs are typically non-observable, context-dependent, and inter-related in complex ways. She highlighted the limitations of the classic self-report questionnaire, and discussed some emerging opportunities for measurement including diary methods, performance tasks, situational judgement tests (SJTs) and software analytics (e.g. eye-tracking and reaction time data).
The audience offered some thoughtful comments and questions, such as whether NCFs should be understood from an individualistic or a relational lens, and the fact that, as NCFs are uniquely 'human', they are likely to become more important in the coming years as the influence of artificial intelligence increases in the professional sphere. President Brian MacCriath also highlighted the centrality of non-cognitive factors in DCU's graduate attributes, and commented on some of the challenges associated with fostering their development.
The assessment of 'hard-to-measure' constructs is a key theme of CARPE's research agenda. Indeed, many of our ongoing projects are focused specifically on the measurement of NCFs, including our review of the use of learning portfolios to foster and measure university students' self-regulation and lifelong learning, and Anastasios Karakolidis' doctoral project investigating the use of animated SJTs to enhance the measurement of teachers' interpersonal skills .
The team at CARPE are extremely grateful to Billy Kelly (Vice President for Academic Affairs) who delivered the opening address, to both Mark and Lisa for all their work in preparing this engaging lecture, to Elaine MacDonald (Head of the School of Policy & Practice) who provided an insightful response to some of the issues raised by the speakers, to Paul Murphy, who captured the photographs and video on the day, and of course, to all those who attended the event.