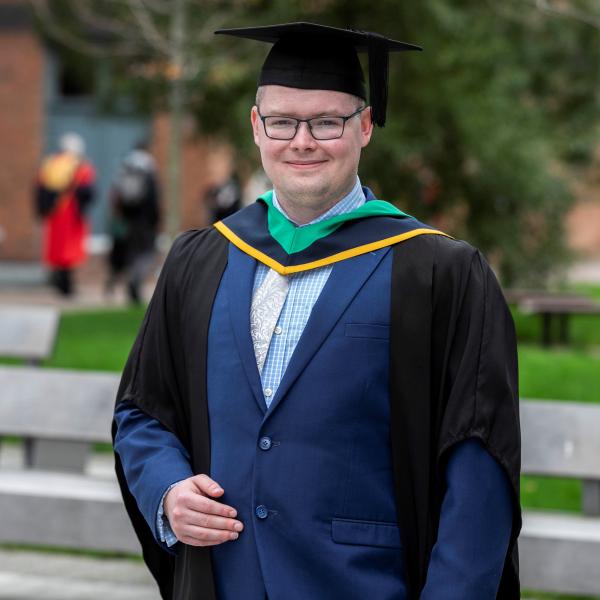 Conor Archbold
"You will leave DCU with the ability to walk in a job," says Conor Archbold who has graduated with a  BSc in Genetics and Cell Biology.
From Carlow and with many family members who had attended DCU, he said, "I picked genetics because science was always something that interested me and I primarily did sciences for my Leaving Certificate."
His father is a biology teacher and "I grew up asking questions and that probably is where the interest was sparked."
He is passionate about genetics, saying, "I feel it is probably one of those areas in science where we will never have all the answers. It is a field that is 'up and coming' and so for anybody questioning what science they should  go into, I think there is always going to be some research in genetics and positions available in it."
With a number of extended family members being graduates of DCU, Conor said he knew when he accepted the CAO offer, that, "I was going to a really great place, not only with a great social life and clubs and societies but also a college that delivers on employment prospects, every one of my cousins that went to DCU has a job as well."
 In third year, for INTRA, Conor worked in a genetic sequencing laboratory and towards the end of his placement, found he was managing it.
"What I would take from placement was, and the piece of advice I would give everybody else going to college now, is do not be afraid of failure."
He failed organic chemistry in second year and "what I would say is failure is an opportunity to go back and learn. It is not the end of the world, it is an opportunity for you to get better and better. In science you can fail hundreds of times and the next time you get it right and it is the time that really matters."
Conor works for a pharmaceutical company in a microbiology lab and said, "with a DCU degree behind me, I feel quite good about the future. It is pretty good to have walked straight out of college into a job and that is thanks to DCU. I couldn't thank them enough."
He believes the practical nature of his course "set me up and maybe put me ahead of graduates from other colleges. You learn more from doing than from reading a textbook and I think that is due to the practical emphasis on laboratory based assessments by DCU and I think they set me up for a job."
For current sixth year students, he said, "Take every opportunity you get and don't be afraid to fail. If you have to take a step back and reevaluate things, if you feel you want to  switch to a different course, take the time and reach out to lecturers and tutors. They are there to help you.  You will leave this college with the ability to walk into a job."
Conor is a big fan of DCU's 'Clubs and Socs,' and even started a Coffee Society. "If you are unsure if you have picked the right college for making friends, the best advice I have is to sign up to every society and go to a few events. You might not really like coffee, but go anyway, sometimes people go for the chats, it is just about having the crack. I will compliment DCU that they had tonnes of societies, something for everyone."
DCU Prospectus - Go back to Genetics and Cell Biology