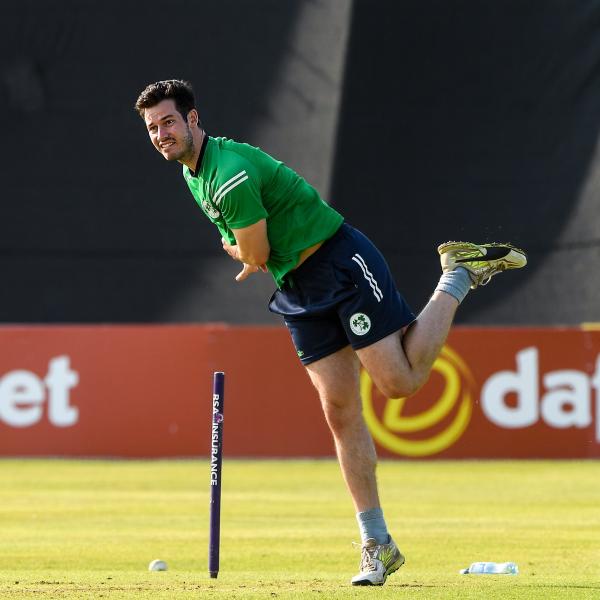 George Dockrell
(Photo by Matt Browne/Sportsfile) 
George Dockrell admits he had to work to get his maths "up to scratch" for his BSc in Data Science from DCU but says having the degree, "has definitely helped my cricket. I know I have my degree and it is in an exciting area for whenever I choose to pursue that part of my life and pursue that career."
George, who is part of the Ireland Cricket World Cup team, came to DCU as a mature student having moved into professional cricket, and to England, when he was 18.
"When I moved back home, I was looking at different degrees and was thinking about what I wanted to do. I loved science but it wasn't what I actually wanted to work in. "
"When I looked across the different courses around the country, this one  stood out to me as it was very interesting, was incredibly practical and was applicable straight away."
He says data science "was a pretty exciting area that I had not really been aware of before then." 
There were a few challenges for George as the course involved coding, "and that is something I had not done before. It was not easy at first but it is incredibly rewarding when you do start to work on projects and learn to code."
The other area he had to work particularly hard at was maths. "Uniquely I was one of the people within my DCU class that was not massively into maths. In fact when I was at school, while I was not bad at maths, I ended up dropping to ordinary level in sixth year. I did get an A1 in it but before going to DCU, I did a supplementary diploma in maths and data analysis to help get my maths up to scratch."
At times he still struggled with maths and says he availed of support from the Maths Learning Centre. With other areas, such as coding, he also asked for, and got, support.
Generally, he says, "we were told how much you had to put your hand up and say if you did not understand things and just ask for help." 
For his INTRA placement in third year, "I did nine months with PriceWaterhouseCoopers on data analytics and technology consulting which I really, really enjoyed. They were such a fantastic team, I learnt a huge amount from them."
From the words 'INtegrated TRAining', INTRA is DCU's internship programme. INTRA is an accredited and highly valued part of student learning and is a compulsory part of many degree programmes. 
It provides real world experience, helps students to develop transferable skills and, ultimately, enhance their employability.
George acknowledged the flexibility the company allowed him with his working hours so he could also play cricket.
 "They were fantastic to me in being able to manage it all. Along with DCU, they were fantastic in supporting me with my career goals for those four years of college."
"Now I have a fantastic degree and I have got work experience under my belt. I think one of the main selling points of DCU as a university is the INTRA placement and, when you graduate, being able to put that on your CV, alongside your degree."
"My degree is in a fast growing and exciting area and it is something I am pretty proud of having completed alongside my cricket."
Reflecting on the benefits of having the degree while also playing cricket at an elite level, he said, "I think when you are playing year to year with contracts, a lot of the time it can feel like you are constantly playing for a job and you are unsure what else you will do if the year does not go the way you would like it."
"With my degree, I know that no matter what, there is something else there for me. To be honest when I am playing my cricket now I am just trying to enjoy it, probably more so than I might have done in previous years."
"I think for me it has taken a huge amount of pressure off my actual game and performance and it is something I am excited about that is away from cricket. I will go into this area when my (cricketing) career finishes and it has definitely helped me take that weight off my shoulders in my actual performances. I play with a little bit more freedom and just enjoy things a little bit more now."
He says anyone who is considering studying and also pursuing something in sport, should consider DCU. "If somebody is wondering if it is too onerous to get a degree while competing in a professional sport, my experience is that it definitely can be done and there are people within DCU willing to support your pursuit as long as you are willing to put in the work."