Mia Duffy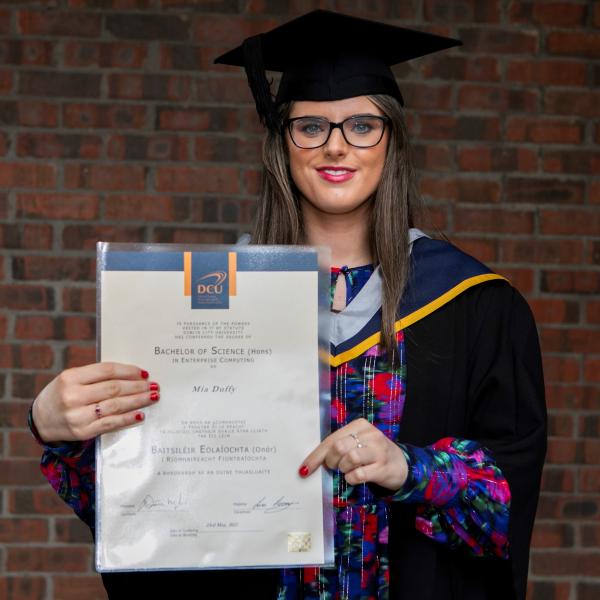 Computer Science graduate Mia Duffy (22) says she "highly recommends DCU because whatever you need, they'll provide you."
Mia, who has a BSc in Enterprise Computing, explained, "DCU cares so much about the wellbeing of its students and they will make you feel included and welcome. If you've ever felt like you didn't belong, you will definitely belong there." 
She selected the course as her interest in computers had increased in secondary school and DCU was her college of choice because it is autism friendly.
"I have autism and DCU became Ireland's first autism friendly university by my 1st year going to college, so I really had my heart set on attending because I believed I would have a lot of support available for me." 
Mia was given extra time to complete her exams and "I was able to do them on a laptop and on my own in a smaller exam centre."
"During my time in DCU I availed of a number of different supports including from the Disability Office. The INTRA office gave me advice on which companies to apply for and how best to prepare for interviews."
From the words 'INtegrated TRAining', INTRA is DCU's internship programme. It is an accredited and highly valued part of student learning and is a compulsory part of many degree programmes. 
It provides real world experience, helps students to develop transferable skills and, ultimately, enhance their employability.
For her INTRA, in third year, Mia did a nine month placement with eShopWorld.
"Due to COVID, I worked from home the whole time so unfortunately I never got to work in their office."
"However I learned about how companies do business with other companies and I also got to learn more about  building web pages for business using HTML and CSS ." 
COVID-19 meant that all lectures and assignments moved online for part of second year and the entire of her third year. "It took some getting used to, but I eventually got used to attending lectures on Zoom, as well as working on assignments with my teammates remotely. It wasn't always easy, but at least I could get in touch with my lecturers and fellow students."
Mia is currently working on a Technology Development Graduate Program with Optum, a healthcare company and is looking forward to a successful career.
She acknowledged that, "thinking about the future can be scary, but it was going to come sooner or later, so I just have to embrace it. I would say that maybe my DCU experience wasn't entirely perfect due to COVID, that didn't stop me from succeeding in my studies."
Her words of advice to people considering DCU are, "throughout my course I had support not just from the university, but from my family as well. There were times when I just wanted to give up, but they were there to keep me going. So as you leave school and enter this big bad world, don't expect your experience to be perfect, but just enjoy every moment as best you can."
DCU Prospectus - Go back to Computing for Business