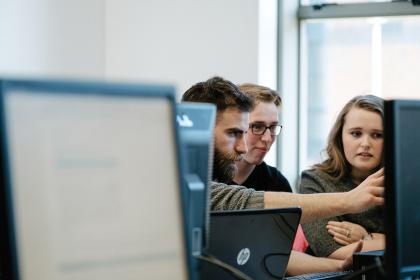 Course Type:
Undergraduate

+353 (0) 1
7005237

jennifer.foster@dcu.ie
View our video on our BSc in Computing for Business here:
---
Computing for Business DC120
Computing technology has entered every angle of the commercial and industrial world and drives innovation across the business world. Graduates of the B.Sc. in Computing for Business (Enterprise Computing) have high-tech skills and business acumen that make them in demand in IT-specific to more traditional finance and government industries, or any other organisation that has a need for technology management.
Understand how software and information systems address real-world business problems and how you can best use computing technology to help organizations to work together and give companies a competitive edge in the marketplace. You'll learn how to use and manage information technology and systems to improve and even re-design the way organisations do business.
Throughout the four years of the Computing for Business (Enterprise Computing) degree, there are formal lectures, with a strong emphasis on the practical applications in the computer labs, tutorials, ongoing assessments and projects drawn from real-world situations.
Your first year will be devoted to gaining a strong overall competence in computing technologies, such as computers themselves, operating systems, web systems and the Internet, and to acquiring fundamental mathematical skills.
In subsequent years, by specialising in information technology, web systems or networking technologies, you'll be equipped with the necessary skills to work with computing technology across a broad spectrum of business enterprises. You'll be able to manage, improve and re-design the way businesses use computing systems.
In Year Three, you'll have the opportunity to spend seven months on our INTRA paid work placement programme, which integrates academic study with a closely related job. It will give you an understanding of the professional and practical business world and will help you to stand out in the graduate employment market. Indeed, many companies recruit their INTRA students on graduation.
In final year, you'll study advanced modules in information systems, business strategy and management. In addition, you'll complete a major team-based project. Practical experience is a principal component of your learning.
Modules you will study during your 4 years on the course:
YEAR 1
Web Design
Introduction to Computer Hardware
Collaboration and Innovation
Digital World Exam Element
Digital World CA Element
Mathematics for Enterprise Computing
Business Applications
Managing Enterprise Computer Systems
Digital Innovation Management & Enterprise
Data Analysis and Visualisation
Programming Fundamentals
YEAR 2
Business Database Management I
Quantitative Analysis for Business Decisions
Enterprise Information Systems
Business Systems Analysis
Programming Fundamentals II
Developing Internet Applications
Enterprise Computer Systems Configuration
Programming Fundamentals III
Professional Practice for Enterprise Comp.
YEAR 3
Business Information Management
IT Architecture
User Interface and Completion
Fundamentals of Software Testing
Programming Fundamentals (Project)
Project Management
INTRA (6 month paid work experience)
YEAR 4
Enterprise Computing Team Project
Uaneen Non-Contributing Module
Search Technologies
Enterprise Architecture (C)
High-Tech. Innovation & Entrepreneurship (C)
Soft. Eng.:Process,Principles & Methods (C)
ITSC Internet of Things Management
Cloud Computing
Hands-on interactive learning experience with a strong focus on practical skills, personal development and knowledge application
Paid INTRA work placement that integrate academic study with practical professional skills
Dynamic career in a field that will continue to transform the way we run business and organise society long into the future
Learn how business works and acquire the technical know-how and management skills to improve businesses with the help of IT
Acquire a 'go anywhere' qualification that will allow you to travel around the world with a recognised and sought-after skill set
View the current course structure
We have a unique and vibrant culture on our modern campus close to Dublin city centre. We provide state-of-the-art study facilities for all our courses and everything else you need for a healthy, fun and active student life.
Exceptional Facilities
DCU students enjoy exceptional teaching and learning facilities across our 3 academic campuses. These include modern learning theatres, research centres, television and sound studios, classrooms, computer suites and advanced laboratories in the areas of languages, engineering, physics, chemistry and biotechnology, as well as a sports performance centre and a virtual hospital ward.
A Vibrant, Dynamic Social Environment
Student facilities include a superb sports complex with a 25 metre pool, two libraries and The Helix, our renowned performing arts centre. In 2016 we announced plans to invest over €230m in developing new, world-class facilities across our three academic campuses. Already building has begun on an exciting, new €14m Student Centre that will be home to the more than one hundred and twenty student clubs and societies. This commitment to student facilities means that our world-class learning experiences are complemented by a vibrant, dynamic social environment.
Career Areas
Finance Companies
Government Sector
IT Companies
Career Prospects
Systems Analyst
Business Analyst
Technical Support
Network Engineer
Web Developer
Project Manager
The B.Sc. in Computing for Business (Enterprise Computing) gives you the foundation for a career in information technology for the modern business enterprise.
You'll find opportunities the world over in banking and finance, high-tech enterprises, the government sector, consulting companies and e-commerce-based online retailers. Graduate titles include:
Requirements
Leaving Cert
In addition to the general entry requirements for admission to the university the following entry requirements apply
Minimum of O4 or H6 in Mathematics
GCE A Level
In addition to the general entry requirements for admission to the university the following entry requirements apply
GCE A Level D or GCE AS Level C or GCSE C Mathematics
EU Transfer Applications
Holders of HETAC Higher Certificate/National Certificates in Computing with Credit or Distinction or HETAC Bachelor (Ordinary) Degree/National Diploma in Computing with Credit may be admitted into second year. Holders of HETAC Bachelor (Ordinary) Degree/National Diploma in Computing with Distinction may, in exceptional circumstances, be admitted into third year. Each case will be considered on its individual merits. Please apply directly to DCU using the R10 form. Closing date for applications 1st July.
International Applications
International candidates are expected to have educational qualifications of a standard equivalent to those outlined above. In addition, where such candidates are non-native speakers of the English language they must satisfy the university of their competency in the English language. For further information on international applications click here.
Fees
Full time
Student Contribution
€3,043 per annum
EU Status Fee
€6,679 per annum
Non EU Fee
€15,000 per annum