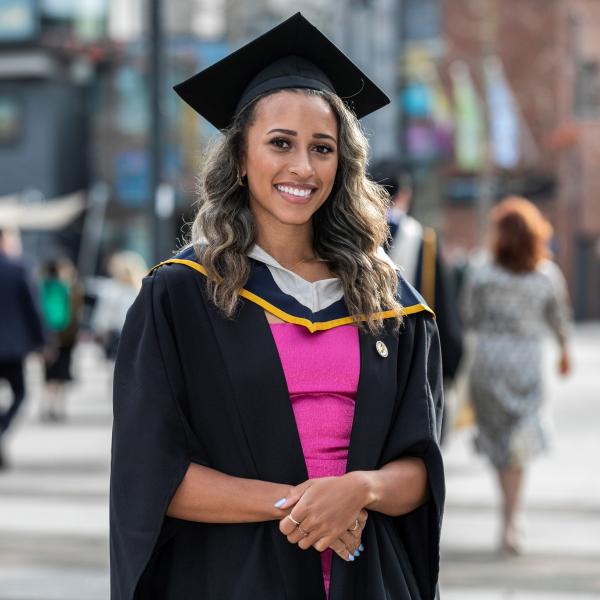 Nadia Power
Olympian Nadia Power is advising elite athletes who have their sights set on a scholarship to America, to still complete their CAO form. 
Dubliner Nadia began a scholarship in America but soon realised that it was not for her and, because she had taken the advice of the Athletics coach in DCU, she had put DCU down on her CAO application.
"America had been my plan for college but when things didn't work, I had such a good back-up (plan) and in an area I was interested in."
As she graduates with her BSc in Marketing, Innovation and Technology, Nadia said, "my advice to younger athletes is not to think that because you have a scholarship in America you do not have to think about the Leaving Cert. Keep up your studying even if you have a place in America!"
Nadia secured a sports scholarship to DCU and began her four year course in 2017.  She availed of the opportunity to split her final year over two years. That allowed her to prepare for the Olympics in 2020.
"Going into the final year I also wanted to go for the Olympics and still do well in college. I knew that was not going to happen if I did it all in one year so I really wanted to avail of the option of spreading it over two years. Looking back, it was a life saver to have that opportunity to split the year."
She completed her studies online and was able to train, and ultimately compete, in the Olympics, which were postponed to 2021 and she represented Ireland in the 800 metres in Tokyo.
In her third year, Nadia completed her INTRA placement in Johnson and Johnson in Tallaght, Dublin.
From the words 'INtegrated TRAining', INTRA is DCU's internship programme. It is an accredited and highly valued part of student learning and is a compulsory part of many degree programmes. 
It provides real world experience, helps students to develop transferable skills and, ultimately, enhance their employability.
Like numerous other people, she was impacted by the pandemic and the latter part of her INTRA was spent working from home.
She said, "INTRA left me in a very good situation and in addition I can see that COVID has benefitted someone in my situation because the working environment has changed dramatically, there is a lot more flexibility and a lot more willingness to have staff work remotely."
Nadia moved to London earlier this year to help with her training but she has also found a job which she believes is due to her degree from DCU.
"I work for an events company in London and it is perfect for me because they give me flexibility and let me work around training. I am actually quite happy with how I can progress my career while still having complete flexibility to train really hard."
'As a sports person I felt incredibly supported the whole time and as a result it meant I could excel in my academics and in my chosen sport.
She found DCU "a really positive environment, I had a really positive college experience."
DCU Prospectus - Go to Marketing, Innovation and Technology