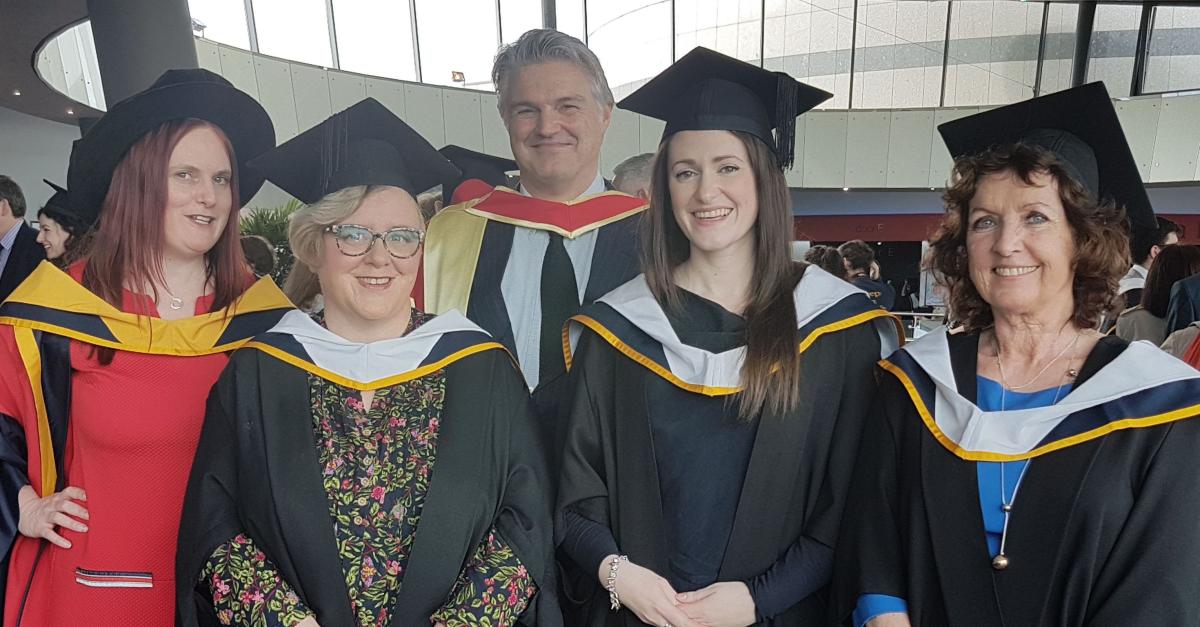 Big Day for Poetry Studies at DCU Graduation
On the same day that Paula Meehan received an honorary doctorate from the university, it was also a day of celebration for postgraduate students in Poetry Studies from the School of English.
Kathleen Keyes, Kay O'Grady, Jackie Gorman and Jim Dalton all graduated from the Masters in Poetry Studies, having completed thesis work respectively on the following: Seamus Heaney and the Body, Analog Glitches in Contemporary Poetry, Representations of the Leda Myth, Walt Whitman and Time Travel.
Ellen Dillon was awarded her PhD for a remarkable and mind-bending thesis entitled Abstraction in Contemporary Poetry: An Apprenticeship in Reading, and her achievement was also a significant event for the School of English, as she is the first PhD we have produced since our foundation in 2016. Ellen's thesis is one to celebrate, but also one of many to come.
In the picture (from left to right) Dr. Ellen Dillon, Jackie Gorman M.A, Dr Michael Hinds (supervisor), Kay O'Grady M.A and Kathleen Keyes M.A.