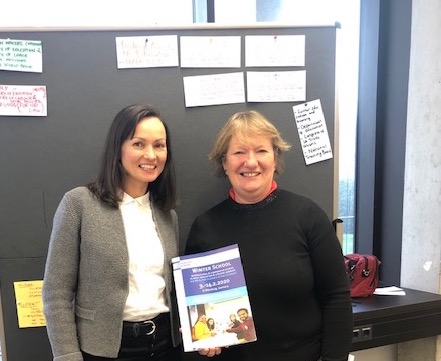 As part of INTALL project where HERC is an Irish partner, Dr. Trudy Corrigan (FETRC, School of Policy and Practice, Institute of Education, DCU) and Tanya Zubrzycki (Higher Education Research Centre, DCU) are participating in the Winter School 2020 for International and Comparative Studies in Adult Education and Lifelong Learning.
Trudy and Tanya are engaged in a Comparative Group which is titled 'Professionalization of Adult Education and Lifelong Learning: A Transnational Perspective'. This includes Masters and Doctoral students and Practitioners from a number of countries including Turkey, Nigeria, India, Columbia, Slovenia, Denmark and South Africa.
Winter school comprises over a hundred of students from all over the word, who have come to Winter School to discuss the professionalization of adult education and lifelong learnign in a global context.
Master students attanding the Winter School focus on questions of international policies in adult education and lifelong learning. They are learning to work with a policy analysis perspective. The analysis is focused on specialised competences for developing new knowledge and innovation by integrating different perspectives.
Doctoral students focus on theories in adult education and lifelong learning. They are developing a theoretical-analytical perspective on specialised theoretical knowledge, to be able to synthesize different perspectives systematically and theoretically.
With both perspectives, participants are gaining insights into the field of practice in adult education (field visits at adult education centres in and around Würzburg, presentations by associations/international organisations in adult education). The insights serve as case studies for practicing the analytical models.
More information about the INTALL project can be found here (please scroll down to 'INTALL project' tab).