School of Inclusive & Special Education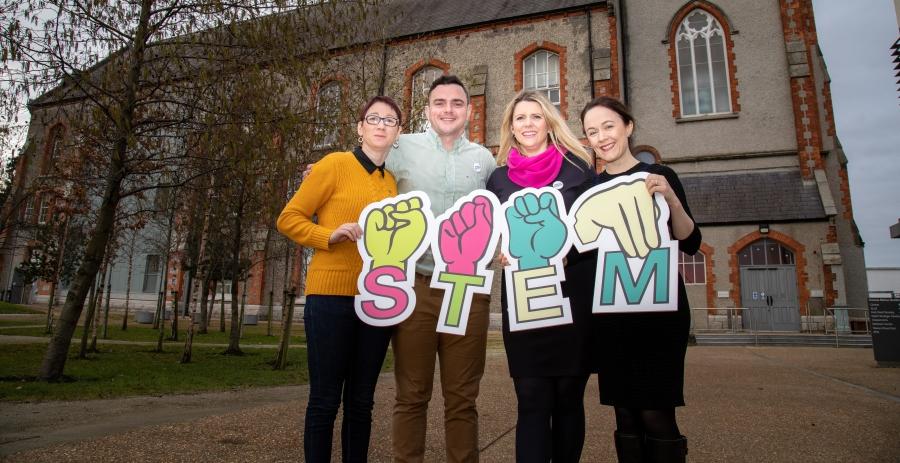 Below Image
First ever Irish Sign Language STEM glossary launched by DCU
Dublin City University has today launched the first phase of a newly developed Irish Sign Language (ISL) STEM Glossary project at the Deaf Heritage Centre in Cabra.
Funded by Science Foundation Ireland (SFI) the project aims to create the first ever open-access online glossary of maths terms in Irish Sign Language.
There are approximately 5,000 people in Ireland who use Irish Sign Language (ISL) as their first language (Central Statistics Office, 2017).
However, for people who are deaf or hard of hearing (DHH) to fully engage in STEM related subjects (Science, Technology, Engineering and Maths) there must be an agreed lexicon in Irish Sign Language for STEM terms- a resource, which up until now, has been absent.
Today's announcement by Dr Elizabeth Mathews from DCU's School of Inclusive and Special Education marks the first step in the process of developing a comprehensive ISL STEM glossary to support STEM education for DHH learners at primary and post-primary school, their parents and their teachers.
The first phase of the glossary contains over 200 videos, including 25 newly coined signs for terms such as 'standard deviation, composite number, mode' and many others.
Speaking about the project Dr Elizabeth Mathews said:
"The absence of agreed signs for technical STEM vocabulary inhibits the teaching of STEM subjects at all levels of education and presents difficulties for those working in Sign Language interpreting.

It also limits the potential to provide access to mainstream public engagement science resources. This project is an important milestone for anyone who is deaf or hard of hearing and who has a desire to fully engage in STEM subjects. Launching this resource today is an important step on this journey and in opening up a whole new world of opportunities for people who are deaf or hard of hearing."
Cathy Foley, Senior Executive - Education and Public Engagement at Science Foundation Ireland said:
"Through the SFI Discover programme we aim to make STEM as inclusive as possible, and the Irish Sign Language STEM glossary is a great example of the initiatives we are proud to support in our ambitions to achieve this.

On behalf of Science Foundation Ireland I want to congratulate the team on their admirable work so far. I am confident that this project will generate positive and meaningful impact for many people."
In addition to the glossary, a second and equally important strand is a project-plan for how the glossary can be expanded to include a variety of other subject-specific glossaries for STEM across the continuum of education levels, similar to the extensive British Sign Language Glossary available in the Scottish Sensory Centre (UK) and the DeafTEC American Sign Language STEM dictionary in Rochester Institute of Technology (USA).
The ISL Glossary is available by clicking here
Pictured: (l-r) Valerie Mahon (Project coordinator), Seán Herlihy, Maggie Owens (both Seán and Maggie are maths teachers at Holy Family School for the Deaf, Cabra), Dr Elizabeth Mathews (Project lead)