Information Systems Services
Slack - The DCU Community
Slack is a team chat platform that emphasises open channels and groups for the power of real-time text chat with searchable archives, app integrations and easy sharing of files and documents.
Slack allows you to keep all communication in one place. The app can be used on a desktop, accessed via a web browser and can be transitioned smoothly to mobile. Slack builds off services you already use every day, has the feel of an instant messaging app, which enables casual conversation without the formality of email.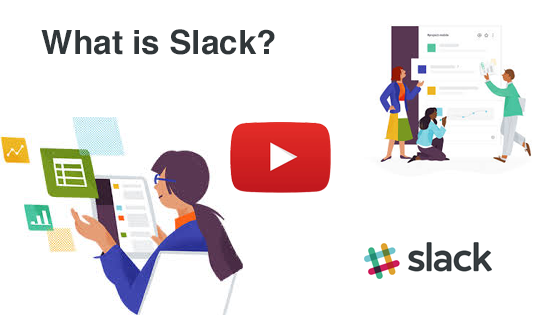 Please familiarise yourself with the DCU Slack usage guidelines and DCU Codes of Conduct below.
Slack Usage Guidelines
Joining and Leaving
The platform is available to all DCU staff. In order to join the platform a DCU staff member should visit dcucommunity and login with their DCU staff account.
Only staff with a 'dcu.ie' email account can login to the platform. Staff can choose to leave or re-join the platform at any stage.
Support
If you need any help using the platform there are a number of options available:
Posting Messages
Slack is a modern communication platform which facilitates online conversations with DCU colleagues one to one, in small groups or visible to everyone in DCU who has joined the platform.
All staff will have the ability to post public messages. As such we advise using good judgement when posting messages in the platform.
Please be respectful of your colleagues. If in doubt about posting some comments or views, err on the side of caution and don't post.
In particular we would like to draw your attention to the new General Data Protection Regulations (GDPR) and suggest that posts in relation to individuals' political views, union membership, religious beliefs, ethnicity, and sexuality are avoided.
The use of the platform is covered by the policies and codes of conduct on the main DCU website with those listed below having particular relevance:
Removing Messages
All staff will have the ability to delete their own messages from the platform. Administrators will also have the ability to remove any messages deemed inappropriate according to DCU policies and guidelines. Staff who repeatedly post inappropriate messages will have access to the system withdrawn.
Creating, Joining and Leaving Channels
Channels are simply shared message areas visible to groups of DCU staff. All members of the platform can choose to join, leave and re-join channels at any stage.
Private Channels
Private channels can be created by any staff member and made visible to a specific list of staff. The creator of the channel can invite those who should have access. When invited to a private channel you will see all messages posted to that channel. You may choose to leave the channel at any stage.
Public Channels
Public channels are a great way to share information and improve transparency. Once created, anyone in the dcucommunity Slack workspace can join and post messages to a public channel. Staff can choose to mute/leave/re-join a public channel at any stage. Public channels should be kept broad rather than specific. This will help to keep the number of public channels at a manageable level for individuals.
Channel Naming Guidelines
When creating private channels it may help to use a set of standard prefixes. This will help to keep channel names consistent and easy to follow, which will be especially important for those who have access to large number of channels.
For example:
Search the Slack help articles online: Slack help articles
Send an email to Slack support: Slack support
Contact Slack support within Slack: type /feedback followed by your question
Ask your DCU colleagues using the dcucommunity slack channel: #slack-tips-tricks

Use the 'team-' prefix for subteams within your school unit:

team-support
team-ops
team-design etc.

Use the 'proj-' prefix for project based channels:

proj-rebrand
proj-refurb
proj-website etc.
How to download and install Slack
Download Slack's desktop and mobile apps
It is not necessary to download the application as Slack is available to all DCU staff via an internet browser.
By downloading the desktop and mobile apps, you can stay signed in to multiple workspaces, have more control over notifications, and stay in sync even when you're on the move.
For download instructions, click the link for the apps that are right for you.
Mobile
Desktop
Slack Simplifies Communication
Slack Simplifies Communication
Slack brings all your team's communication together, giving everyone a shared workspace where conversations are organised, accessible and is organised by Channels which can be either:
Public channels

Channels for projects, groups, and topics that are open to anyone on who is a member of the DCU workspace.

Private channels

Across your team, project or research group, there's a range of things people need to communicate about. Private channels in Slack give everyone a way to organise all those conversations, while making sure the right people are involved at the right time. Everyone within the channel has a transparent view of all that's going on.
Types of communications possible
Slack - A Collaboration Tool
Slack is a great place for teams to collaborate together on projects, pilots or research. It has hundreds of apps that integrate into the application which enable the sharing of files, tasks and calendars simple. It is a simple process to integrate apps such as Google Apps, Twitter, Zendesk, Salesforce, Asana and many more depending on you and your teams needs.
Presently, ISS are investigating the GDPR compliance of the app integration on the Slack platform. When we are fully satisfied the app integration feature will be activated.
A full list of apps are available to view from here.
Need help - Slack resources
Broadcast messages

One-to-many, choose any one of the public channels and start a conversation by posting a question or simply use the thread function to comment on a question or request from a colleague

Direct Messages

One-to-one and small group messaging adds flexibility around more focused conversations. You can convert direct messages to a private channel for longer-running topics.

Calls and Screen sharing

Make calls and share your screen right from channels and direct messages in Slack. Give everyone on the call a voice (and a cursor) by inviting them to directly click and type within your shared screen. If you're on the go, calls on Slack's mobile apps make it simple to reach anyone on your team.
Schedule an introductory DCU Slack information session
If you would like to schedule an introductory information session for you or for you and your team/colleagues please log a ticket to our servicedesk via iss.servicedesk.dcu.ie
Five Slack Hacks to Save the Day
If you consider yourself unorganized and sometimes forgetful, help yourself and your team get organized through this first hack.
Set reminders for yourself within Slack with the command /remind me + [what + when]. Slackbot, which functions much like your personal assistant, will confirm and then send you the reminder at the time you requested. Help yourself get through the tasks on your exhaustive to-do list!
If there's a Slack post that requires your action but you don't have time to get to it, click on "More actions," and ask Slack to remind you about that post later.
Set reminders for others with the command /remind + [@someone or a channel name + what + when]. Managers, send the team reminders to submit their timecards or update project logs.
How can you use Slack to help with email burden?
One way is to leverage emojis for shorthand replies, votes, and acknowledgement. If you use emojis productively, you can help eliminate the one-word, reply all emails in your inbox.
Try using emojis to manage workflow within channels. For example, use color emojis to define priorities within a channel. Post a request or work-related question in channel and include a red emoji for high priority, blue for medium priority, or white for low priority.
For someone responding to the request, use the eyes emoji to indicate that you're working on it or looking into it and the green check emoji for when you've completed the request.
Do you feel like you spend too much of your day in meetings? With this Slack hack, you can reduce your time spent in meetings. Use posts to:
ou might say, "I don't need another messaging application to open every day. There is too much 'noise' with channels and workspaces."
This Slack hack can help address that. Flag content that you quickly need to resurface. Prioritize conversations with one or more people. Two ways to flag or prioritize content:
Create and send editable meeting agendas to a channel ahead of time.
Record and share your meeting minutes with posts.
Create action items and individuals can check off completed items.
And voila! You'll run your meetings more efficiently, and who knows? You may get back some desk time.

Star a message from someone or star an entire channel. Your starred conversations or channels display at the top of your channel sidebar under Starred.
Pin an important message to a channel or a direct message so that you can easily reference. Your pinned items are under your More items menu in the top right corner.