School of Language, Literacy & Early Childhood Education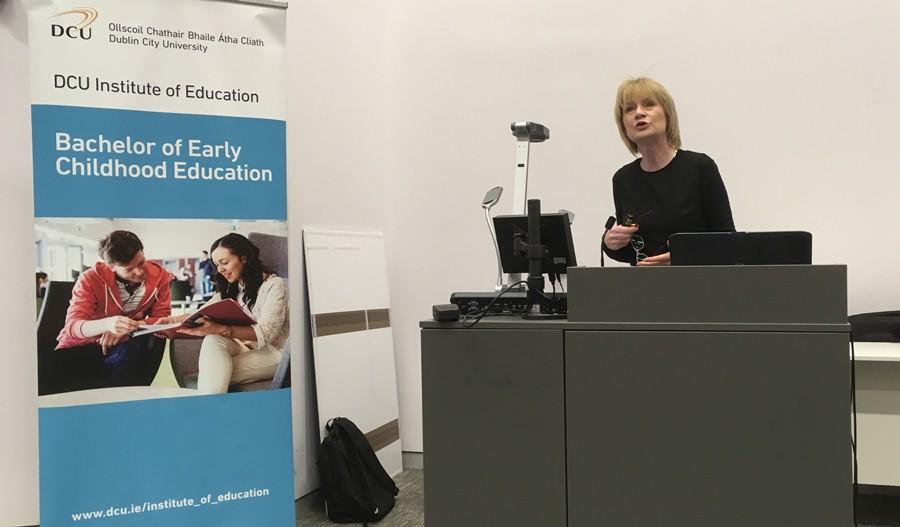 Below Image
Autism Continuing Professional Development
1 in 100 people in Ireland have autism, many of whom are young children, attending early childhood education settings.
As part of DCU Institute of Education's ongoing commitment to partnership with the early childhood sector, the first in a series of 3 CPD sessions on the topic of Autism and the Young Child was held on the St. Patrick's campus on 22nd February. In conjunction with the Bachelor of Early Childhood programme, Frances O'Neill from Middletown Centre for Autism delivered an inspiring session to a packed audience of almost 300 students, lecturers, placement tutors, owner/managers and staff from early childhood settings.
Opened by Prof. Mathias Urban, Desmond Chair of Early Childhood in DCU, the session offered insights to the life and experiences of the young child with autism. It was a fantastic event which worked for the very diverse audience, bringing together research and practice.
Following on the success of the event, the next two sessions, will focus specifically on sensory needs, behaviour, transitions and of course play in the lives of children with autism.
'Staff that were at the CPD session arrived back this morning absolutely buzzing and fired up with ideas and suggestions'.
Helena (Owner/Manager)

'Easily the most informative, educational and enjoyable session I've been to. The session was so gripping and enjoyable that I didn't notice the time go by. Everything she said made perfect sense. The session was relatable, educational, enjoyable and informative all in one'.
Holly (Student)

'It was an informative, insightful seminar which I found interesting and engaging. I hope to be able to take this knowledge and implement it on practice'.
Anita (Student)
For Information:
The Bachelor of Early Childhood Education is a four year programme which aims to develop well-informed, articulate professionals who are knowledgeable and passionate educators and advocates for young children. Further information on this programme is available on the DCU web site, https://www4.dcu.ie/courses/undergraduate/llece/early-childhood-education.shtml or contact the Programme Chair, Dr. Geraldine French on (01) 8842056.