School of Language, Literacy & Early Childhood Education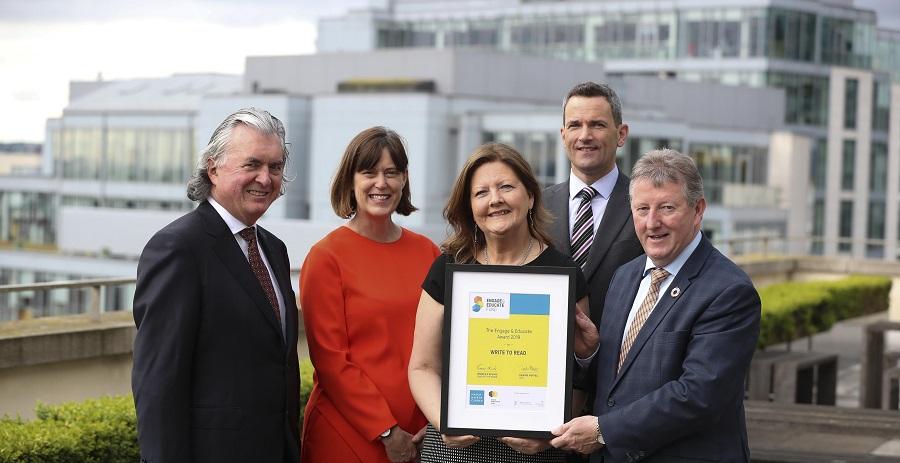 Below Image
DCU Write to Read Project Receives Engage and Educate Award
Write to Read, a project developed by Dr Eithne Kennedy from DCU's Institute of Education, has been announced as one of five winners of the Engage & Educate Fund for 2019.
The Engage & Educate Fund was created by Social Innovation Fund Ireland in partnership with Mason Hayes & Curran and the Department of Rural and Community Development. The fund's objective is to find and back innovative projects that empower people through education with a focus on tackling the disabling effects on human potential of disadvantage, disability or migrant status.
The Engage & Educate Fund was open to projects, such as Write to Read, that empower people through education to achieve their full potential and to contribute to their community. Inspired by award winning doctoral research by Dr Eithne Kennedy, Write to Read is a professional development model that supports teachers to deliver high quality literacy programmes for children. The project is currently working with 13 highly disadvantaged partner schools in Dublin and hopes to use its Engage & Educate Fund award to expand its capacity to work with DEIS (disadvantaged) schools outside of the greater Dublin area.
Speaking at the launch of the fund for 2019, Dr Eithne Kennedy outlined the importance of this new award:
"With Write to Read, we aim to support all children, regardless of their socio-economic background, to emerge from primary school as confident, engaged readers, writers and independent thinkers with high expectations for themselves and their futures, and the tools, persistence and confidence to reach their highest aspirations. We are delighted to receive this award which will enable us to work with more teachers and children in disadvantaged schools throughout Ireland."
For more information on the Engage and Educate fund, please visit: http:// www.socialinnovation.ie/engage-educate-2019/
Mason Hayes & Curran https://www.mhc.ie/