School of Language, Literacy & Early Childhood Education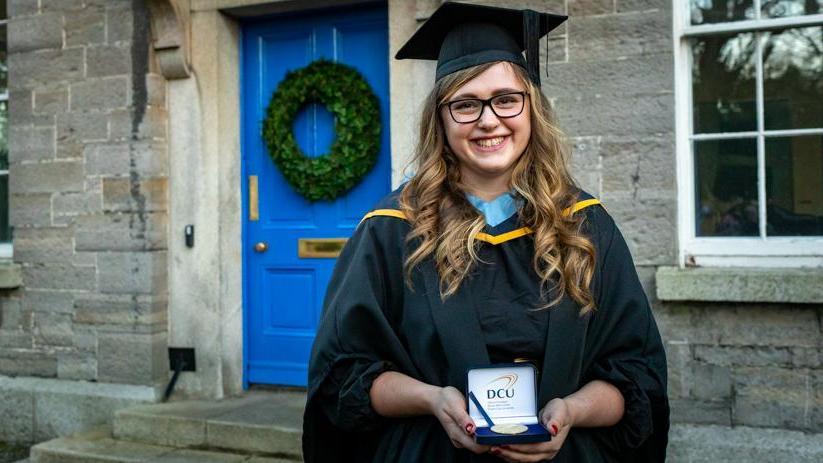 DCU Chancellor's Medal awarded to Early Childhood Education graduate, Clare O'Keefe
DCU's prestigious Chancellor's Medal 2020 has been awarded to Clare O'Keefe in recognition of her academic achievement and engagement in student life during her studies at DCU.
Clare, who is from Athy in County Kildare, joined DCU as a mature student and graduated with a 1st class honours Early Childhood Education degree in November.
In delivering the award, Professor Daire Keogh, DCU President, said: 
"Clare is an exceptional student and a worthy recipient of this honour. She has shown herself to be a passionate advocate for both her fellow students, and for Early Childhood Education. By campaigning for positive changes to practice and policy in the sector, she has exemplified the DCU mission to transform lives and societies."
Clare is part of the second cohort to graduate with this degree from DCU. From the beginning, Clare engaged with the life of the new programme and represented the programme at Higher Options and at Open Days and never ceased to impress with her knowledge of the programme, the importance of early childhood and her enthusiasm for the sector. 
Clare was voted Class Representative in third year and was unanimously re-elected by her peers in fourth year. 
"Her focus was on student engagement and Clare established a communication structure with BECE staff to share and advocate on behalf of students and instigated practical approaches such as suggestion boxes to empower and provide voice to the student group. Her peers report that she was instrumental in building group cohesion within the BECE student group."
Clare has become an advocate for the early childhood sector. Throughout her third year, Clare recognised the need for change within the early childhood education sector and was central in encouraging fellow BECE students to get involved in the SIPTU Big Start Campaign, which aimed to influence the shape of the evolving early childhood sector and to drive the professionalisation agenda. Clare worked with fellow graduates to develop a submission for the Workforce Development Plan, which is a Government led consultation process.
Building on research undertaken by DCU (Scanlon and McKenna, 2018), Clare undertook a placement with the Respond Homeless Agency in third year and made a significant contribution in designing and developing a play space for children within the service, upholding their right to play.
Recognising a timely opportunity to influence change, Clare undertook her final placement in SIPTU, where she went beyond the expectations of an undergraduate and published the first ever SIPTU national survey of early childhood students. She negotiated with the National Student Union body, was innovative and persistent in connecting with student groups and co-ordinating an intense communications campaign. She excelled in her placement research and this culminated in the publishing and launching of her report in September 2020.
"Clare's leadership as a DCU student and graduate will potentially make a significant contribution to the transformation of the early childhood profession. Clare is currently undertaking research funded by the Children and Young People's Services Committee, to evaluate the impact of the National Childcare Scheme (a new funding mechanism) on the provision of community-based early childhood care and education across Fingal.
Clare embodies the kind of educator we want to graduate from DCU Institute of Education programmes - educators who are engaged, committed, who champion the improvement of whatever sector they work in, and who advocate for learners of all ages, and for their professional colleagues. This combination makes her a very worthy recipient of this award."