Welcome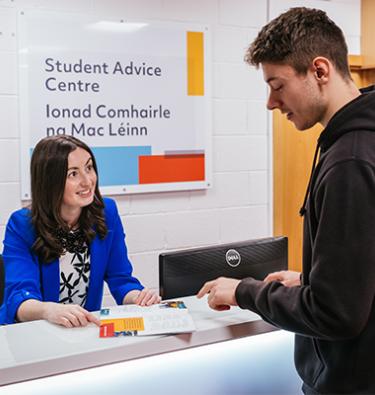 Students may have questions which they wish to discuss about their studies, personal circumstances or professional development. Student Advisers are available to discuss these topics with students in our offices which are based over two campuses. On speaking with a Student Adviser, a student can be further referred to an individual staff member or another service unit for further advice when relevant. All students and staff are welcome to our offices. We also offer one-to-one life coaching and workshops, helping students identify goals and increase confidence and resilience that will help them reach their full potential. 
Latest News: 15th September 2020
Please note that due to the COVID-19 Virus, this office is working remotely. Our offices will reopen on Monday 21st September 2020. We will respond to your query promptly and Student Adviser appointments can be dealt with by phone call or video call.  Thank you for your patience.
Appointments - Students Advisers are ready to meet students via Google Meet or Zoom for 1:1 appointments.
Phone: Phonelines are being monitored and all queries will be responded to in a prompt manner.
Email:  All staff are available during normal working hours via email for any public, student or staff enquiries.
Drop In's: Students and staff are requested to wear a mask inside the Student Advice Centre.  One visitor will  be allowed in the centre at any one time.
Contact Information
Glasnevin Campus Student Advice Centre
Ground Floor  
Henry Grattan Building
(Opposite main student restaurant)
Phone:   00 353 1 700 7165
Email:   student.support@dcu.ie
Accessibility Information - Click Here
St Patrick's Campus
Student Advice Centre
Room C101
Ground Floor Block C (Opposite main reception)
Phone:   00 353 1 700 9018
Email:   student.support@dcu.ie
Accessibility Information - Click Here