Primary Department
School of Arts Education & Movement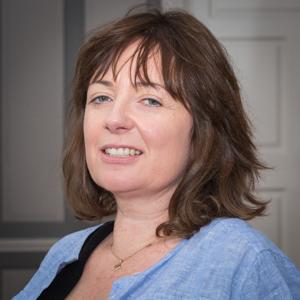 Phone number:
Email Address
una.mccabe@dcu.ie
Campus
St Patrick's Campus
Academic biography
Dr Una McCabe is Head of the School of Arts Education and Movement at DCU Institute of Education, and specialises in drama education, teaching on undergraduate and postgraduate programmes. She studied drama at Trinity College Dublin and after becoming a teacher, worked in the international, pre-school, primary, secondary and vocational sectors. She also has extensive practical experience of wider arts education contexts, having led youth theatre groups as well as children's workshops in story/drama/visual art in a range of settings such as the Ark Children's Cultural Centre, The Hugh Lane Gallery, Dublin City Libraries and for health and social care services. She led the MUS-E Ireland arts partnership, in association with the Arts Council and the International Yehudi Menuhin foundation, and since 2019 has acted as academic collaborator on the evaluation of the Arts Council commissioned Creative Schools evaluation study.
Prior to joining DCU, Una lectured in Drama in St. Patrick's College, and lectured in Drama and Early Childhood Education at the Froebel College of Education and at Dundalk Institute of Technology. Her M.A at the National College of Art and Design was in the Arts in Early Childhood, followed by a Phd from University College Cork in which she investigated drama as a method of socio dramatic play training. This doctoral work relates to her particular interest in the potential of drama to improve children's educational experiences and outcomes. Her publications include Classroom Drama: A Practical Guide, as well as international publications relating to drama, early childhood education, and arts education. Una was awarded a DCU Institute of Education Research Fellowship in 2019. She is currently the thematic coordinator for Arts and Social Inclusion in Education for the DCU Educational Disadvantage Centre, a member of the National Council for Curriculum and Assessment Primary Arts Education Development Group, and a member of the (National) Arts and Culture in Education Research Repository committee. Her research interests and current research projects focus on the impact of drama, play, creativity and the arts and she supervises and welcomes PhD/EdD students in those areas.
Research interests
Drama and pedagogy; Sociodramatic Play; Interactions in Arts Rich Classrooms; Creativity; Play.