quiet spaces
Over 16,000 students are studying at DCU. There's no way to avoid some chaos in your day, but if you're looking for some quieter spots to recharge, here are some ideas:
Glasnevin Campus

The Inter-Faith Centre
The Chaplaincy are on campus for everyone, whatever your faith (or lack of!). The same goes for the buildings linked to the service. The centre is a meeting place for people from all kinds of cultures and backgrounds, and it is a space where people are accepted and celebrated for their differences. The centre features tables and chairs where you can eat your lunch and have a chat. It also has a cosy living room space where you can socialise in a calmer environment. Glasnevin's Interfaith Centre is home to a beautiful Quiet Room towards the back of the building. You don't need to book the space, just knock on the door before you go in in case someone is already in there.

The U-Building- Quiet Area
This area is a busy place for socialising and therefore can be noisy. With this in mind, there is a designated "quiet area". It is defnitley not silent, as noise drifts in from other areas. However we hope is quieter. There are also two soundproofed escape hatches here, it it jall gets a bit too much.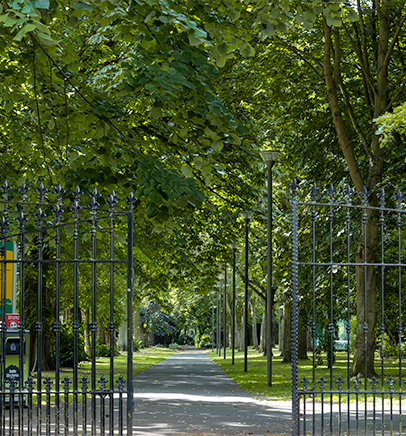 Albert College Park
Albert College Park is ideally situated for students in DCU. Right next to the hectic Glasnevin campus you'll find the green oasis of Albert Park. The entrance is very clsoe to the Sports Centre. If you're feeling active there's fitness equipment and ample space to play football. If you feel like recharging, there are plenty of benches where you can sit and people and dog watch! It is also used by a variety of garden birds.
The Labyrinth
Right in the centre of the Glasnevin campus you'll find a calming space deliberately designed to help students and staff feel more tranquil. Learn more about our lovely Labyrinth here: www.dcu.ie/chaplaincy/labyrinth/dcu-labyrinth.shtml
Invent Cafe
The café is the smallest on campus, and it's tucked away on the ground floor of the Invent building. You won't find tranquil silence there, but you will find a nice spot to hang out with your friends over lunch, without too much distraction.
St Patricks' Campus
The Inter-Faith Centre

The Quiet Space in St Pats offers a calm, comfy space for students to escape from the bustle of campus life. Again, the space is open to anyone whatever your religion (or lack of). Designed to create a calming acoustic environment, the space is a great place to take some time if you're feeling overwhelmed by sensory stimuli.
If you'd like more info on the Quiet Spaces contact: Fiona Earley, fiona.earley@dcu.ie