Centre for Human Rights and Citizenship Education
Research
PI Name: Ashling Bourke
Team members: Kristin Hadfield (TCD), Lauren Walsh (RA), Aisling Martin (RA), Salam
Jabbour (RA)
Project Description: The project will examine the literature that examines how a social
ecological approach to understanding climate change attitudes. It includes a systematic of
the empirical literature and a review of the main attitude formation and change theories as
applied to climate change. It will also identify toolkits or best practice interventions on social
ecological approaches to climate change attitudes.
Timeline:
February 2024: Report to the Environmental Protection Agency on literature review
(systematic literature review, applicable theories, examples of toolkits or best practice
interventions on climate change attitudes)
2024: Publication and conference presentations with the findings.
Project overview: Between 2020 -2022, Dr. Malgosia Machowska-Kosciak and Dr Maria Barry from the Centre for Human Rights and Citizenship Education (CHRCE) collaborated with the Irish Human Rights and Equality Commission (IHREC) and number of second generation young people. As a result, the report on 'Experiences of Second Generation Young Ethnic Minority Young People in Ireland' was produced and was launched by IHREC in February 2020. 
This ongoing collaboration contributed to 'National Action Plan Against Racism' 2022'.
Our expertise was acknowledged during Towards Equality Data for All Forum organised by IHREC in June 2023. Dr Malgosia Machowska Kosciak and Dr Maria Barry have contributed to key discussions on the development of 'the National Strategy on Equality Data Collection for Ireland' - one of the first strategies of this kind in Europe!
Race Equality Forum Speaker included:
Dr Gozie Offiah, Senior Lecturer, Chair of Royal College of Surgeons in Ireland (RCSI)
Martin Collins, Co-Director, Pavee Point Traveller & Roma Centre
Jenny Liston, Roma Programme Manager, Pavee Point Traveller & Roma Centre
Dr Malgosia Machowska-Kosciak, Centre for Human Rights & Citizenship Education,
Dublin City University (DCU)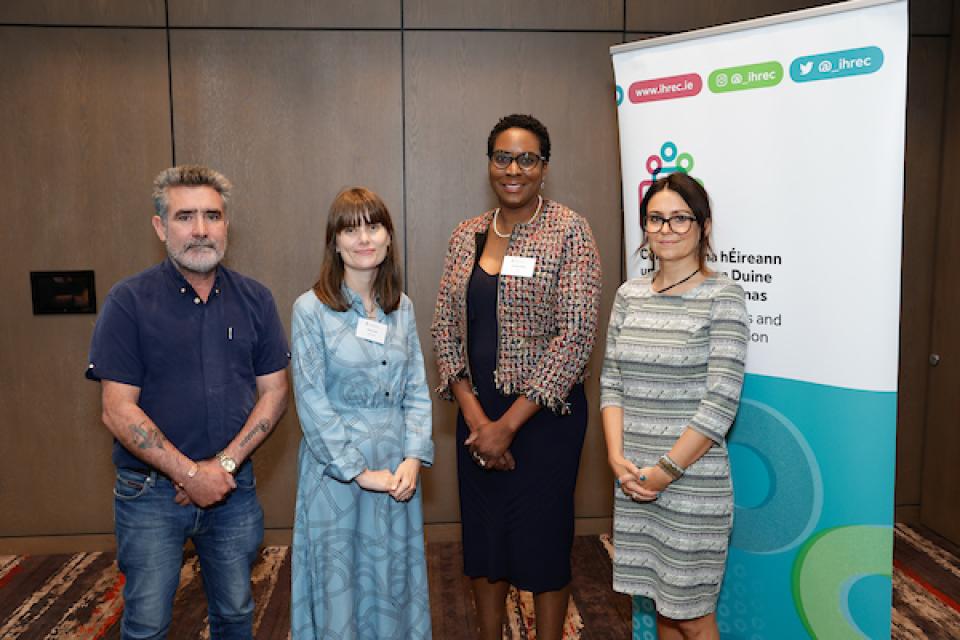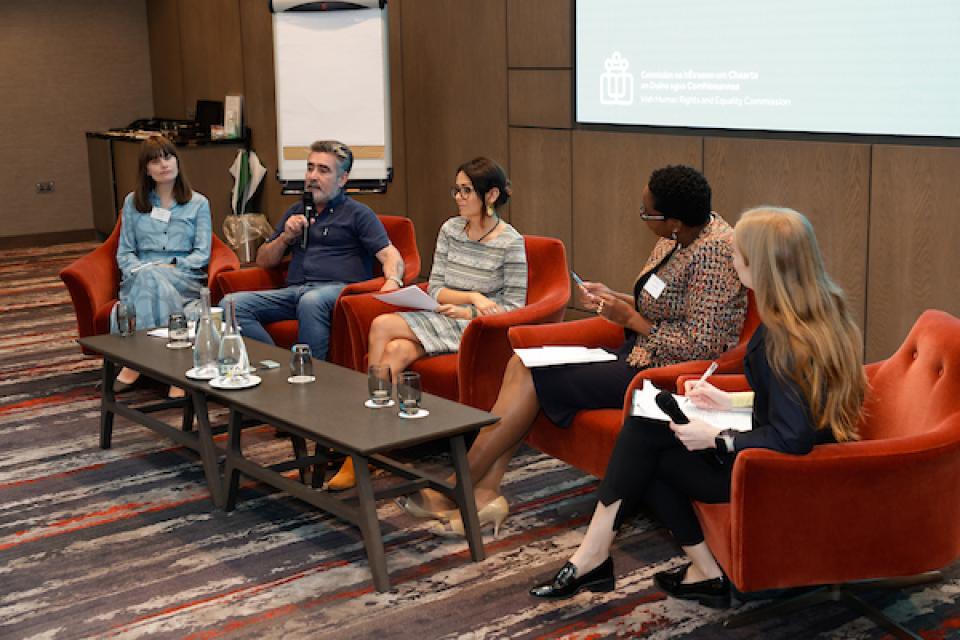 Completed programmes and research projects
Climate change and climate justice research and resource development
Recognising climate change as one of the most significant global justice issues of our time, the CHRCE has undertaken research and developed education programmes around climate justice.
The initial research programme, conducted 2011 to 2012 involved a scoping study looking at education on climate justice in primary schools and initial teacher education. The research mapped current teaching around climate justice within teacher education colleges and identified possibilities for future programmes. It explored how teachers, student teachers, teacher educators and environmentalists understand the relationship between climate justice and education. The initial findings were presented at the annual AERA conference in Vancouver, Canada in April 2012.
Informed by the research and supported by Irish Aid, the CHRCE has developed a digital education programme providing support to primary teachers on integrating climate justice into History, English and SPHE.
Children's Environments Initiative
The impact of children's environments on their well being and learning is an increasingly publicised and research area. Children's experiences of their school grounds and local environments are important to children for a number of reasons, including their well-being and learning. There is extensive research to show the lasting positive impact on children of education out of the classroom.
This project aims to:
Showcasing the impact of schools grounds on children's learning and well-being
Sharing practice between schools of how school grounds can be improved
Sharing expertise on possible sources of funding for the development of school grounds
To share expertise on the process of developing school grounds through democratic decision making processes.
Children are deeply involved with the physical environments they live within. This is particularly true at school, were children have ideas about their environment, from the yard for football, the wild area and the places created by themselves or others. The Primary School Curriculum also values the school grounds and locality of schools as a source of children's learning.
In the college, we are fortunate to have a wealth of features in our immediate locality, that reflect the environments of school grounds, including woodland, tarmaced areas, housing, shops and fields. These areas are used in courses to encourage our student teachers to use areas in and around schools as a learning resource whilst on School Placement. The college grounds are used particularly in methodology courses: Geography Education, History Education, Art Education, Science Education and Digital Learning. This element of courses is something students reflect on positively and also bring to schools in the form of outdoor learning for children they teach.
Susan Pike (Geography and Citizenship Education, DCU Institute of Education) and Susan Marron (School of Arts, Education and Movement, DCU Institute of Education) have initiated the School Grounds and Yards Project. Susan and Susan come to this project with expertise (practice and research) in children's learning, well-being and physical development within their school grounds and local environments.
The project recognizes that many schools are actively using their school grounds, through the development of school gardens, of wild areas and of ponds and water features. And that these are shared and featured online through sites such as Scoilnet, Ask About Ireland and Twitter and initiatives such as EcoDetectives and the Active School Flag.