Media History Collection
Media History Collection
The Media History Collection was established by the School of Communications with support from the University Library in 2007.
The objective of the Collection is to, 'identify, source and preserve the papers and records of selected media practitioners, politicians, communications practitioners, media institutions and interest groups so as to secure their availability to future generations of researchers'.
Since its establishment in 2007 the MHC Advisory Board has acquired over 30 collections – some of which are of unique national importance – including: Irish Times Photographic Archive; Advertising Association of Ireland; Kevin Kenny Advertising Ltd; National Union of Journalists (Minute Books); NearFM Archive (Community Radio); Press Photographers Association of Ireland (2009 onwards); Union of Students of Ireland; IMPACT Archive (IMPACT News & Work & Life).
The MHC also includes the personal papers of the following individuals: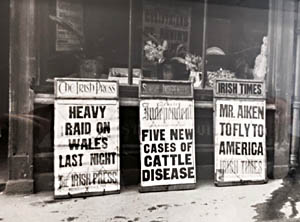 Conor Brady (Editor, Sunday Tribune, Irish Times)
Joe Carroll (Journalist, Irish Press, Sunday Tribune, Irish Times)
Basil Clancy (Hibernia, Teenage Times, Memoirs)
Niall Connolly (Managing Editor, Irish Press)
Farrel Corcoran (Chair, RTÉ Authority)
Jim Eadie (Irish Organiser, NUJ)
Des Fisher (Journalist, Carlow Nationalist, Catholic Herald, RTÉ)
Douglas Gageby (Editor, Irish Times, Editorial Books)
John Horgan (Journalist, Radio, Newspaper Industry, Broadcasting)
Rosaline Kelly (NUJ, First Female President)
Colum Kenny (Journalist, RTÉ, Sunday Independent, BAI)
Mary Kenny (Journalist, Irish Press, Irish Independent, Playwright)
Hugh Lambert (Editor, Irish Press, author 'Discover Dublin')
Seán Lester (Journalist, Sec. Gen. League of Nations, Diaries)
Michael Mills (Pol. Corr., Irish Press, Ombudsman)
Louis McRedmond (Editor, Irish Independent)
Gerry Mulvey (Journalist, Irish Times)
Gerry Murphy (Independent Newspapers, News-Room Diaries)
Tom O'Dea (TV Critic, Irish Press)
Louis O'Neill (MD, Irish Times)
Dick O'Riordan (Editor, Evening Press, The Leader, Evening News)
Cathal O'Shannon (Journalist, Irish Times, RTÉ)
Michael O'Toole (Journalist, Irish Press)
Mary Raftery (In Dublin, Irish Times, RTÉ)
Helena Sheehan (RTÉ TV Drama)
J. Leslie Sibbald (Royal Commemoration Newspapers)
Brian Trench (Journalist, NUJ [Freelance], ISJA, FOI, NI)
Members of the MHC Advisory Board: Mark O'Brien, John Horgan, Brian Trench, Kevin Rafter