Primary Department
School of Communications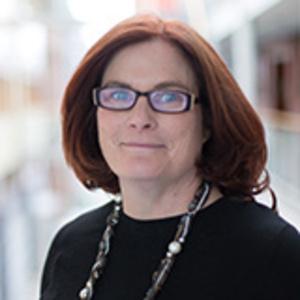 Phone number: 01 700

6393
Email Address
jane.suiter@dcu.ie
Academic biography
Jane Suiter is Professor in the School of Communications, her research focus is on the information environment in the public sphere and in particular on scaling up deliberation and tackling disinformation.

Jane is director of DCU's Institute for Future Media, Democracy and Society. She was awarded an IRC Laureate in 2022 for COMDEL
Examining the Potential of Communicative Deliberation for Climate Action, IRCLA/2022/3896. She also leads a WP on H2020-EUComMeet. Previously
she led as PI on H2020 ICT28 Provenance, a multimillion interdisciplinary project to combat disinformation and on JOLT, a Marie Curie ITN on harnessing digital technologies in communication.

She has been involved in various research and oversight capacities on the Irish Citizens' Assembly (2012-2022) ) and was a founder member of We the Citizens (2011), Ireland's first deliberative experiment. She is a member of the OECD's FutureDemocracy network and on the advisory board of the Federation of Innovation in Democracy Europe (FIDE) and has also advised in Scotland and elsewhere on citizens' assemblies. Jane has testified at the OECD, the European Parliament, the UN and the UNDP as well as the Oireachtas. She was the joint winner of the Brown Democracy Medal in 2019 and the President's Award for Research. She was awarded the prestigious title of the Irish Research Council's Researcher of the Year in 2020.

She has published in 30 plus journals including Science, International Journal of Political Science, Electoral Studies, Politics and the International Journal of Communication and is the author of three books including Reimagining Democracy: Lessons in Deliberative Democracy from the Irish Frontline published by Cornell University Press and
Disinformation and Manipulation in Digital Media with Dr Eileen Culloty
.

Her research is comparative: besides Ireland, her recent projects have included all European democracies as well as most of the OECD. Jane is a Visiting Fellow at Stanford University and the Reuters Institute, Oxford University. Jane is a frequent contributor to broadcast and print media and is a former journalist having worked as Economics Editor at The Irish Times and for other media such as the FT Group and AP Dow Jones.
Research interests
Jane is Professor of Political Communication and director of FuJo, the Institute for Future Media and Democracy and Society at DCU overseeing a large number of projects examining information and communication within the public sphere. She is PI on H2020 ICT28 Provenance Countering Disinformation and on the Marie Curie ETN JOLT on harnessing technology for communication which examines . how algorithms impact on journalistic consumption and production as well as the threat to socially valuable journalism from the oligopolistic market power of digital media corporations and the political economy of online news sharing. She is also PI on a project examining COVID-19 disinformation and the potential of scaling up deliberation in crisis and H2020 EUComMeet Developing Participatory Spaces using a Multi-stage, Multi-level, Multi-mode, Multi-lingual, Dynamic Deliberative approach (M4D2) . Jane is also Senior Research Fellow on the Irish Citizens' Assembly on gender.