Primary Department
School of Communications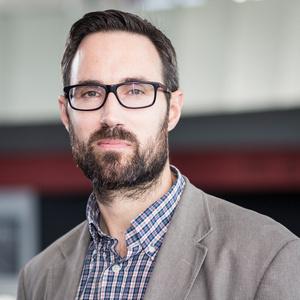 Phone number: 01 700

6593
Email Address
Neil.OBoyle@dcu.ie
Academic biography
Neil O'Boyle is a communications lecturer who researches the relationship between media, popular culture, and collective identities. His work also examines immigration and integration.
Neil is currently Co-PI on the ERASMUS+ funded 'BeFore' project (Anti-Bullying Education for Sports Coaches) 2022-24. He was formerly lead researcher on the Irish Research Council funded project 'Immigration and Social Change in the Republic of Ireland' (2008) and Co-PI on the European Commission funded MEDIVA (Media for Diversity and Migrant Integration) project 2011-12. In both 2022 and 2023, he received a Research Ally Award from the Irish Research Council.
In addition to his work on immigration and integration, Neil has written extensively about the interrelationship of popular culture and media, a subject he explored in New Vocabularies, Old Ideas: Culture, Irishness, and the Advertising Industry (Peter Lang 2011), and Sport, the Media, and Ireland (Cork University Press, 2020). His most recent book is Communication Theory for Humans: Communicators in a Mediated World (Palgrave, 2022).
Neil is a former editor for Cogent Social Sciences and a judge on the International Undergraduate Awards (Media and Arts category). At DCU, he is currently the Teaching and Learning Convenor for the School of Communications.
Neil's Teaching and Learning portfolio can be accessed by clicking here: https://reflect.dcu.ie/view/view.php?t=MeyArxZnHIwD6tF81uT7
Research interests
Dr. O'Boyle welcomes enquiries from students who wish to undertake masters or doctoral work in his areas of research interest:

- Advertising
- Sport
- Immigration and Integration
- Communication Theory
- The Media Industries

He is currently supervising the following PhD students:

- Madeline Boughton ('Re-Imagining Ireland: the birth of a nation brand and the leading role of Irish arts and culture in its ideation and enactment')

- Aaron Gallagher ('Teamwork: Examining the working relationships between sporting organisations, athletes and the media in Ireland')