Research
The School of Communications has a long-standing record for excellence in research with staff engaged in national and international projects in the areas of media, communications and journalism.
Our Professors produce innovative peer-reviewed and internationally ranked research published as edited and authored books, as book chapters and in leading academic journals.
The School is also actively involved in networks and initiatives supporting policy development by the Irish government. Our staff regularly collaborate in research projects with the business community and the non-governmental sector.
This research output also benefits our current students in the classroom in keeping with the School's commitment to real world education in media, communications and journalism.
The School is currently home to over 40 postgraduate research students at both MA/MPhil and PhD levels.
Publication of 'State in Transition' (Royal Irish Academy, October 2015) (left-to-right) Mark O'Brien, Kevin Rafter, John Horgan and Emily O'Reilly, European Ombudsman.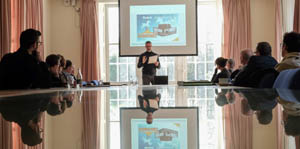 Research symposium 'Advertising Past and Present' (DCU, January 2016) organised by Neil O'Boyle with keynote address by Professor Sean Nixon, University of Essex.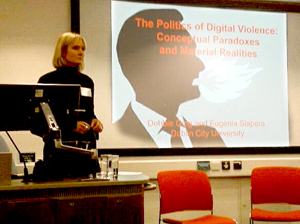 Keynote address at Digital Violence symposium (Anglia Ruskin University, November 2017) delivered by Debbie Ging and Eugenia Siaperia.