MSc in Bioprocess Engineering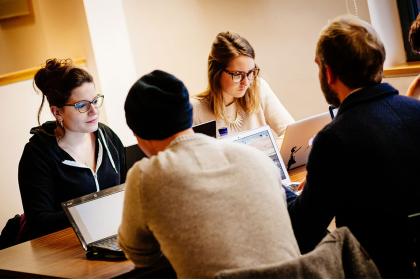 Course Code:
DC735 (Full-Time) & DC734 (Part-Time)
Course Type:
Postgraduate
Duration
Full Time - 1 Year, Part Time - continuous min 1 year

+353 (0) 1
700 6213

david.collins@dcu.ie
The DCU Student Application Portal is open from 1st November 2022. For applications to this programme see the 'Make an Application' section below.
The Master of Science (MSc) in Bioprocess Engineering is delivered by DCU's School of Biotechnology in conjunction with TCD School of Pharmacy and Pharmaceutical Sciences and the National Institute for Bioprocessing Research and Training (NIBRT). It is accredited by DCU.
The MSc is an interactive and dynamic programme that will develop your knowledge and appreciation of the conceptual and factual bases for bioprocess design and operation. It also develops your understanding of bioprocessing, particularly the structures, roles and experimental methods associated with biopharmaceuticals, their analysis, production methods and technology for monitoring and control of bioprocesses.
It provides an advanced and up-to-date academic base in the major disciplines of bioprocess engineering and fosters a range of transferable skills across a full range of relevant subjects.
The MSc in Bioprocess Engineering won the Postgraduate Course of the Year Award in Health Sciences at the Gradireland Higher Education Awards 2017 and again in 2018. The judges' comment was as follows: "An excellent course with strong industry and inter-institutional collaborations."
This course has been designed to:
Update and upgrade the knowledge, understanding and skills of graduates who are interested in pursuing or are currently working in the Biopharmaceutical industry.

Retrain graduates working in related disciplines, by providing advanced level modules in the theory, analysis design and practical methodology of the rapidly evolving subjects that are associated with this sector.
Part-time students: Part-time students can complete the course anytime within a four year period, however we recommend that you take the course over two years. To complete the course within this time-frame, you should take three taught modules each semester and complete the dissertation project during a summer semester. The dissertation module opens during March each year, you may start it on the completion of six taught modules. All taught modules are self-contained and independent of each other. You may choose modules in any order you wish, however we recommend taking BE517, BE515, BE587 & BE560 in the first year as they offer a grounding in the course.
View the current course structure
The programme has an excellent reputation in the biopharmaceutical industry, with a number of companies (Eli Lilly, Pfizer, Merck, BMS) registering employees for the full or partial programme.
This post-graduate programme builds on the world-renowned experience of the course presenters, including professors, lecturers and industrial experts.
The programme provides a platform for entry into research-level positions (PhD, further specialised programmes) and industries involved in the production of recombinant therapeutic proteins/diagnostics.
It also provides a highly interactive environment for the understanding of real bioprocesses, and to encourage discussion with industry experts in a dynamic environment, on actual problems and challenges in the bioprocessing sector.
As a MSc graduate you will be able to further your career with a thorough understanding of best-practice in Ireland's rapidly-growing biopharmaceutical industry. This is a highly skilled sector and graduates are in demand by all companies in the biopharmaceutical industry. It will also help you to advance your career with your current employer.
Requirements
This programme is targeted at industry based students or anyone who wishes to move from small molecule manufacturing to bio-pharma.  For example, in cases where a student has more than three years industry experience in a related field.
The programme will be open to graduates and those currently working in industry with an honours degree (minimum second class honours grade 2) in Science or Engineering. 
Applicants who do not hold an honours degree but who have significant relevant industrial experience will also be considered, and should contact the Programme Chair to discuss this prior to applying.
International candidates who are non-native speakers of English must satisfy the University of their 

competency 

in the English language.  More information about DCU's English language requirements can be found 

here

.
Fees
Full time
EU Status Fee
€6,900 per annum
Non EU Fee
€16,000 per annum
Part time
EU Status Fee Part-time
5 Credit Module €368/Dissertation (30 credits) €2,208/Part time capitation fee €170
Non EU Fee Part time
5 Credit Module €824/Dissertation (30 credits) €4,945/Part time capitation fee €170