School of Nursing, Psychotherapy and Community Health
MSc in Dementia Health Care Practice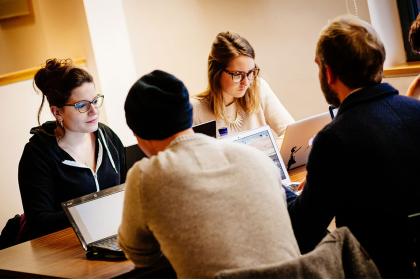 Course Type:
Postgraduate

+353 (0) 1
01 700 8534

snpchenquiries@dcu.ie
This programme will not have an intake in September 2022
In response to the changing needs of educational provision in healthcare practice and stakeholder consultation, the School of Nursing and Human Sciences has developed a postgraduate educational framework for nurses and other healthcare practitioners.
This part-time programme, at level nine on the National Framework of Qualifications, allows students to obtain a Master degree in their chosen practice area over two years. Students have the option to complete their Graduate Diploma or their Graduate Certificate in 18 months if they do not wish to continue to Masters. Students wishing to take a more flexible approach can complete the programme over four years.
Using a flexible and blended mode of delivery, students engage in both face to face and virtual learning environments. In addition to seminars from multidisciplinary practitioners, participants engage in group and simulated learning experiences that are further enhanced by learning in practice. Students are allocated an academic and practice supervisor with expertise in their chosen practice area, who provides support, guidance, and forms part of a tripartite team, in developing and assessing a practice portfolio.
Graduate Certificate students take three ten credit dementia-specific modules (1 per semester) focusing on person-centred dementia care, therapeutic responses for people with dementia and dementia and everyday ethics.
Graduate Diploma and MSc students take the three ten credit dementia-specific modules (1 per semester) and three, core, ten credit modules (1 per semester) that focus on professional role development, leadership and collaboration, and research skills.
In the final six months, MSc students take a core 30 credit module, which includes advanced research learning and the completion of a research dissertation.
As the programme predominately includes modules with practice embedded elements, it is anticipated that students will normally be working in an area related to their focus of study. Upon successful completion, it is expected that the practitioner will be able to initiate and lead practice developments resulting in an improved quality of care within the Irish health care system.
The unique tri-partite model of practice, supervision and assessment focuses on the development of practice with modular learning and expected outcomes directly embedded in your practice environment.
You will have the capacity to specialise in your chosen area and tailor the programme to your needs.
Each programme is delivered within a blended learning framework, which ensures there is a mixture of online, face to face, and practice based learning.
Students are allocated a practice/clinical supervisor from their practice area, to provide support and guidance.
This programme will support healthcare professionals who wish to further their career in a particular area of practice, e.g. where there are opportunities for developing new services, models and roles, or for specialist and advanced practitioner roles in healthcare provision. It will also help professionals gain valuable postgraduate clinical/practice education, thereby helping them to progress in their chosen career.
Requirements
Entry to the programme will be considered for candidates who hold a Primary Degre (NFQ Level 8), with a minimum of Second Class Honours (H2.2), in a relevant discipline.
Where a prospective student has not attained the required academic level prior to their application, and in keeping with the University Policy on equality of access and opportunity, additional opportunities fo rentry to the programme will be available.  These are offered thorugh Recognitition of Prior Learning (RPL).
Candidates will normally be expected to be working in the area of practice which they hope to study over the course of the programme.  The Programme will incorporate a separate external practice placement.
All Applicants must submit:
Academic transcripts for each and every year of study
Copy of CV outlining relevant experience
Confirmation that you are working 20hrs per week in your chosen area of practice
If you are being sponsored through the Nursing and Midwifery Planning and Development Units (NNMPDU) (and subsequently your employers) and have a sponsor letter please upload this as part of your application as a General document
Non Native English Speakers must submit
Qualification
MSc in Dementia Health Care Practice
International candidates are expected to have educational qualifications of a standard equivalent to those outlined above. In addition, where such candidates are non-native speakers of the English language, they must satisfy the university of their competency in the English language click here.   Some candidates may be asked to complete an additional English language course prior to being offered a place.  For further information on international applications click here 
Fees