Car Parking at DCU
Parking details for each DCU Campus can be viewed using the tabs below.
DCU Glasnevin Campus

There are four main car parking facilities (CP1 - 4 as shown in the map below) available on the DCU campus for staff, students and visitors to the University. These car parks provide just under 1400 spaces for in excess of 14,000 campus users. In addition there are some designated car parking facilities for the DCU Sports Complex, DCU Residences and overflow/bus parking. The management of the car parking facilities is designed to facilitate the maximum number of DCU staff and students who need to commute on a daily basis to DCU. Parking is allowed in car parks only. No Overnight Parking is permitted without prior authorisation. Clamping is in operation throughout the campus.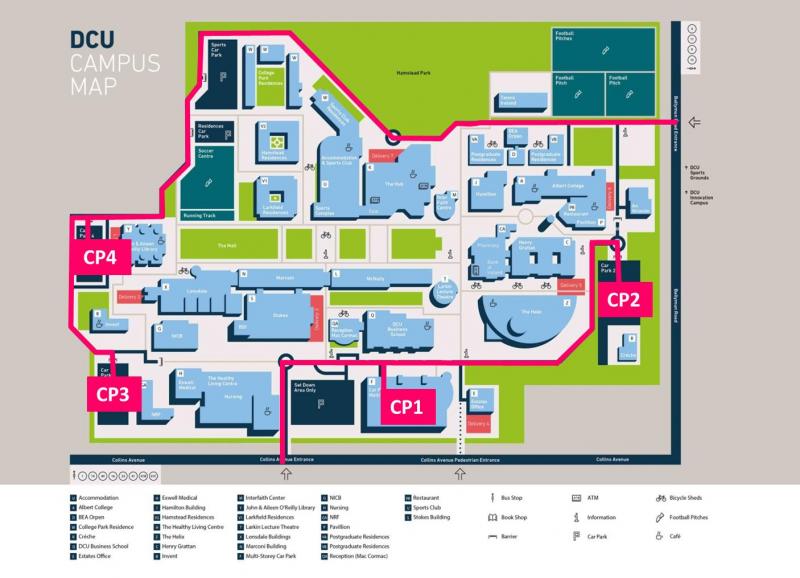 More Parking Information
Campus Parking Regulations
The following regulations have been introduced in the interest of safety and security, and also to facilitate the work of the grounds and maintenance staff:
Parking is allowed in designated car parks only. Parking is not allowed on all University roadways, set down or pedestrian area. All cars should be parked in designated car spaces only.
No Overnight parking is permitted without prior authorisation.
The parking spaces reserved for those with a disability should not be used by others. Cars used by those with a disability must display the internationally approved permit and it must also be in date. The owner of the permit must be the designated driver or be accompanied by a designated driver.
The speed limit throughout the campus is strictly enforced at 30kph. The following sanctions will be imposed for breaches of the speed limit:

First offence - €80.00 fine.
Second offence - €190.00 fine.
Third offence - Permanent withdrawal of a right to bring a motorised vehicle onto campus, these sanctions also apply to clamping offences.

CLAMPING The following are the sanctions for illegal parking of cars:

First offence - That the car be clamped using an ouside contractor with the cost of removal being set at €80 for a first offence.
Second offence -That the car be clamped with a removal charge of €190.50.
Third offence - Withdrawal for one year of the right to bring a motorised vehicle on to the campus.
Fourth offence - Pemanent withdrawal of right to bring a mototorised vehicle onto the campus.
A Clamping Panel has now been set up and all appeals should be sent to clamping@dcu.ie.

Motorbikes and bicycles must park in designated parking zones.
Motorbikes and bicycles that are illegally parked, including those locked to trees, railing, campus signposts or lamp standards, will either be double locked or removed at the owner's risk. The University will not be liable for damage to locks resulting from such removal, and reserves the right to impose a fine for such infringements of the parking regulations.
Motorbikes and bicycles which are 'illegally' parked may have a chain and a padlock attached to the wheel.
A charge will be made at the time of removal to cover administrative expenses for this operation.
Where to Park

Staff and Student Parking
Staff and students can avail of 4 car parks in DCU which are managed and run by the Estates Office.
Car Park 1 (Multistorey)
Car Park 2 (Créche)
Car Park 3 (Invent)
Car Park 4 (Library)
(Campus Residents Car Park- see section on this car park)
(HLC patrons Car Park, please contact HLC reception 700 7171)
N.B. The Estates Office does not manage the Sports Complex car park.
Please contact Sports Complex reception for further information.
Contact:
Sports Complex Car Park: 7005797
All other Car Parks: helpdesk.estates@dcu.ie or phone 01-700 5142
Visitors to DCU and The Helix
All visitors (including parental drop off's/collections) should use Car Park 1 ( multistorey) only. Please do not park in the set down only area across from main DCU Reception as this causes serious congestion and you may be clamped or fined. (See section on invited guests).

Patrons of the Helix must also use this car park. The first 15 minutes are free.
Car Park 1 - Multistorey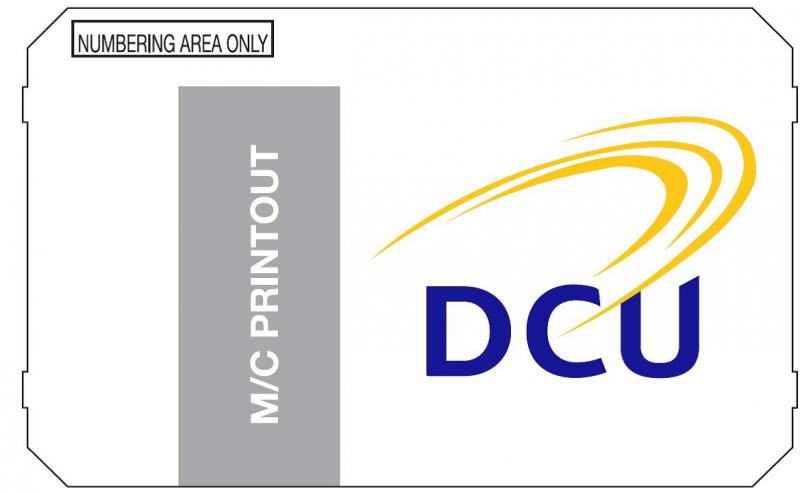 The current Car & Motorbike parking rates are as follows:
First 15 mins - Free
30mins – 1hr €1.00
1hr – 2hr €2.00
2hr – 3hr €3.00
3hr – 5hr €4.00
5hr – 12hr €8.00
12hr – 18hr €10.00
18hr - 24 hr €12.00
Staff / Student ticket €7 ( See 6 use tickets )
Lost ticket - €12.00
72 hrs+ (without prior arrangement in writing with the Estates Office Helpdesk) €100.00
Payment is not accepted at the exit and must be made before returning to your car. There are 4 pay stations. Two are located in the car park lobby which is located opposite the Helix and The Estates Office. There is a pay station for persons of limited mobility (as well as the general public) located in the car park basement (level 0). This can be accessed by entering the lift and pressing "0". The tunnel to the Helix can also be accessed this way. A total of 23 spaces are available for disabled users through this car park.
Currently but subject to change Credit Card payments must be paid at the car park office located at the exit. There is also a pay station located at the exit.
Do not drive to this pay station or to the car park office as there is no set down area and vehicles will block the exit lanes.
Patrons of the Helix can purchase a green exit ticket from the Helix confectionary shop for €4.
Overnight parking is NOT allowed without prior authorisation.
OVERNIGHT Car Parking at DCU will be permitted in extenuating circumstances such as being off site on Univeristy Business. Overnight Car Parking willl only be permitted in Car Park 1 (multi-storey) with prior authorisation. To apply for authorisation please send the following information to parkingoffice@dcu.ie in advance of parking your car.
Full Name and Unit/Department:
Dates Overnight parking required:
Extenuating circumstances:
Car make/model and registration number:
Multi-entry Tickets

6 use tickets are available to DCU
staff and students
only on production of their staff/student cards.
This ticket allows the user to park in the multistorey only.
This pink ticket allows the user to park in the multistorey only.
This pink ticket is valid for 90 days. The validity dates are also printed at the top of the ticket.
It allows the user to enter and exit the car park 6 times during the validity dates only.
One entry and one exit equals one use.
The ticket will not let the user exit the car park if the validity time and date has expired

If the user is not in possession of a 6 use ticket at the entry, the white ticket should be pressed to gain entry. This white ticket can be swapped for a 6 pass ticket at any time afterwards.
Out of date tickets will also allow entry but these too must be exchanged for a new 6 use ticket to exit or else a fee will be displayed at the exit terminal. Users can if they wish pay this fee instead.
Invited Guests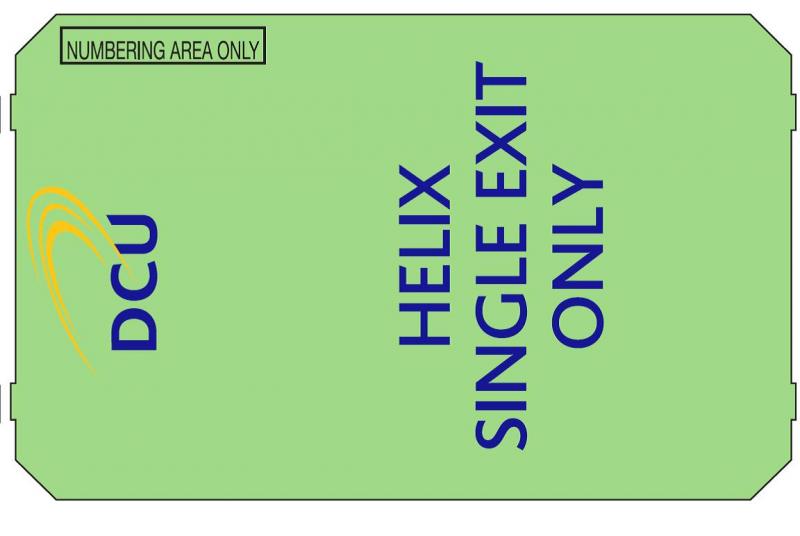 Guests of the University can pre-purchase pink 6 use tickets or green 1 exit tickets for Car Park 1 (multi-storey) only. Requests on behalf of guests should be made by e-mail only to rory.odonoghue@dcu.ie and not to the Estates Office. The e-mail should include a purchase order number, quantity and type of ticket required. The purchase order amount must exceed €50. Purchase orders with an amount lower that €50 will not be accepted. For amounts lower than €50 cash or credit card payments will be accepted provided an order has been requested by email. Personal callers will not be sold tickets. At the end of every calendar month finance will invoice for the amount due. These tickets are issued at the discretion of the Estates Office.
For Agresso users the campus company required is Dublin Software Park. 6 pass tickets are €7 and 1 exit tickets are €3. Both prices include vat.
Car Parks 2, 3 & 4
Car Parks 2, 3 and 4 are free. Your staff or student card only will automatically let you access these car parks.
There is no need to contact the Estates Office or the car park office to get a card activated.
Damaged staff/student cards are replaced by HR/The Registry and not at the car park office.
To enter these car parks put your card in the slot provided with the photo first in and facing up.
Handy Tip: On occasion cards inserted correctly can read faulty. Users should clean the black strip and re-enter the card. If this fails to work please contact the Car Park Office in Car Park 1 (multi-storey).
Vehicle access to car park 2 is via the Collins Ave entrance only.
Vehicle access to car park 3 and 4 is via the Ballymun entrance only.
There is no access through the barrier at the Albert College.
Vehicles must park within the white markings only. Vehicles parked outside of the white markings may be clamped. During semesters these car parks can be full before 9am, waiting at the entrances is not allowed.
This is especially so in car park 2 as the créche is located here and parents will need access even if the car park is full.
When full, intending users should park in Car Park 1 (multi-storey).
Overnight parking is strictly not allowed in either of these car parks. There are two disabled spaces in car park 2 and 6 in car park 4.
Overflow Car Park
This car park is for emergency use only and can only be opened by the Security Team when deemed necessary. Please note if you are using this car park or the set down area you must use the "Pay By Text System" rates and terms are posted on signage within these car parks. Please note this service is provided by an External Company all queries related to this should be directed to the Company and not Dublin City University. Users who open the car park themselves will be clamped. The set down area opposite the main reception is not part of this car park. Waiting in the set down area for the overflow to open is "NOT" allowed. On ocassion buses for the Helix or other events on campus are parked in the overflow car park. Car users are requested not to park in such a way as to block their entry or exit. When all car parks are full all vehicles should park off campus.
Campus Residence Car Park
This car park can only be accessed by students who have paid to park here during semester times only.
These students are required to display a permit. Non permit holders will be clamped.
Visitors or contractors who require access through this car park must contact the car park office at ext 700 8990.
Do NOT contact campus residence or sports complex reception.
Students who wish to avail of parking in this car park should read the terms and conditions of using this car park.
DCU St Patrick's Campus

The University has limited parking capacity and does not guarantee that car parking spaces are available for all vehicles.
The University does not accept liability for any loss from or damage to vehicles using the campus, however arising. Vehicles parked on campus do so entirely at their own risk.
It is the responsibility of the car park user to be fully aware of the parking rules and regulations as indicated on the signs throughout the campus.

In the interest of maintaining a safe campus environment, clamping of vehicles is in operation and monitored by an external services provider NCPS. Appropriate signage is in place.

Staff Parking
University staff can park in any of the designated parking spaces on campus in car parks 2,3,4 and 5. A Parking Permit is required but does not guarantee a parking space. Any cars parked in these car parks that do not clearly display a valid staff parking permit will be clamped.
Clamping times: Monday to Friday 8am to 3.30pm
Student Parking
University students can park in any of the designated parking spaces on campus in car parks 2,3,4 and 5. A Parking Permit is required but does not guarantee a parking space. Any cars parked in these car parks that no not clearly display a valid student parking permit will be clamped.
Clamping times: Monday to Friday 8am to 3.30pm
Visitors Parking
Short Term – Car Park 6 - Pay by Text
A number of paid visitor spaces are clearly set out with appropriate signage facing Bangor Hall of Residence. The Pay by Text parking area is operational 24/7 and monitored by an external service provider NCPS. DCU parking permits are not valid in the visitor Pay by Text parking area. Vehicles parked in the Pay by Text area without a valid payment will be clamped on a 24/7 basis.
Clamping times: Monday to Sunday 24/7
Maintenance & Contractors
Maintenance and contractors must contact the Estates Office in advance of their arrival on campus.
Gate Lodge Parking

Set down for Estates Office only.
Belvedere House
Parking in the vicinity of Belvedere House is restricted solely to Reserved (Blue) Permit holders and designated temporary visitors. Vehicle registration details in relation to such users should be supplied and arranged in advance with the President's Office. Designated temporary visitors include external members of the University Governing Authority, other University Committees, and officail visitors to Belvedere House. Students and staff may not park in this area. Vehicles parked at Belvedere House without a valid in-date Reserved (Blue) Parking Permit will be clamped. This area is monitored by the external service provider NCPS.
Clamping times: Monday to Sunday 24/7
Disabled Parking

Vehicles displaying a recognised Disabled Drivers Permit may park their vehicles in any designated space in the car parks.
Parking Permits
A Parking Permit system is in operation.
Student parking permit application forms are also available from the Students' Union Office on 01-884 2230.
Parking permits remain the property of the University, which reserves the right to withdraw, revoke or otherwise amend the permits, and the policy governing their issue, at its sole discretion. It is the responsibility of the vehicle driver to ensure a valid in-date permit is displayed at all times, while the vehicle is on campus. Vehicles which do not display a valid in-date parking permit will be clamped. A Parking Permit does not guarantee a parking space.
Parking spaces, where defined, are laid out so as to provide safe entry, exit, and circulation around the campus. Vehicles not parked in a designated area (whether displaying a permit or not) and / or causing an obstruction will be clamped. Vehicles parked in a manner which causes an obstruction to other vehicles or to emergency access routes or emergency exit doors, or parked on footpaths/grass areas/flower beds etc will be clamped. The size of a vehicle may not be suitable for some parking spaces, which may result in the vehicle being clamped. Vehicles parked on double yellow lines will be clamped.
The following areas of campus must be kept clear to facilitate access by pedestrians and emergency vehicles including Ambulance, Fire Brigade and the Gardai.
Belvedere House driveway.
The area leading into the Boiler-house yard.
The area around the Waste Disposal Bin/Skip.
The road area in front of the Senior School and in front of Glendalough and Lismore Halls of Residence.
The changing rooms at Lismore and Glendalough.
The roadway in front of the Educational Research Centre where there are clear road markings.
The two Bus parking spaces in front of the Educational Research Centre.
Any other area of campus that may compromise Access, Security, Maintenance and or Health & Safety.
Vehicle Clamping
Due to the large number of vehicles utilising the campus on a daily basis and the finite number of parking spaces available, it has been necessary to introduce vehicle clamping to control and manage campus parking, for the benefit of the campus community and visitors to the University. The University is not responsible for clamping of vehicles. Violations of the University car parking policy will result in a vehicle being clamped. The release fee for clamped vehicles is €125 payable directly to NCPS. Nationwide Controlled Parking Systems (NCPS) is a private company operating independently of the University. Clamped vehicle owners have the right of appeal to NCPS. Appeals in writing to appeals@ncps.ie , for further information, please see the following link https://www.ncps.ie/general-terms-and-conditions-ncps/
The following conditions will not be regarded as sufficient grounds for a successful appeal:
Display of an invalid or out of date parking permit
Non display of a parking permit
Parking in an un-marked space
Parking in an area with 'Set Down Only' road markings or any other 'prohibitive signage'
The unavailability of parking spaces
The urgent requirement to attend Lectures or Tutorials or Workshops or Seminars or other events or the performance of duties howsoever arising
Intended or unintended parking causing an obstruction
Lack of awareness or knowledge regarding parking rules or regulations
NCPS is contactable by telephone at 01 6349805
Pedestrians & Bicycle Users
Due to the large number of pedestrians and cyclists circulating around the campus, all road users are asked to be mindful of these vulnerable road users and a 10km/hr speed limit applies to all areas of the campus. There are dedicated bicycle sheds around the campus where bicycles can be parked.
All Hallows Campus
From the 1st of September 2016, a new permit system will be implemented for the DCU All Hallows campus.
STAFF
Staff wishing to park on the DCU All Hallows Campus, must have a valid parking permit for All Hallows Campus. A permit does not guarantee a parking space and car parking will be provided on a first come first serve basis.
To get a permit, please download and complete the form below and return it to the main reception on the All Hallows Campus. Permits can be collected from the same location.
STUDENTS
A limited number of student permits will be issued. These will be issued on a lottery basis. To enter the lottery please download and complete the form below and return it to the main reception on the All Hallows Campus before Friday 29th September 2017. Following the draw, successful applicants will be emailed and can collect their permits from the main reception on All Hallows Campus. NOTE: Students will only be permitted to park in designated student parking in the Purcell House Car Park.
VISITORS
Visitors to the campus should call to the main reception, where they will also receive a parking permit for their visit.
Cars parked without a valid permit or in an unauthorised space will be clamped.