Higher Education Research Centre
Age and ageing in higher education: exploring the benefits and costs of higher education distribution over the lifecourse
On 5 December, Professor Tom Schuller, Director of Longview, a UK 'think-tank' promoting the value of longitudinal and lifecourse research, delivered a lecture entitled Changing demographics of higher education: policy implications for research, teaching and learning. This was the seventh in a lecture series hosted by the Higher Education Research Centre (HERC) DCU, with support from the Higher Education Authority (HEA) and the Dublin Region Higher Education Alliance (DRHEA). The welcome address was given by the President of DCU Professor Brian MacCraith. The event was chaired by Professor Maria Slowey, Director of Higher Education Research and Development, with participants and expert panellists Professor Brendan Whelan, Research Advisor, the Longitudinal study on ageing (TILDA), Professor Mark Morgan, Cregan Professor of Education and Psychology, St Patrick's College Drumcondra and Trudy Corrigan, Lecturer in the School of Educational Studies and DCU Intergenerational Learning Programme Coordinator.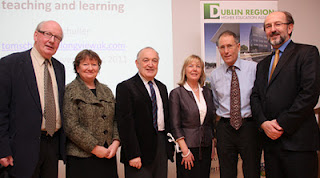 Professor Mark Morgan,

Trudy Corrigan,

Professor Brendan Whelan,

Professor Maria Slowey,

Professor Tom Schuller,

Professor Brian MacCraith
At the times of economic uncertainty, public concerns and youth unemployment, a strong case should be made for a lifecourse perspective with its focus on both individual and societal wellbeing. This was an opening remark of Professor Schuller. The demographics, as the overall theme of the lecture was approached from two angles: i) ageing of population and its overall impact on higher education, ii) sociological implications of ageing on universities as expressed in changing patterns of gender enrolment trends, access policy and curriculum provision. Reflecting on massification of higher education Professor Schuller remarked that, while an investment in education is considered to be a good thing on the individual level, there are at least three important questions that arise. These include the 'lag' question (change in relative advantage), the distribution question (of benefits and costs of higher education) and the generation question (issues of equality, efficiency and tension)'.
Speaking of ageing and higher education Prof. Tom Schuller highlighted that the current focus should not be just on older students but also consider the lifecourse as a whole. Therefore, it would be worthwhile to explore issues around paid/unpaid work across the lifecourse, family systems and the extent of their provision of financial and caring supports to both older and younger relatives and, new understandings of pathways from one life stage to another. Supporting his last point Professor Schuller has given an example of an alternative mapping of the key lifecourse transition stages. To note, this was also one of the recommendations of his recent co-authored publicationLearning Through Life, namely a proposed new model of 'educational lifecourse': 'up to 25', '25-50', '50-75' and '75+' years. Reflecting on this important Report, Prof. Schuller raised another question: Considering the current trends of younger people staying longer in education and staying at home, could one of the priorities be rethinking the employment regarding the work entry?
The theme gender and higher education was the second identified in the talk. The speaker has argued that one of the broad social trends relates to 'performance' - the fact that the women make up of the most of entrants and graduates of higher education institutions in OECD countries. Additionally, young women seem to be more likely than men to finish upper secondary education in every OECD country (with the exception of Germany and Switzerland). In turn, the monetary 'reward' of completing the higher education seems to be higher for men across a number of OECD countries.
Speaking of the general challenges and issues facing higher education nationally and abroad in the times of demographic changes, Professor Tom Schuller spoke of 'rebalancing' of resources over the lifecourse and possible changes in curriculum content and provision to match demographics. He concluded the event stressing that research on transitions and trajectories of people over their lifecourse to understand patterns and variation is now high on the agenda, in addition to a need of a greater experimentation in the use of the human capital in the workplace.
Professor Tom Schuller is currently Director of Longview, a UK 'think-tank' promoting the value of longitudinal and lifecourse research, and a consultant on social and educational research. He is a visiting Professor at Birkbeck College, University of London and the Institute of Education; a Senior Research Fellow with the National Institute for Adult Continuing Education; Research Associate with SKOPE (University of Oxford); and a Visiting Research Fellow with the UK Commission on Employment and Skills.