Faculty of Humanities & Social Sciences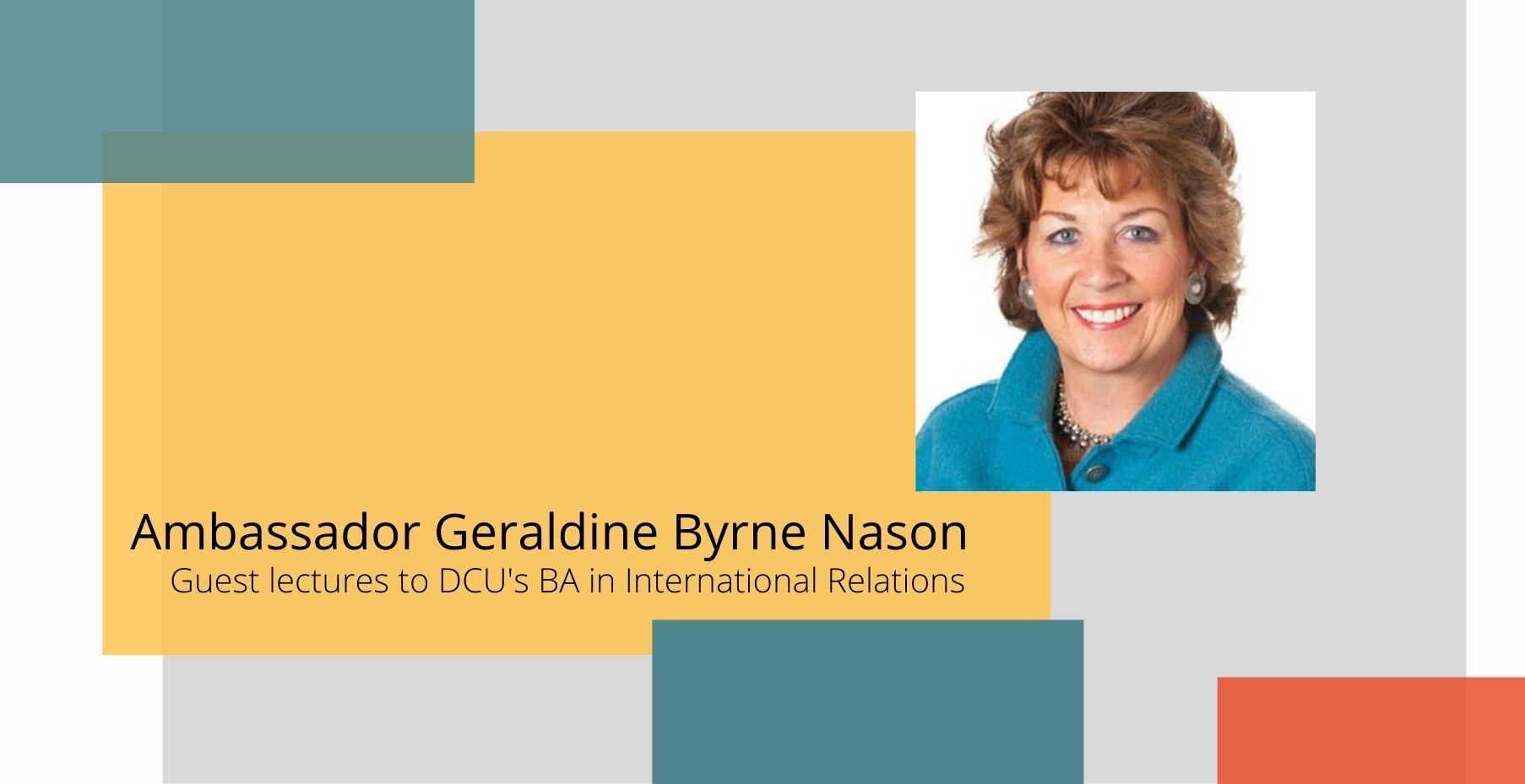 Students on DCU's BA in International Relations welcomed Ambassador Byrne Nason
DCU's undergraduate students from our Bachelor's in International Relations (BAIR) programme welcomed a special guest for the last week of Semester 1 when Ambassador Geraldine Byrne Nason, Ireland's Permanent Representative to the United Nations, delivered a guest lecture on Thursday 25 November.
Students learn about Ireland at the UN
The guest lecture was part of the 'LG233 - Conflict, Peace & Security' core module which is an important component of the International Relations course. DCU President, Prof Daire Keogh introduced the honourable guest to the audience and thanked the Ambassador for her consistent effort and hard work, which plays a key role in maintaining a proud record of Irish diplomacy at the world's apex forum.
Course lecturer Moign Khawaja said: "Ambassador Byrne Nason's inspirational and eye-opening talk focused on Ireland's efforts on helping bring peace to war-torn countries around the world and contribution to the UN's peacebuilding effort."
UN Charter
Hearing from the Ambassador gave the students a unique opportunity to learn first-hand about the Permanent Mission of Ireland to the UN which has been central to Ireland's foreign policy since it joined in 1955. The principles and values enshrined in the UN Charter are common collective goals, and they include:
maintaining international peace and security;
promoting the peaceful settlement of disputes;
promoting and protecting human rights and fundamental freedoms; and
promoting economic and social development.
Diplomatic career
The guest lecture was followed by an engaging Q&A session, in which a number of students and staff members posed questions directly to Ambassador Byrne Nason, and enquired about her diplomatic career as well as Ireland's role at UN Security Council and its involvement in bringing peace and stability in different regions around the globe.
Global challenges
At the UN, Ireland seeks to translate the principles and values of the UN Charter into effective international action on a range of global challenges which is extremely relevant to students on the BA in International Relations who learning about:
combating global poverty and hunger and devising a new development framework for the period 2015 – 2030;
ensuring international peace and security;
defending human rights; and
eliminating the threat posed by nuclear weapons.
More about DCU's BA in International Relations
DCU's International Relations degree gives students insight into the major world issues that challenge and fascinate us today, such as globalisation, international law, third-world debt and American foreign policy. Students will also study key institutions like the European Union and the United Nations and learn from staff in DCU with expertise in areas such as Terrorism and Counter-terrorism, European Union studies, Middle-Eastern studies, International Security and Conflict Studies, International Law and Aid, and Development Studies. Read more here.