Faculty of Humanities & Social Sciences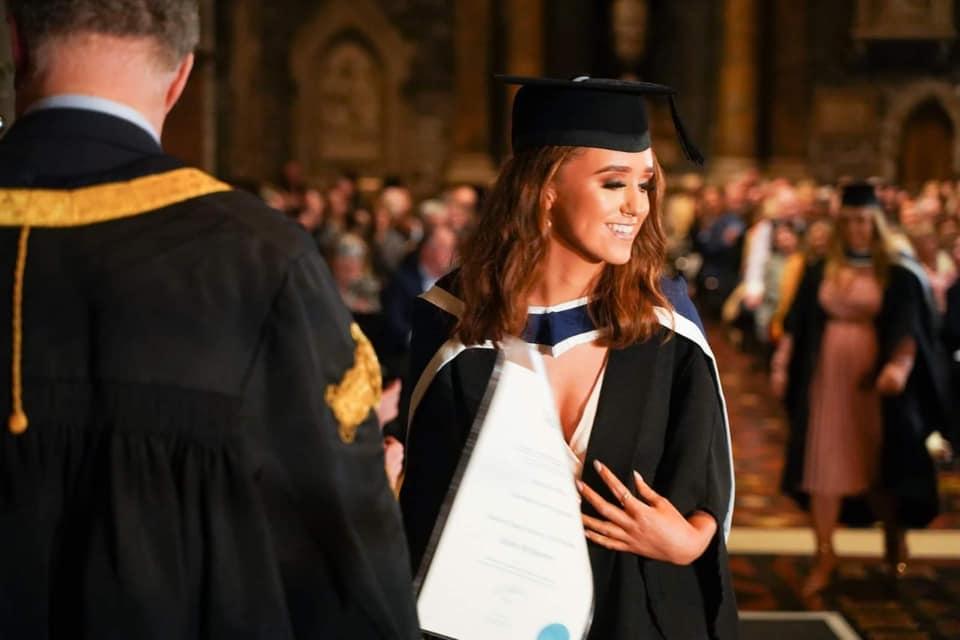 "My ambition is to become a communicator that reinforces political communication with easily digestible information."
Why I chose the MA in Political Communication 
My final year studying Journalism with French revealed to me the significance of effectively communicating and forming trust to enhance political communication. Coming from a journalism background with experience working in national news outlets, the dynamic relationship between the media, politics and the public proved tricky to navigate as a reporter. This frustration sparked my ambition to become a communicator that opens up avenues that reinforce effective political communication with easily digestible information. Throughout my time at college, I gained a heightened understanding of media strategies and their power and it prompted a keen interest in the area of organizational structure and how this affects media strategy, something examined in detail on the MA. Interpreting and articulating Ireland's ever changing political landscape is essential and shockwaves of change within Irish politics alerted me to the significance of this MA. 
Although there were a few similar MA programmes, I kept coming back to the programme at DCU. The attention to detail with regard to module content was exactly what I was looking for. They're essentially two different realms, politics and communications, and the way they're blended and delivered really appealed to me. 
My Postgraduate Experience 
Given the challenging circumstances of the COVID-19 pandemic, my postgraduate experience was consumed by online learning and interactions. In terms of the learning experience, lecturers were incredibly engaging and they organised interactive formats which worked well. Thankfully, this engagement was replicated on our online learning platform, loop, with a plethora of content. Additionally, the online environment did not hinder networking opportunities as we presented campaigns to working professionals.
What really struck me was the high-profile guest speakers and lecturers we had e.g. General Secretaries for Fianna Fáil and Sinn Féin, Head of Communications for Brexit, and prominent academics. 
Meeting new people is always the best part of any academic experience and despite Zoom acting as our lecture hall, coffee shop, canteen, and library, I was still able to make connections and form friendships. The variety of backgrounds on the course ranged from those working in government communications departments, NGOs, journalism and many more. A melting pot of disparate sectors, gaining insight and learning from each other was a joy. Overall, my experience of the MA has been incredibly positive. Each week presented truly engaging content and the opportunity to gain real-world experience to equip you for working life. As I reflect on my time, the support and guidance I have received has been invaluable and a primary motivation to pass the finish line. 
My Advice to Incoming Students 
Time Management 
As a postgraduate ambassador, the most commonly occurring questions related to time management and retaining a part-time job (in the case of full-time students). It may sound monotonous and self-explanatory, but time management is the most crucial element when undertaking a postgraduate degree. My advice to incoming students is to adopt an achievement-based approach where you hit a fixed target e.g. 2-3 hours of reading per day on top of assignment preparation or allocating a fixed period of time for a given task. It's very easy to underestimate the time needed to stay 'on top' of your work so granular planning allows for a smoother academic experience. 
Keeping your future career in mind 
Although it may seem premature, zoning in on your areas of interest will aid career prospects. Whether you're using the MA as a stepping stone or to explore what you're interested in, retaining focus on where you'll end up will ensure a beneficial experience. The MA in Political Communications offered the opportunity to network with working professionals and build connections. 
How the MA in Political Communication has made a difference to me
After taking a year out following my undergraduate study, I conducted quite a bit of research on what masters I wanted to do. I was intrigued by strategic communication and how this played out in a political context. After just a couple of weeks at DCU, I could identify areas and modules that aligned with this interest. I've always closely followed European Union (EU) politics and modules surrounding policy and EU specific communication accelerated this passion. I opted for a dissertation topic that places the European Parliament as the context and the connections I built throughout the interview process have led to a myriad of opportunities. The work I undertook prompted me to consider relocating to Brussels, the indisputable hub of EU communications. After months of scouring potential positions, I am delighted to have been offered a traineeship within the European Parliament which I will begin shortly after my MA.
Postgraduate courses accepting applications
Reach your career goals with a postgraduate course at DCU - check out the courses still open for applications until 10th September: https://www.dcu.ie/pg-open-courses