Faculty of Humanities & Social Sciences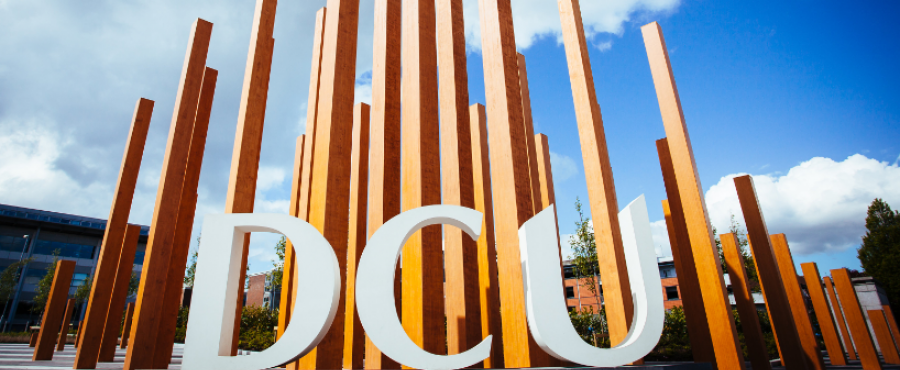 Below Image
DCU honours outstanding contributions to arts, equality, innovation and leadership
Dublin City University has honoured the outstanding contributions of their alumni community in priority areas for the University, including the arts, culture, diversity and inclusion, technology, leadership and sport, in a virtual event on Wednesday evening, July 8th.
There were six recipients of the Outstanding Achievements Awards and eleven new additions to the DCU Alumni Wall.
The awards honour alumni who, through their exceptional ability and leadership, have achieved excellence in their chosen fields of endeavour.
The President of DCU Professor Brian MacCraith said,

"As DCU celebrates its 40th anniversary, these awards highlight the huge impact that our alumni have had in Ireland and around the world over the last four decades.

Through their achievements, this year's recipients of our Outstanding Achievement Awards exemplify DCU's commitment to excellence and our mission to 'transform lives and societies."

Director of DCU Alumni Relations, Ross Munnelly said,

"We are incredibly proud of our Alumni awardees and their amazing achievements.

Through the Alumni Awards, we celebrate our graduate community and these illustrious graduates act as role models for fellow Alumni and our students, to inspire the next generation."
This year's recipients of Outstanding Achievement Awards are,
Outstanding Achievement Award for Arts, Culture and Creativity
Patrick McCabe is one of Ireland's most renowned and celebrated contemporary fiction writers, twice nominated for the prestigious Booker Prize.
A native of Clones, Co. Monaghan, Patrick has an outstanding and varied body of work stretching back over four decades.It was his 1992 work 'The Butcher Boy' that projected his work to an international audience with his first Booker nomination.
His second Booker nomination for 'Breakfast on Pluto' came in 1998.
Both were adapted for film by the celebrated director Neil Jordan.
Outstanding Achievement Award for Equality, Diversity and Inclusion
Daráine Mulvihill is an award winning national and international television presenter and host.
At the age of 16, she lost all her fingers and both legs below the knee after contracting an aggressive strain of meningitis and septicaemia.
After a year in hospital, Daráine learned to walk again with prosthetic limbs before returning to school. In 2001, she received an Irish Person of the Year Award and in 2004 was appointed to the Council of State by President Mary McAleese.
Daráine began working in RTÉ in 2006 in TV research and reporting.
She has co-hosted RTÉ's coverage of the Rio Paralympic Games and currently works as an Irish language reporter on documentary series Scannal.
She has also worked on a variety of Paralympic events for Channel 4, including their coverage of the 2014 Winter Games in Sochi, the World Athletic Championships, and she has twice co-presented the Invictus Games for the BBC.
Outstanding Achievement Award for Innovation and Technology
Sinéad Strain is a partner in Goldman Sachs and an inspirational leader of the work to progress the role of women in technology.
She is a member of the Firmwide Technology Risk Committee, Engineering Risk Committee and Global Markets Automated Trading Controls Committee.
Prior to joining Goldman Sachs in 2005, Sinead spent more than a decade working for JP Morgan in Interest Rate and Credit Trading Technology areas.
She is a co-sponsor of the Women in Engineering network at Goldman Sachs and has served on the steering committee for the New York Chapter of the Anita Borg Institute, which supports female technologists in New York City.
Outstanding Achievement Award for Leadership
Professor David Lloyd is Vice Chancellor and President of the University of South Australia and is recognised as a leader of international standing in higher education.Having served previously as Dean and Vice President of Research and then as Bursar and Director of Strategic Innovation at Trinity College, he was appointed to his current role in 2012 as Australia's youngest ever university Vice Chancellor.
David served on the South Australia Economic Development Board (EDB) from 2014 to 2018 and in 2019 was appointed Chair of the Committee for Adelaide, a group dedicated to supporting a progressive and sustainable future for South Australia.
He is a member of the board of Australia's peak tertiary sector body, Universities Australia, and serves on the Australian Research Council (ARC) Advisory Council, advising on research and innovation policy.
Outstanding Achievement Award for Societal Impact
Mary Mulvihill (1956-2015) was a pioneer. She first studied genetics in Trinity College Dublin where she was a scholar and also obtained an MSc in statistics.
In 1988, she obtained a Graduate Diploma in Journalism from NIHED now Dublin City University.
She subsequently followed a career as a self-employed science writer and broadcaster.
In 1990 she founded Women in Technology and Science (WITS), a network for promoting women in STEM. In 2002, her opus Ingenious Ireland was published.
A meticulously researched and comprehensive guide to Ireland's scientific heritage, it won her the Irish National Science and Technology Journalist of the Year award, the IBM Science Journalist of the Year Award and the Industrial Heritage Association of Ireland's publication award.
Outstanding Achievement Award for Sport
Tadhg Furlong is already one of the most recognisable and highly regarded players in world rugby.
Hailing from New Ross in County Wexford, Tadhg has literally become a cornerstone of the success of both the Leinster and Ireland rugby teams over the past number of years, earning 44 caps for Ireland and making 108 appearances for Leinster to date.
He made his debut for Leinster in 2013 during his time at DCU.
With unwavering support from the University, he balanced his studies and completed his degree as he transitioned into life as a professional athlete.He was a member of Ireland's World Cup squad for both the 2015 and 2019 tournaments. In 2017, he made his debut for the British and Irish Lions where he started all three test matches of the series.
Tadhg has achieved phenomenal success in the game at both club and international level, including winning a Six Nations Grand Slam, European Rugby Champions Cup and the Pro14 as well as being nominated for the 2020 EPCR European Player of the Year award.
Eleven new names were unveiled on the DCU Alumni Wall 2020
DCU Business School
Caoimhe de Barra is CEO of Trócaire, an Irish NGO working to support people and communities in tackling the root causes of poverty, injustice and violence in up to 20 countries.
She took this role in August 2018, following three years as Country Director for Concern Worldwide in Malawi.
Before then, Caoimhe filled a number of roles in Trócaire, which she first joined in 1997, including Director of Trócaire's International Division, Assistant Regional Manager for Southern Africa (based in Mozambique) and Policy and Advocacy Coordinator.
Daire Browne leads the Client Service and Innovation team for Global Research at Bank of America, with responsibility for critical functions including Finance, Human Resources, Marketing and Communications, Operations and Technology and coordination with their regional management teams.
Daire was previously Deputy Director of Americas Equity Research and Global Research COO, responsible for a range of activities including Analyst/Associate development, performance metrics and day-to-day management of the U.S. Equity Research teams.
He also continues to be global coordinator for the Basic Materials, Industrials and Energy teams.He began his career at Merrill Lynch in the Research COO organization in product workflow and client distribution in July 2003.
Previously, Daire held senior positions at UBS and PricewaterhouseCoopers Management Consulting.
DCU Institute of Education
Dr Michael Finneran since 2015 has been the founding Head of Drama and Theatre Studies at Mary Immaculate College (University of Limerick) where he previously established and led the Department of Arts Education and PE.
He completed his graduate studies at the University of Warwick. He researches and has published widely on theatre, education and creativity. Michael was a Ministerial appointee to the implementation group for the Arts in Education Charter and chaired the design group for the Creative Schools programme. He served on the NCCA Early Childhood and Primary Board.
Prof Dympna Devine is Full Professor of Education in UCD with a passion for the power of education to effect change and instill core values of equality, social justice, respect and recognition through being an anchor in the community.
She is an elected member of UCD' Governing Authority, and a Ministerial appointee to the National Children's Advisory Council where she connects her research to national policy on children's lives.
She has spent extended time in Norway, the USA and most recently Sierra Leone.Her research includes 'Children's School Lives', the first mixed methods longitudinal study of primary schooling in Ireland and the Safe Learning Study – a study of gender equality, wellbeing and literacy in primary schools in Sierra Leone.
Faculty of Engineering and Computing
Eleanor Hayes Meritt is Senior Vice President at Oracle Corporation. She is responsible for Identity and Access Management development, Oracle Fusion Middleware support, Database On-Premises support and Sustaining Engineering for Fusion Middleware.
Eleanor is known as a versatile innovator who leads complex, cross-functional technical initiatives applying her broad, full-stack technology background to oversee large, globally-distributed engineering teams.
She believes in a strong and consistent customer focus, delivering critical products that scale organizational capacity, drive competitive differentiation, and generate billions of dollars in revenue.
A native of Wexford, Eleanor joined Oracle upon graduation from DCU and is now in her 30th year with the company.
John Martin is President and CEO of The Cavan Group, which he founded in 1994 based in Boston, Massachusetts.
He had previously held IT management positions at Houghton Mifflin Publishing and Fidelity Investments.
John has provided the strategic direction for the business, growing it to be among the most respected and trusted independent IT consulting firms in the cloud hosting space.
His success is built on identifying business and technology trends to develop service offerings that meet the needs of a diverse client base. He now works with numerous Fortune 100 companies to develop workload hosting strategies and implement global hosting solutions.
Faculty of Humanities and Social Sciences
Colonel Mark Hearns is the Irish Defence Forces (DF) Director of Logistics and Court Martial Administrator.
He previously held a broad range of command, staff and educational appointments including; Officer Commanding 27 Infantry Battalion; Officer in Charge of Overseas Operations at DFHQ and Commandant of the Command and Staff School.
He has filled leadership roles on nine overseas peace operations in the Middle East, the Balkans, the Former Soviet Union, Central Asia and Africa with the UN, OSCE, European Commission and NATO (PFP).
This includes a highlight as Irish Contingent Commander with UNDOF (Golan Heights) in 2016. Mark lectures widely on security and peacekeeping issues and is a former editor of the DF Review.
Áine Kerr is COO and co-founder of Kinzen; a news technology company building products to connect people with quality news and information.
Áine previously led global journalism partnerships at Facebook, helping create the Facebook Journalism Project (FJP) and the News Integrity Initiative (NII). She previously worked at Storyful, and as a political correspondent and news reporter with The Irish Times, Irish Independent and Irish Examiner.
Áine sits on the advisory board for the Institute for Future Media and Journalism (Fujo) in DCU, is co-founder of Online News Association (ONA) Ireland and a Fellow of the Sulzberger Leadership Program in Columbia University.
She is a member of the European Council's committee of experts on quality journalism in the digital age and part of The GovLab 100 Questions Initiative based from New York University.
Faculty of Science and Health
Angela Okemena Unufe-Kennedy is an advocate for people with disabilities and Mental health.
She founded Migrant and Minority Disability Network Ireland, in November 2013, a month after graduating from DCU. An invitation to attend a meeting in Brussels organised by the European Association of Service Providers (EASPD) led to the creation of Migrant and Minority Disability Network Europe.
EASPD and MMDNE have co-authored project AMiD (Access to services for Migrants with Disabilities) which promotes the efficient management and integration of asylum seekers and migrants with disabilities in the EU.
Angela's work has brought her to support international Migrants' groups in Malta, Spain, Serbia and Holland.
Dr Conor Burke is Director of Innovation and Systems Engineering, Global Device Engineering at Mallinckrodt Pharmaceuticals Ireland Ltd. with a focus on identifying, developing and commercialising new opportunities in medical devices.
This role reflects Conor's passion for strategic innovation, exploring opportunities at the intersection of cutting edge technology development and competitive strategy.
Prior to joining Mallinckrodt in 2018, Conor held a series of Research and Development management roles in DCU centres, including the Optical Sensors Laboratory, the Biomedical Diagnostics Institute (Associate Director Commercialisation) and Ireland's first Fraunhofer Project Centre (Head of Business Development).
He received an Executive MBA from the UCD Smurfit Business School in 2017.
DCU Connected
Anthony Bolton (Tony) leads Global Telecommunications, End User Services and Infrastructure in General Motors (GM), covering functions including Network, Telecommunications, video, mobile and Client Compute infrastructure, and software development.
He also leads digital strategy in areas such as collaboration, virtual reality, real-time 3D and customer experience.
Tony has over 30 years of international experience and previously held global executive IT positions with Hewlett-Packard, Dell and Price Waterhouse.