About the DCU Study Abroad Programme
DCU Study Abroad Programme
Experience a different educational programme; enjoy Ireland's warmth and unique culture, improve your career prospects, visit Europe and make lifelong friends. Just some of the many reasons to choose DCU for your Study Abroad destination. Students can apply directly to DCU as 'Direct Enroll' students or through one of DCU's' third party providers. Contact study.abroad@dcu.ie.

Click
HERE
to watch our virtual campus tour video.
STUDY ABROAD OPTIONS

A range of 'modules' (classes) are available to DCU's five 'Study Abroad' streams. Modules are selected from many undergraduate programmes across all disiplines at DCU and packaged into five programme streams to complement the five DCU Faculties. Each of the DCU 'Study Abroad' streams affords visiting students the opportuity to choose subjects relating to their discipline but also to explore other areas (if approved by their Home University). 'Study Abroad' students can choose from a range of modules and accumulate up to a total of 30 ECTS credits (normally 18 US credits) in each semester.
The DCU 'Study Abroad' study streams are as follows:
HMSAO (HUMANITIES AND SOCIAL SCIENCES Stream)
ECSAO (ENGINEERING AND COMPUTING Stream)
SHSAO (SCIENCE AND HEALTH Stream)
BSSAO (BUSINESS Stream)
IESAO (Institute of Education Stream)
Visit here for full lists of Programme Choices for each stream
Important NOTE: Students are advised to have at least 8 - 10 modules pre-approved before coming to DCU as modules are subject to availability. Some modules may have prerequisites/corequisites (particularly in Science and Engineering). Selection of certain modules may lead to timetabling constraints. For all of the Study Streams, modules are subject to change up to the first week of semester. Class timetables are not normally available until the beginning of semester. Our team will assist with timetable finding during 'orientation' periods. Students should also note that some classes may be timetabled to run in DCU St. Patrick's Campus or DCU All Hallows Campus which are both a bus-ride away - (See Maps for details)
Who can apply to the DCU Study Abroad Programmes - Any student currently pursuing a course of study at a university or a recognised institute of education outside of Ireland may apply to 'Study Abroad' at DCU. Students attend accredited modules and arrange with their home institution for credit transfer. Students should have a strong academic standing at their home institutions and should have achieved a good cumulative average to date, such as a G.P.A. of 3.0 (or equivalent) on a 4.0 scale to be eligible for the programme.
As well as applying through one of our many providers around the world, interested students may apply directly to DCU as a Direct Enroll student from EU or Non EU Universities/ Students may attend DCU for a Single Semester or a Full Academic Year. Check with your Study Abroad office to see if there is an agreement. If there is no agreement, your coordinator should email caroline.magee@dcu.ie
APPLICATIONS and DATA PROTECTION
All applications should be made directly to DCU, through your provider or thruogh your Home University Apply as soon as possible but by 15 July (for Semester 1 or the full academic year) or by 15 November (for Semester 2). We recommned application well in advance of the deadline, particularly if a prospective student wishes to apply for DCU Acommodation. If you decide to apply through one of the Study Abroad Providers that DCU works with, contact them separately for further information. (Late applications may be accepted for non visa requiring countries or students who have already secured accommodation).
Students are normally notified within two weeks on the outcome of their application
Please Note: Direct enroll students will not be able to commence their studies at the university on arrival unless fees have been paid in full.
Application Deadline
We recommend earlier than deadline application if if students are applyiing for DCU On Campus Accommodation. The deadlines are as follows:
Applications for Semester 1 (Winter or Fall Semester): July 15 - Late applications may be considered if places are still available
Applications for Semester 2 (Spring Semester): November 15 (Late Applications until 30 November) - Later applications may be considered if places are still available
DCU Study Abroad Providers, Partner Universities and Tailor made programmes
Students may enroll directly or through one of our many Study Abroad Partners. For Direct Enroll, please apply using the DCU Application Form
USA Providers and University Partners
USA University Partners / (Tailor Made Programmes)
JAPAN Third Party Providers
BEO
JSAF
SI-UK
ICT Co. Ltd
Ireland Ryugaku Club
Ryugaku Journal
Wish International Inc
JAPAN University Partners
Waseda University
Otemon Gakuin University
KWANSEI GAKUIN UNIVERSITY
Kindai University
Gakushuin University
Tamagawa University
Kanazawa Seiryo University
Toyo Gakuen University
Kindai University
Musashino University
DCU also has a office in Japan - contact Mr. Tony Tobin for application information - dcu.japan@dcu.ie
China
French Partners
ECE Paris (Engineering) (Tailor Made Programme)
Paris School of Business
Epitech
Esigelec
Ingenieurs 2000 and Partners
S'UP Biotech
ECAM Lyon and Strasbourg
ESSCA School of Management
Portugal and Germany
Universidade Europeia
HFWU (Nuertingen and Geislingen)
EU FH
DHBW - tbc
FEE INFORMATION

Current Fees:
For the 2019/2020 academic year, our Study Abroad Programme Fees are as follows:
| | | |
| --- | --- | --- |
| Direct Entry Applicant Fees | Single Semester | Full Academic Year |
| EU Fees | €3,100 | €5,750 |
| Non EU | €6,000* | €11,300* |
These fees include the student levy, capitation fee and development fee. Partner discounts may apply.
(These fees are correct for the Study Abroad Programme at time of publication. For further details on fees, please visit our Fees Webpage)
*Some Partner Institutions can avail of a fee reduction - Interested Direct Enroll students should ask your University Study Abroad Cordinator to contact caroline.magee@dcu.ie to pursue an agreement (if there is no agreement in place between your college / DCU and you wish to apply to the programme- you may be able to avail of reduced fee).
US students may be eligible to apply for scholarships / US funding. Please visit our Scholarships pages for information
Refunds for
Semester Only students
Students will receive an 80% tuition refund if they withdraw / return home within 2 weeks of commencement*. The fee liability for students who withdraw after two weeks, but within four weeks of programme commencement* is 60% of the Programme Tuition fee. Students withdrawing after four weeks of commencement* are liable for the Full Programme Tuition fee.
*beginning of lectures
Full Year Students
Students who withdraw before 31st January are liable to pay 60% of the academic fee due in the current academic year. Students who withdraw after 31st January are liable to pay 100% of the fee due in the current academic year.
CREDIT TRANSFERS AND EXAMINATIONS

In general, individual modules at DCU are worth 5 ECTS credits each (= 3 U.S. credits in general but always check with your home university). Some of the more intensive courses are worth 10 ECTS credits each while others are 2.5 or 7.5 ECTS credits.
Students may only receive credit for modules for which they have submitted the required assignments or passed the relevant examinations. Students do not receive credit if they register for a course for 'attendance only', although they are eligible to take part in these modules but may not exceed the ECTS credit Limit.
It is the responsibility of the individual student to ensure that their chosen courses meet their study abroad requirements as set out by their home institution and that credit transfer to their home institution is possible. DCU will assist the student in whatever way possible.
Examinations can only be repeated during the scheduled repeat period in August. DCU does not have a facility for allowing students to repeat at any other time. DCU also cannot allow Study Abroad students to sit examinations abroad - at their home universities or elsewhere or outside the approved timetable.
Compensation for failed modules does not apply to Study Abroad students. Students must pass each individual module in order to receive credits for these modules.
Each semester runs over 16 weeks. This includes 12 weeks of teaching, a two week exam study period, followed by two weeks of exams. The dates are as follows:
Semester 1: Classes from mid to late September until middle of December, Exams mid- to late December.
Semester 2: Classes from early February until late April, Exams mid- to late May.
IMPORTANT INFORMATION FOR STUDENTS : Students wishing to study at DCU for Semester 1 for 2020 only who do not wish to stay on for exams can do so if they only choose classes that are assessed by 100% Continuous Assessment (i.e. only those without an Exam component).
Note: The Study Abroad Team will register students for their module choices so there is no need to visit registry on arrival. However their website will provide details on examinations, past exam papers, rules and regs etc - check it out when you have time.
Visit Registry's website - for useful information and past exam papers.
ACADEMIC CALENDAR
2020/2021 ACADEMIC CALENDAR (Subject to Change)
Registry delivers administrative services to the University community, supports the implementation of academic policies and regulations and manages major student related activities including examinations, repeats, extenuating circumstances and marks and standards. Students are advised to visit the Registry Website to familiarise themselves with processes and procedures, particularly around examinations.
Note: The Study Abroad Team will register students for their module choices so there is no need to visit registry on arrival. Registry website will provide details on examinations, past exam papers, rules and regulations
ACCOMMODATION

Our on-campus accommodation service team will assist you in securing suitable on-campus accommodation before you arrive in Ireland. For further details, please visit our accommodation . This website also offers some information on off-campus accommodation. Successful applicants will receive detailed information on all housing options in their offer pack. Please note that on campus accommodation is in high demand so applicants are strongly advised to apply very early to the Study Abroad Programme if they attend applying for oncampus accommodation.
Check out the offcampus links on the DCU Acommodation page.
ORIENTATION

An extensive Orientation period and Social Programme for new international students takes place prior to the start of each semester. During this period, students receive general and practical information. The University also offers a number of workshops and provide our new students with plenty of opportunities to meet other new and existing students, and also relevant members of staff.
Throughout the year, the International Office, in conjunction with other departments and various Clubs and Societies, offers an exciting social programme to International Students, and students will always find individualised support available in the International Office
VISA INFORMATION

Some students wishing to study in Ireland require a study visa; others, such as the USA or Japan, do not require a visa. EU students can study in Ireland without a study visa.
Some non-EU students may need a study visa so please ensure you apply in good time if necessary (normally at least 6 months in advance).All Non-EU students arerequired to register with the authorities after arrival in Ireland (including students from the USA and Japan if staying for longer than 90 days). The International Office will advise you on this process during the International Student Orientation period scheduled prior to the start of each semester. You are advised to vist the Immigration Site to establish whether you require a visa or not. If you do not require a visa, our International Office Website will provide you with all the necessary information for your situation.
THE NEW DCU


See the following link for information about incorporation and what it means to DCU
Getting Around
For further details on the DCU buildings by campus, please click here

STUDENT REVIEWS

"When I boarded the plane before my year long Study Abroad programme, I had a lot of expectations regarding the time I would spend at DCU. Of course, I was excited to meet new people and experience a different culture. DCU is spoken very highly of at Temple University back in Philadelphia. But, a lot of my anxieties seemed to override this excitement. Being shy by nature, coupled with the fact that I was moving to Dublin by myself, I was fully prepared to spend most of my time alone. But then, I arrived at DCU and my anxieties were alleviated. I still remember my first morning at DCU, a woman walking to the gym made sure I found housing reception, the security guard let me into my room, walking me to my building and helping me with my bags, and then slowly meeting my roommates. The international office was so helpful and accessible. I started attending events they sponsored in the beginning of the year by myself and became involved with the Clubs and Societies at DCU. Soon, with the help of the international office, people that I made friends with in class and the culture of caring found throughout DCU, I felt comfortable calling Dublin my home".
Ms Catherine Stack - Communications Study Abroad Year Long Student 2018 / 2019 - Home University - Temple University (Klein College)
Read DCU Study Abroad Reviews posted on Go Overseas.com

"It is so cool to study in a foreign country with another language, or better still, with two other languages! I travel a lot on the weekends and am so in love with Ireland and the cliffs. All the people are really nice and they help you, whenever you have a question.
I am currently studying Business Law LL.B. in Germany and at DCU, I have most of my lectures at the Business School (BSSAO) with a lot of economic lectures.In each class are different nationalities, many studying for one or two semesters. DCU provides opportunities to go to different subs and clubs to make new friends at some really cool events – perhaps with the Global Business Society. Every hobby has its own club at the DCU -Tennis, Yoga, Chess, Photography are some examples.
Living in Dublin, directly on Campus, is really cool and the ways are pretty short. :) I would recommend to go to another country to study there for one semester. But you have to learn to understand the accent here, maybe you need a few weeks but then it is working :)".

Charline Wagenknecht – HFWU – DCU Class of 2018/19

Read - My DCU Experience By Johannes Reindl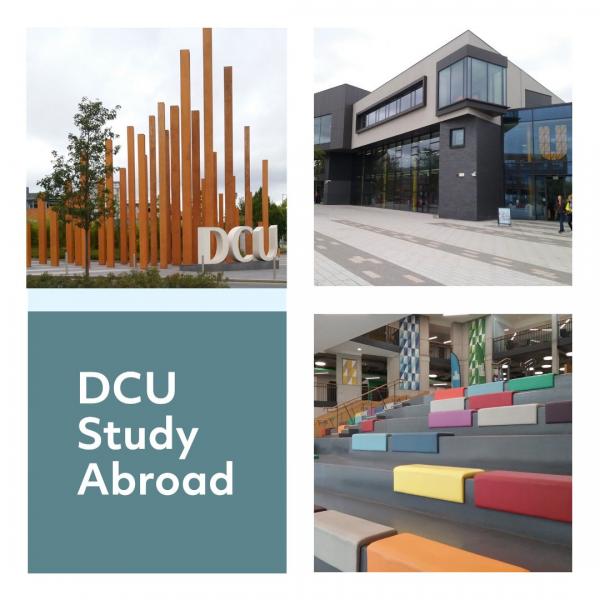 USEFUL LINKS

Frequently asked questions:
CONTACT US

Contact Details:
Ms Caroline Magee
Senior International Officer - Study Abroad Development
Email Address : caroline.magee@dcu.ie
Tel: +353-1-700 8699
For all other queries:
E-mail Address: study.abroad@dcu.ie
Address: International Office, All Hallows Campus, Gracepark Road, Drumcondra, Dublin 9