Forum on Education Abroad
Welcome to the DCU Study Abroad Virtual Forum Conference Page
Thank you for taking the time to visit DCU. We hope that you are keeping safe and well in your part of the world and that you are having a positive experience at the Forum's Virtual Conference. We appreciate the opportunity provided to us by the team at Forum to exhibit at the event. Please use the Contact Form below to submit your enquiry in relation to DCU Study Abroad.
Click on each heading below (and then on the subheading below when open) for a brief overview.

Study Abroad Options
Study Abroad Options

Visitng Students at Dublin City University can enjoy an educational experience with a difference whilst enjoying Ireland's warmth and unique culture. A period of study at DCU provides students with the opportunity to improve career prospects, explore Europe and make lifelong friends. Students can apply directly to DCU as a 'Direct Enroll' student or through one of DCU's partner universities or third party providers.
Please see our Study Abroad Options on our Study Abroad Web Page for details. Visit the main Website for further details on why you should consider a partnership with DCU for Study Abroad Programmes.
Study Abroad Brochures
Study Abroad Brochures

A snapshot of the many reasons why students choose DCU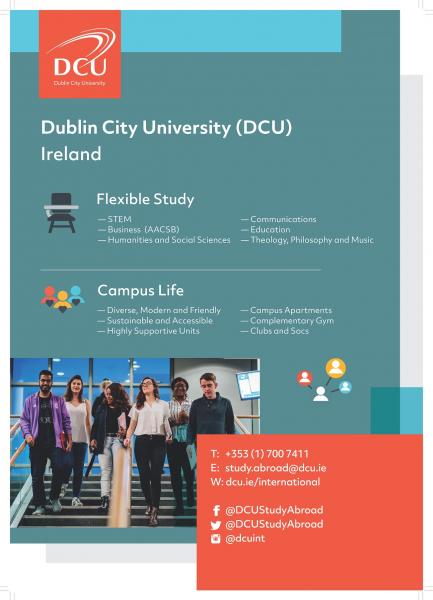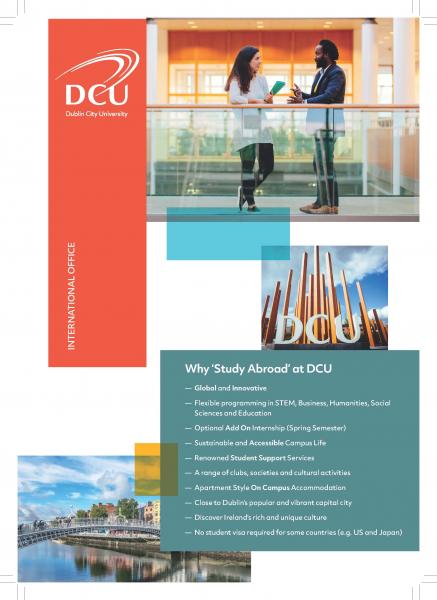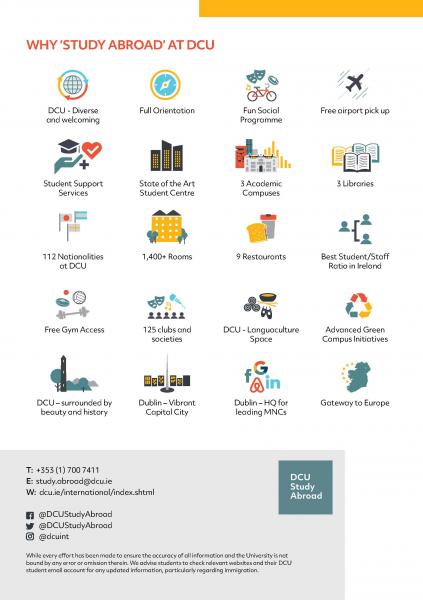 Please complete the WEBFORM below and submit your enquiry - Thank you for visiting and we look forward to hearing from you soon.