International Office - Study Abroad Programme - General Information
Come to DCU: Study Abroad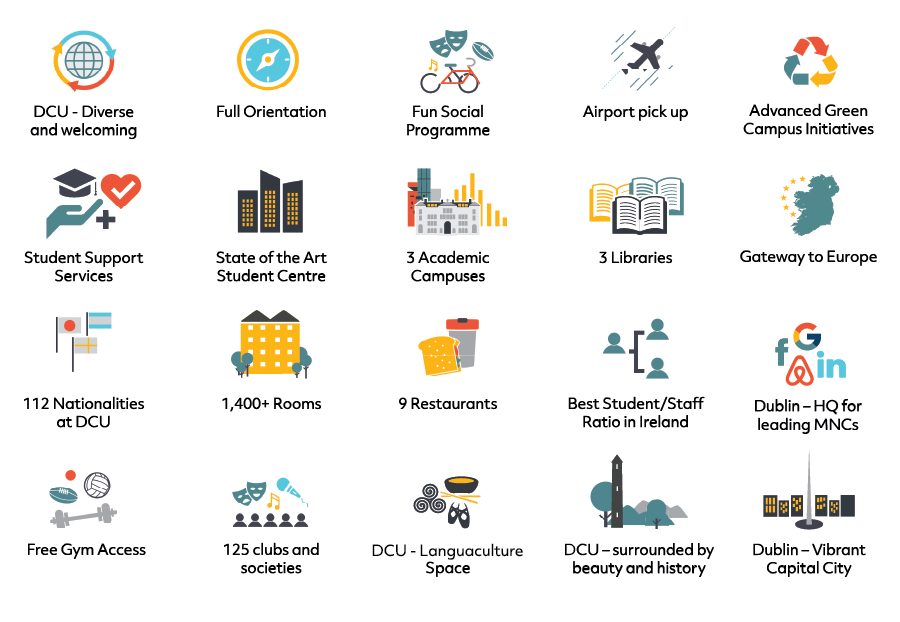 We welcome students from around the world. Check with your Study Abroad office to see if your university has an agreement with DCU. If not, ask your coordinator to email study.abroad@dcu.ie.
I was at DCU for one semester as part of my degree and I loved it! The people in my class were amazing and I learned so much. In fact, I became an ambassador for the Dublin programme at my college when I came back to the US. Exploring Ireland was great too - there are so many random day trips to take. My favourite place to visit was Howth – it's beautiful! My course mate invited me to her hometown too, so I got to see lots of places."
(Read more about Haley's experience on Campus Connect).

Haley Hnatuk, Pennsylvania, US
Double Honours in Media and Communications and Film Studies, Muhlenberg College

Video Testimonials - DCU Study Abroad Programme

Ms Hind Zahour - NDU - Spring 2020 (Engineering and Computing Programme)

Ms Madison Sietchik - Klein College of Media at Temple University - Spring 2020 (Humanities - Communications Programme)
What can I study?
See the range of courses from all 'Streams' by visiting our 'Module Catalogue'
Please visit our Virtual Office for additional information.
When to apply
Apply before 15 July (for Semester 1 or the full academic year) or 15 November (for Semester 2). We recommend you apply as early as you can, especially if you also want to apply for DCU on-campus accommodation.
If places are still available, DCU may accept late applications from students who don't need a visa or who have already organised accommodation.
How to apply
Your home institution may recommend you apply to DCU through it or through a partner, so check with them before you apply.
Direct applications
To apply directly to DCU, please complete the online application form. Your fees must be paid in full before your programme starts.
Fee Information and Refund Policy
For the 2020/2021 academic year, Study Abroad Programme Fees are as follows:
| | | |
| --- | --- | --- |
| Direct Entry Applicant Fees | Single Semester | Full Academic Year |
| EU Fees | €3,100 | €5,750 |
| Non EU | €6,000* | €11,300* |
Fee includes the student levy, capitation fee and development fee. Partner discounts may apply.
(These fees are correct for the Study Abroad Programme at time of publication. For further details on fees, please visit our Fees Webpage)
*Some Partner Institutions can avail of a fee reduction - Interested Direct Enroll students should ask the University Study Abroad Cordinator to contact caroline.magee@dcu.ie to pursue an agreement (if there is no agreement in place) to avail of the reduced fee.
US students may be eligible to apply for scholarships / US funding. Please visit the Scholarships pages for information
Refund Policy
Semester Only students (Full Year will be treated as Semester One if they withdraw as below)
Direct Enroll Students or Student Fees paid by partners will receive an 80% individual tuition fee refund if a student withdraws / returns home within 2 weeks of commencement*. The fee liability for students who withdraw after two weeks, but within four weeks of programme commencement* is 60% of the Programme Tuition fee. Students withdrawing after four weeks of commencement* are liable for the Full Programme Tuition fee.
*beginning of lectures
Full Year Students (Semester Two)
Students who withdraw two weeks into commencement of Semester Two lectures are liable to pay 80% of the academic fee for Semester Two. Students who withdraw after two weeks and up to four weeks are liable to pay 80% of the fee due and 100% thereafter.
Apply through your home university
Contact the International Office at your university for more information.
Apply through a partner
If you decide to apply through one of our Study Abroad providers, please contact them for further information. They are listed below by country
Japan
DCU has an office in Japan, which you can email for application information: dcu.japan@dcu.ie
Third-party providers
BEO
JSAF
SI-UK
ICT Co. Ltd
Ireland Ryugaku Club
Ryugaku Journal
Wish International Inc
University partners
Waseda University
Otemon Gakuin University
KWANSEI GAKUIN UNIVERSITY
Kindai University
Gakushuin University
Tamagawa University
Kanazawa Seiryo University
Toyo Gakuen University
Kindai University
Musashino University
China
BNU
BUPT
UIBE
Wuhan College
France
ECE Paris (Engineering) (Tailor Made Programme)
Paris School of Business
Epitech
Esigelec
Ingenieurs 2000 and Partners
S'UP Biotech
ECAM Lyon and Strasbourg
ESSCA School of Management
Germany
HFWU (Nuertingen and Geislingen)
EU FH
DHBW - tbc
Portugal
Universidade Europeia