When You Arrive
What to do when you arrive in Ireland
---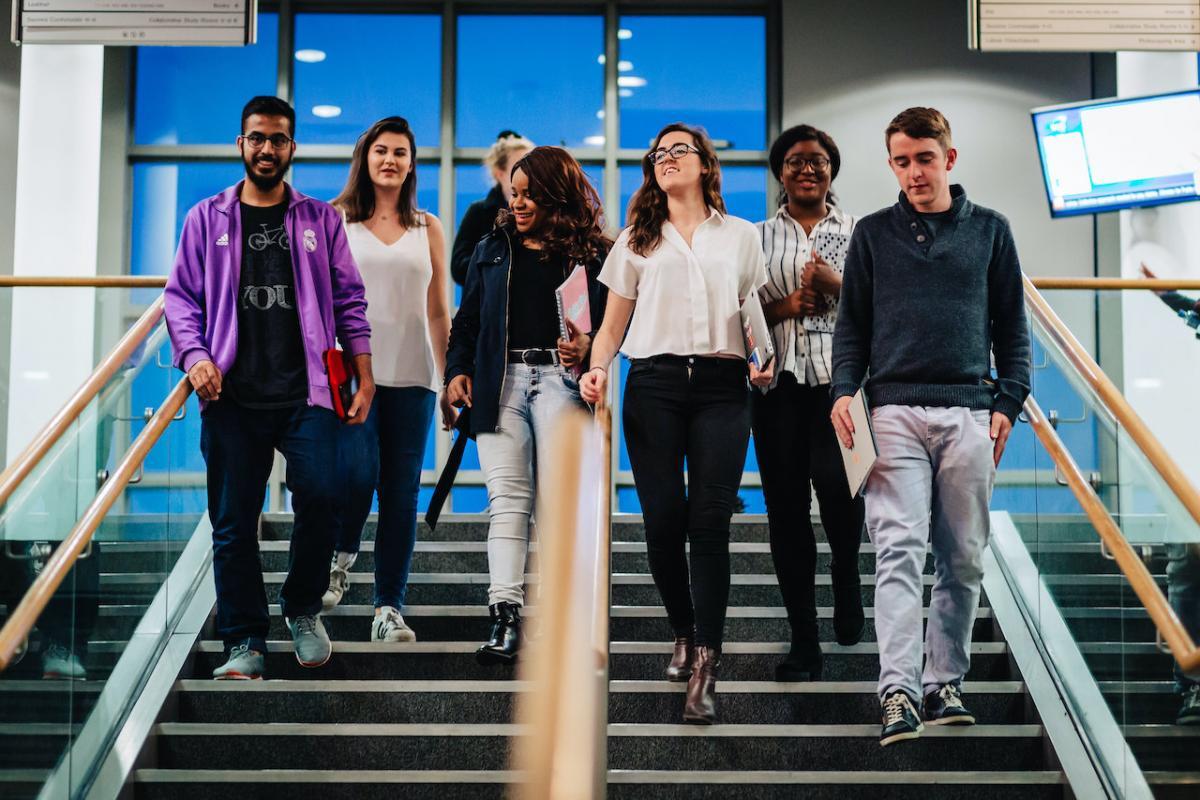 We recommend that international students arrive in time for Orientation, which is a week of welcome activities and information sessions before the official start of the semester. 
Make sure you check your DCU email address regularly, as that is where you'll receive important information, reminders and event invitations. 
---
Airport pick-ups - Not operating for Academic year 2020/21
We run an airport welcome and pick-up service on the day we expect most international students to arrive. For next semester (Autumn 2020), we will confirm dates and arrangements with students travelling to Ireland before they travel.
DCU Campus Accommodation (DCU Glasnevin, St Patrick's, or All Hallows Campuses)

Shanowen Square and Shanowen Hall apartments 

Gateway Student Village, Ballymun
Please register here if you would like to be picked up at the airport between 07:00 and 19:00 on the relevant date. When you get to Dublin, look for the DCU stands in the arrivals hall at Dublin Airport.
---
Getting to DCU
PLEASE CONTACT THE TEAM AT DCUARRIVALS@DCU.IE.  Do not access public transport options
Taxis
This is the easiest way to get to DCU from Dublin Airport. It costs about €20 to get to DCU or the surrounding area or about €30 to the city centre, depending on the number of people and bags. 
Bus
You can take a bus from the airport, but it's a 10-15 walk from that bus stop to the DCU Glasnevin Campus. The 16 or 41 bus from the airport stops directly at the St Patrick's and All Hallows Campuses. You'll need €2-€4 in coins to pay for the bus and no change is given.
---
Students staying for two semesters or more must open an Irish bank account. It's best to do this during your first two weeks in Ireland as you may need it for some immigration processes. You may also have to pay your rent from an Irish bank account. Once you have an Irish bank account, you can bank online. 
You can go to any bank branch to open your account, which you must do in person. There is a branch of AIB in Santry, and branches of Bank of Ireland and Permanent TSB in Drumcondra. You'll need to bring your passport, your DCU ID card and an International Student Confirmation letter from DCU. Request your letter here. 
---
Citizens from EU/EEA and Switzerland
It is not necessary to register with the immigration authorities.
---
All Other Students (including non-EU Students who did not need a visa to enter Ireland)
All non-Irish nationals who are not citizens of the EU/EEA or Switzerland must register in person with INIS (Irish Naturalisation and Immigration Service). You must be a fully registered student of DCU to register with INIS. You must register within the time limit which was stamped on your passport when you arrived at Dublin Airport. INIS will issue you with an Irish Residence Permit/IRP (formerly GNIB card). This gives you permission to remain in the State. The fee for this card is €300 and must be paid by credit card, debit card, or bank giro. This fee cannot be paid by cash.
Before arriving at INIS you MUST book an appointment online. Appointments can be made up to 10 weeks in advance. If you are from a non-EU country and you did not need a visa to enter Ireland you are still required to register with INIS (e.g. US, Japanese and Malaysian citizens).
Here's the Registration Process:
Log on to burghquayregistrationoffice.inis.gov.ie
Click on "Make Appointment" and select your preferred date and time. Please note that you can make an appointment up to 10 weeks in advance.
Confirm your appointment and print your appointment confirmation
Request your International Student Confirmation letter from the International Office. Request this letter no more than seven days before your appointment date (see below)
Attend your appointment, ensuring that you take the full set of required documentation with you (see below)
You must arrive to your appointment at the exact time you have booked. If you cannot attend please cancel your appointment and make a new one. This is important to do as someone else can take your appointment slot. You must bring all required documents with you to your appointment or your INIS registration will not be processed
The Irish National and Immigration Service (INIS) is located on 13/14 Burgh Quay, Dublin 2. Please see here for location and contact information: inis.gov.ie/en/INIS/Pages/contact-registration
Documentation Required
International Student Confirmation letter - Once you have a confirmed INIS appointment, you must request a registration letter from DCU. Please don't request your letter more than a week before your INIS appointment. Request your letter here.
Your valid passport
Your DCU offer letter
Your DCU student card
Evidence of private health insurance
Evidence of financial support; e.g. current statement from your Irish bank account showing your name and balance of at least €3000*, or a letter from your sponsoring body confirming financial status. (If you did not need a visa to come to Ireland, you must also prove that you can support yourself financially after you arrive. You do this by showing you have direct access to €3,000, if you are staying for more than 6 months, €500 per month or €3,000 (in total) if you are staying 6 months or less)
€300 fee (must be paid by credit card, debit card or bank giro. No cash accepted)
Evidence of your appointment with INIS
*Single semester students must have €500 for each month of their stay in Ireland. They are not required to open an Irish bank account.
Renewal of Irish Residence Permit/IRP (formerly GNIB card)
If you have been studying in Ireland for the past academic year you must re-new your Irish Residence Permit/IRP (formerly GNIB card). The renewal fee is €300. Please follow the same process as above to make your appointment with INIS and ensure that you take with you all requirement documents.
---
Health Services on Campus
The DCU Student Health Service is based in two locations at DCU - in the Henry Grattan Building on Glasnevin Campus and room A104 on St Patrick's Campus. It is a Nurse-led service which provides on-campus primary healthcare. It takes care of the physical, psychological and social aspects of student health and health promotion. DCU's Healthy Living Centre, located on the Glasnevin Campus, provides a range of healthcare services to students including General Practitioner (GP) services.
The Healthy Living Centre offers reduced rates for students. For more information or to book an appointment please visit: www.hlc.dcu.ie There is a pharmacy on Glasnevin campus. Other Health Services The on-campus health services do not provide full 24-hour cover and students are advised to register with a general practitioner (GP) on arrival in Ireland.
---
Register with a GP
There are several GPs located in the local area. Unless you have European Health Insurance Card (EHIC), visits to a general practitioner off campus costs in the region of €50. If you require the services of a GP out of normal surgery times (i.e. at night) you should contact North Doc Tel. 1850 22 44 77 (northdoc.ie). They will provide you with advice over the phone and may arrange an appointment at a medical centre. There is a fee for this service.
In the event of a medical emergency or accident you should go to an Accident and Emergency department of a hospital. The closest hospitals to DCU are Beaumont Hospital and Connolly Hospital Blanchardstown. You can call an ambulance by calling 112.
---
You can work in paid employment while you are studying in Ireland. Remember that university study, especially at postgraduate level, is intensive and you may have little time to work, especially before and during the exam period.
If you are from the European Economic Area (EEA) or Switzerland, you don't need a work permit. 
If you are from outside the EEA and have a valid immigration stamp 2, you can work:
Up to 20 hours per week during term time
Up to 40 hours a week during June, July, August and September and from 15 December to 15 January 
---
Apply for a PPS Number 
To work in Ireland, you must have a Personal Public Service (PPS) number. Find out to apply for a PPS here.
To be approved for a PPS, you need a PPS letter from DCU. We'll post this letter to your address in Ireland and it will be your proof of residency here. Request your PPS letter here.
---
Student Support at DCU
DCU is committed to offering a safe and supportive learning and social environment for our students. The DCU Student Support and Development Office is made up of a number of different units or offices offering different services across our campuses. These services include a Careers Service, Counselling and Personal Development, Disability Support and Learning Support. If you are not sure which unit can best assist you with whatever query you have, simply contact the central student support services line in DCU Glasnevin Campus at Tel (01) 700 7165 or email student.support@dcu.ie or on the DCU St Patrick's Campus at (01) 884 2004 or email spdstudent.support@dcu.ie For more information on the support services offered at DCU visit: dcu.ie/students/index.shtml
---
Get Involved!
One of the best ways to settle in to life on campus is to get involved with your DCU Students' Union. The SU offers over 100 clubs and societies for students to join which is a great way to make new friends, play the sports you love and maybe take up a new interest. There are also several clubs connected to our International student body include the Chinese Society, Indian Society, International Erasmus Student Network and the Intercultural Society. For more information please visit: dcusu.ie
---
SafeZone
Stay safe on campus with the SafeZone app for DCU students and staff that offers aid in emergency or high-risk situations or if first aid is needed 
Journey Planner
Plan your journey on public transport with the Journey Planner app. This app covers all our Ireland.
Dublin Bus 
Find real-time travel information as well as routes and timetables on the Dublin Bus app
Discover Ireland
Ireland in your pocket! Get up-to-date information on what's happening, places to eat and much more on the Discover Ireland app
Entertainment.ie 
Get listings for every cinema in Ireland, along with music, clubbing, theatre and comedy on the Entertainment.ie app
Dublin Culture Trail
Discover Dublin's museums, galleries, and historic buildings, while introducing the people and artists behind them with the Dublin Culture Trail app 
Lovin Dublin
Find the best events, hidden gems and free things to do in Dublin with Lovin Dublin