Information Systems Services
Student MultiFactor Authentication (MFA)
MFA provides additional security to your DCU student account, ensuring that it cannot be used without your knowledge. MFA requires a second mode of authentication via the Microsoft Authenticator app.
Once you're enrolled in MFA, you can log in using your DCU email address and password, then confirm your identity using the MFA app on your smartphone. Without access to your physical mobile device, remote attackers can't pretend they are you to gain unauthorised access to your account.
Two modes of authentication include
1. Something you know: - unique email address and password.
2. Something you have: - smartphone with an app to approve authentication requests.
Get the app on your phone
Click on the appropriate link below to get the app for your Apple or Android mobile device.
Leave the Microsoft Authenticator app installed on your mobile device as you will continue to need it for logging in.
How to register for MultiFactor Authentication (MFA)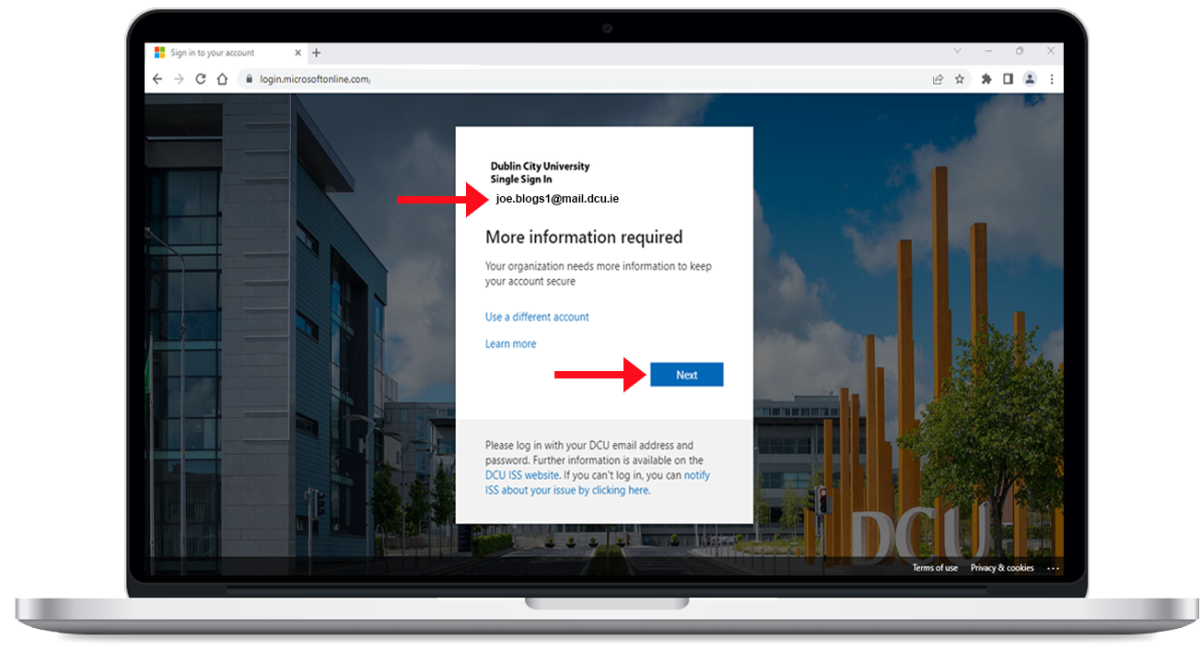 Step 1
Sign into your DCU APPs account with your email address in a browser on your computer.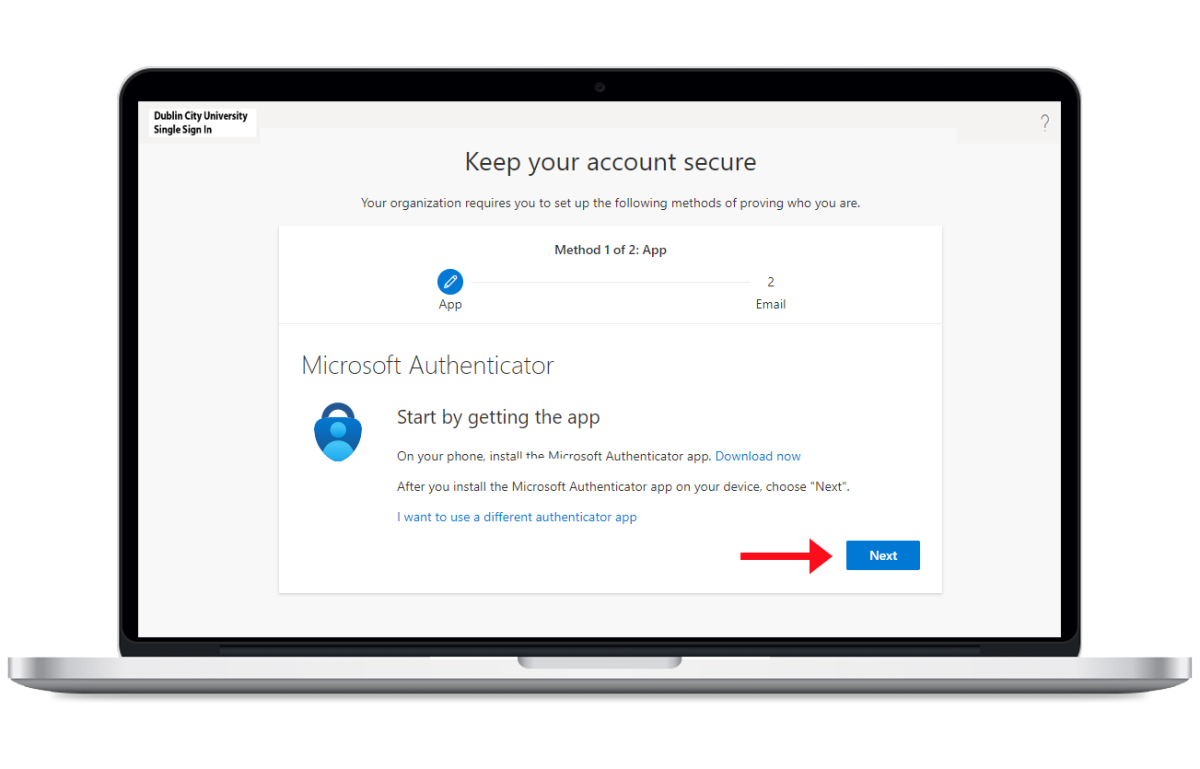 Step 2
Install the Microsoft Authentication app on your mobile device. If you haven't already installed the Microsoft Authenticator app.
This can be done by scanning the QR codes above or by clicking on the relevant button above from your mobile device.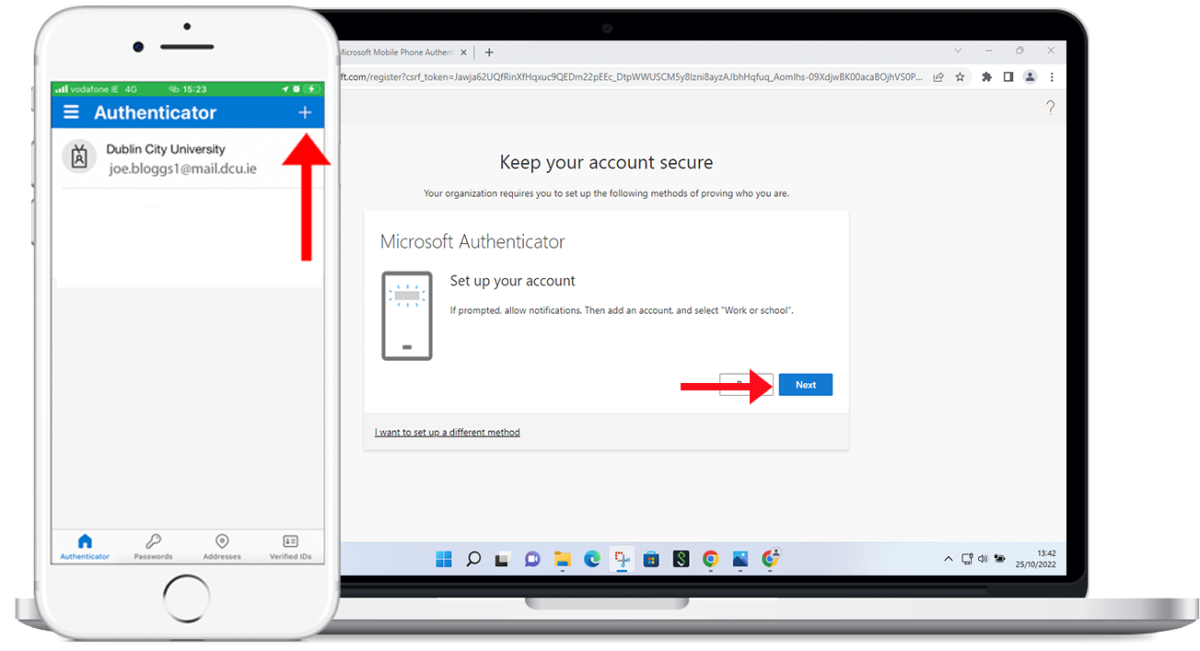 Step 3
Open the authenticator app and click on the + symbol located at the top right of the home screen. This will open the Add Account screen, see next step.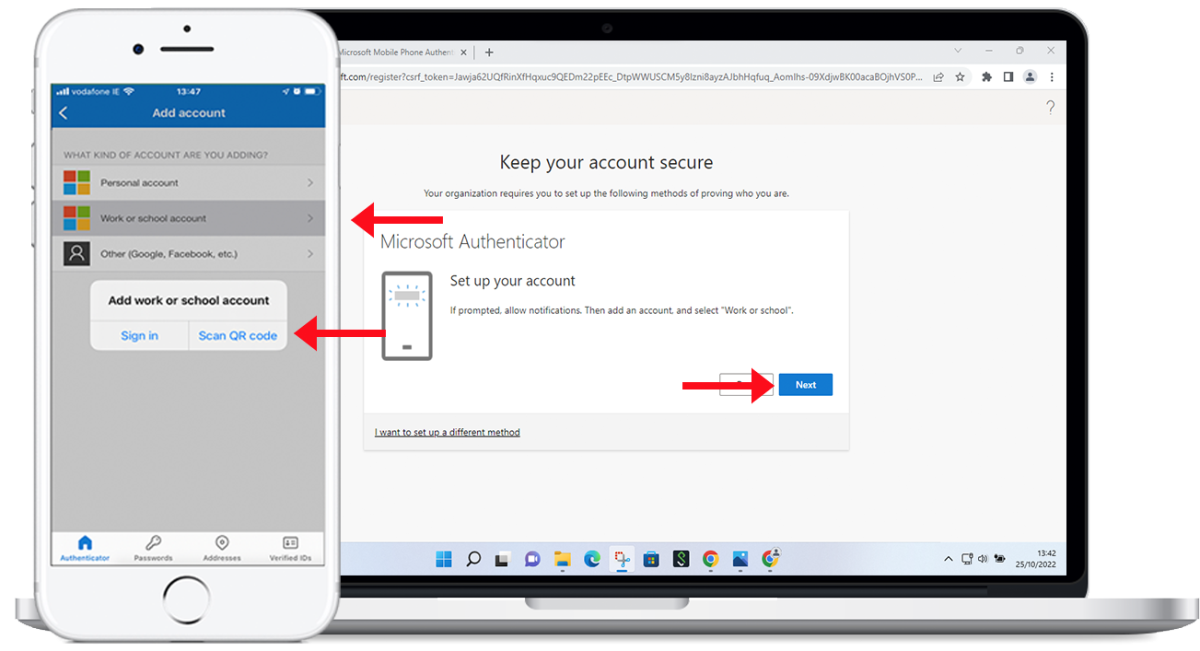 Step 4
Click on the Work or school account on your mobile device, next click on the option to Scan QR code.
To finish this step, click next on your PC or laptop.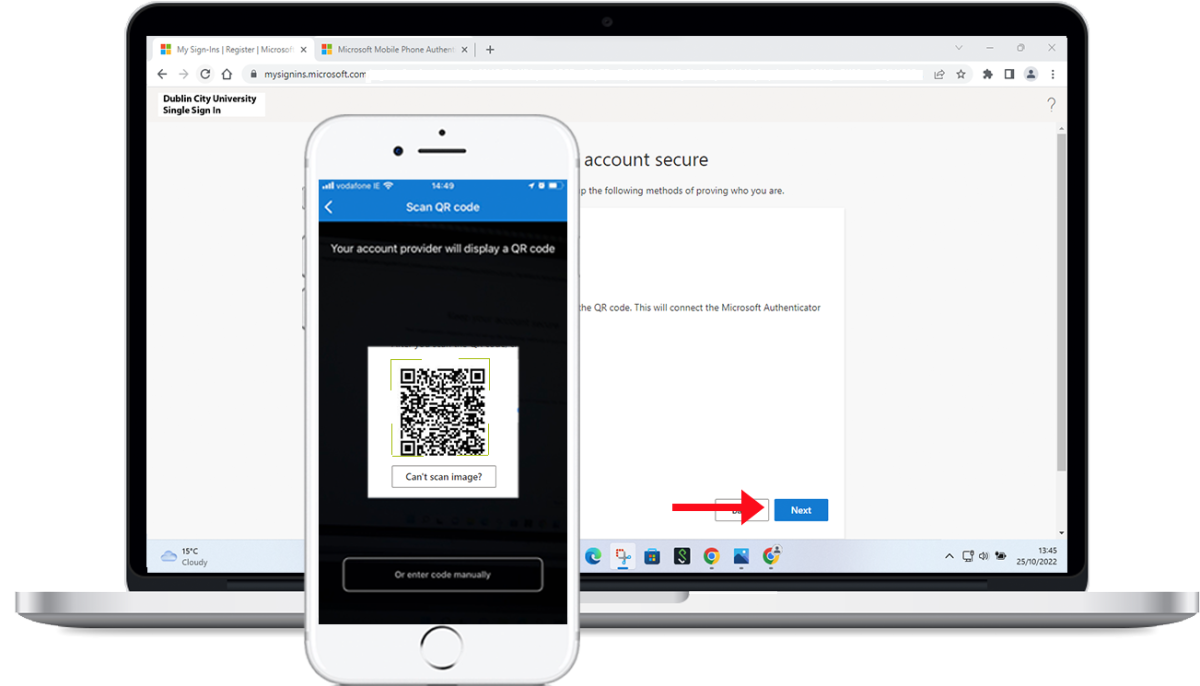 Step 5
Scan the QR code on the computer with the scanner which should now be open on the Authenticator App and click on the next button to proceed.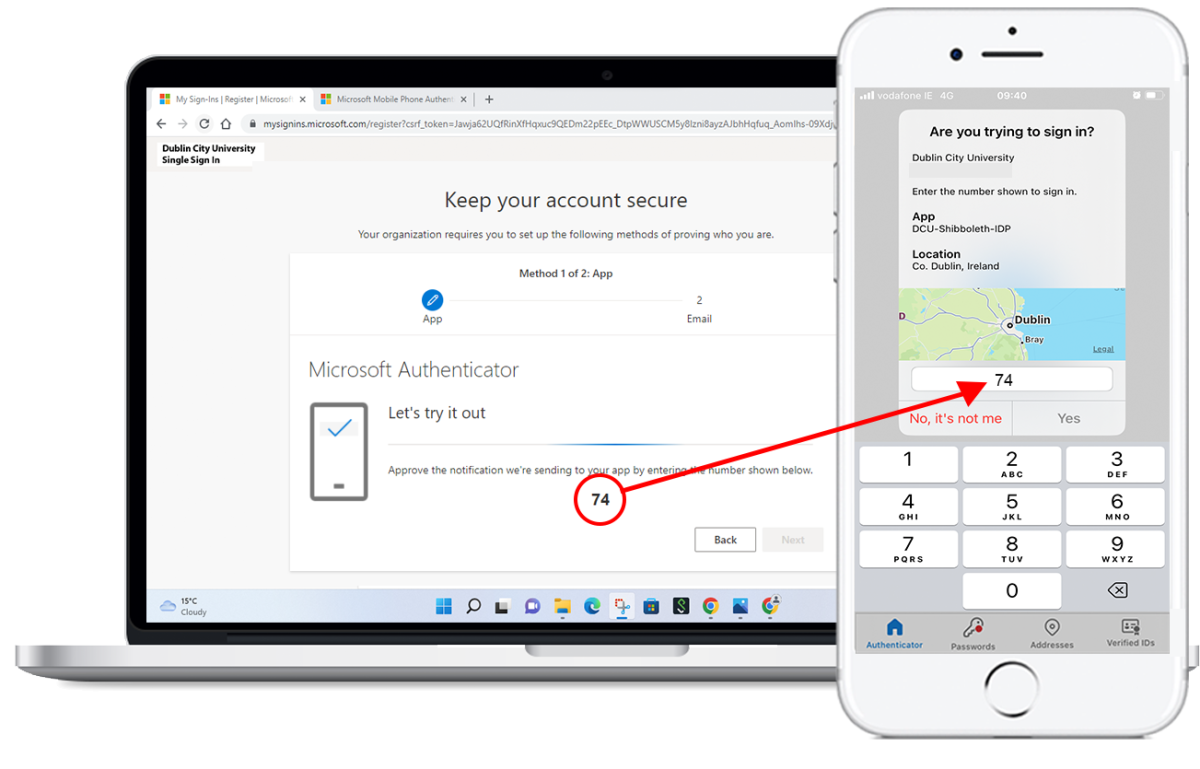 Step 6
To ensure that MFA is working correctly a number will appear on your screen. Open the MFA app on you mobile device and enter the number. Click on the Yes button to complete the test.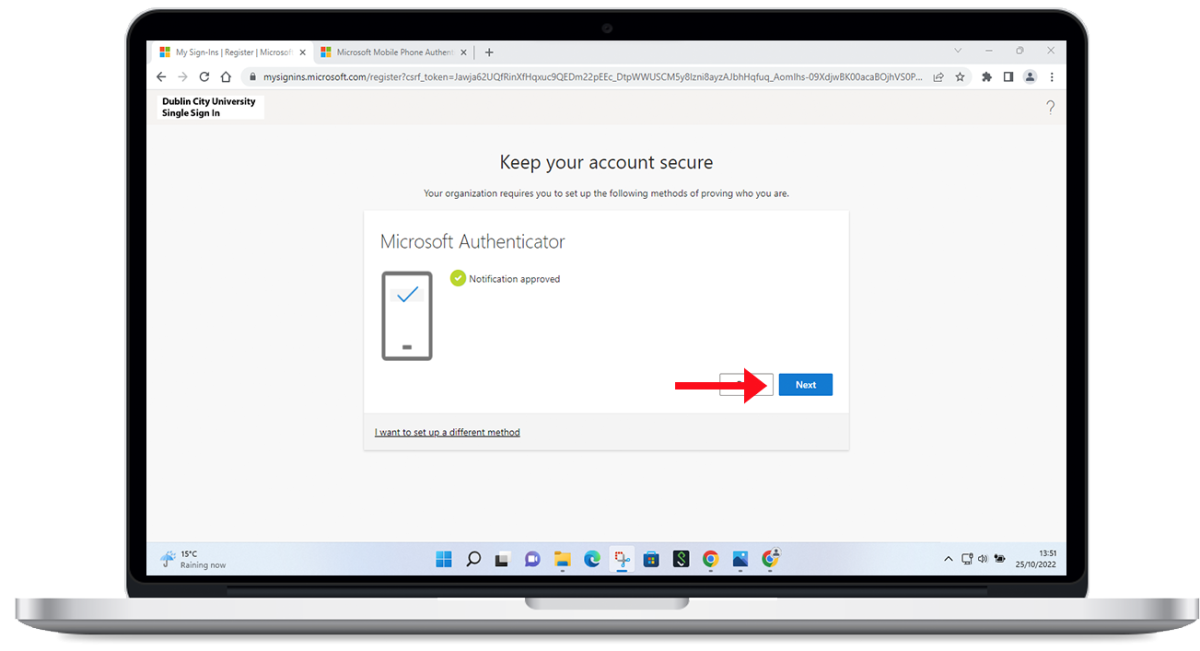 Step 7
The test from the previous step was successful and the MFA app is now paired with your DCU credentials. When signing into DCU services you will now be prompted to authenticate your idenity with the MFA app.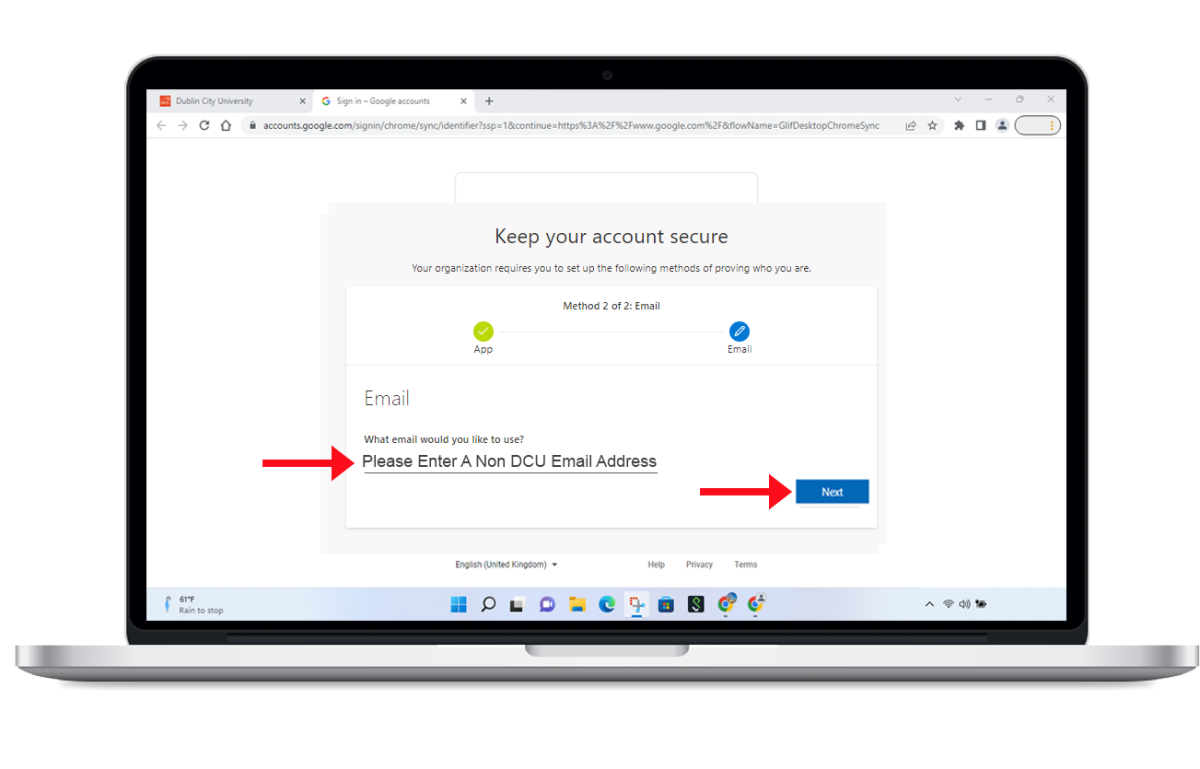 Step 8
Please enter an alternate Non DCU email address. This will be used if you ever get locked out of your account.
A code will be sent to this email account and is required to complete the next step.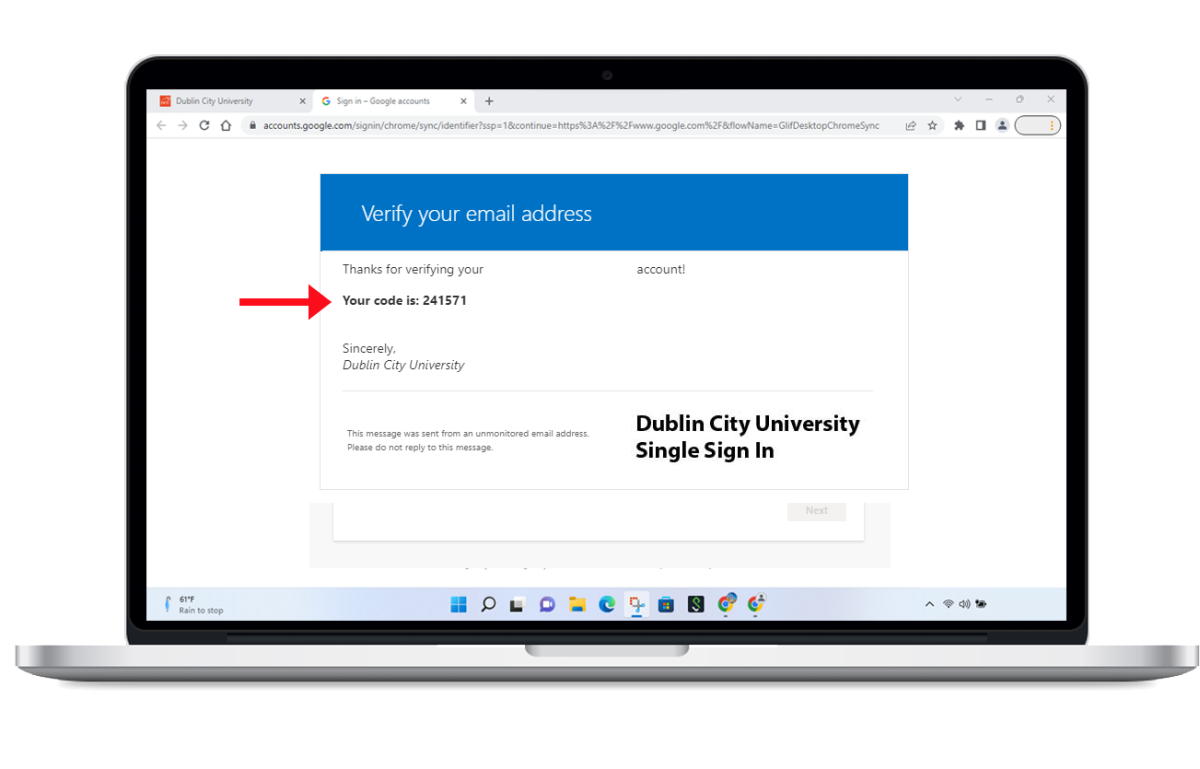 Step 9
Open you Non DCU email account.
Look for an email from "Microsoft on Behalf of Dublin City University" with the following subject line: "Dublin City University account email verification code".
Copy the code.
Step 10
Paste the code into the Enter Code field and press the Next button.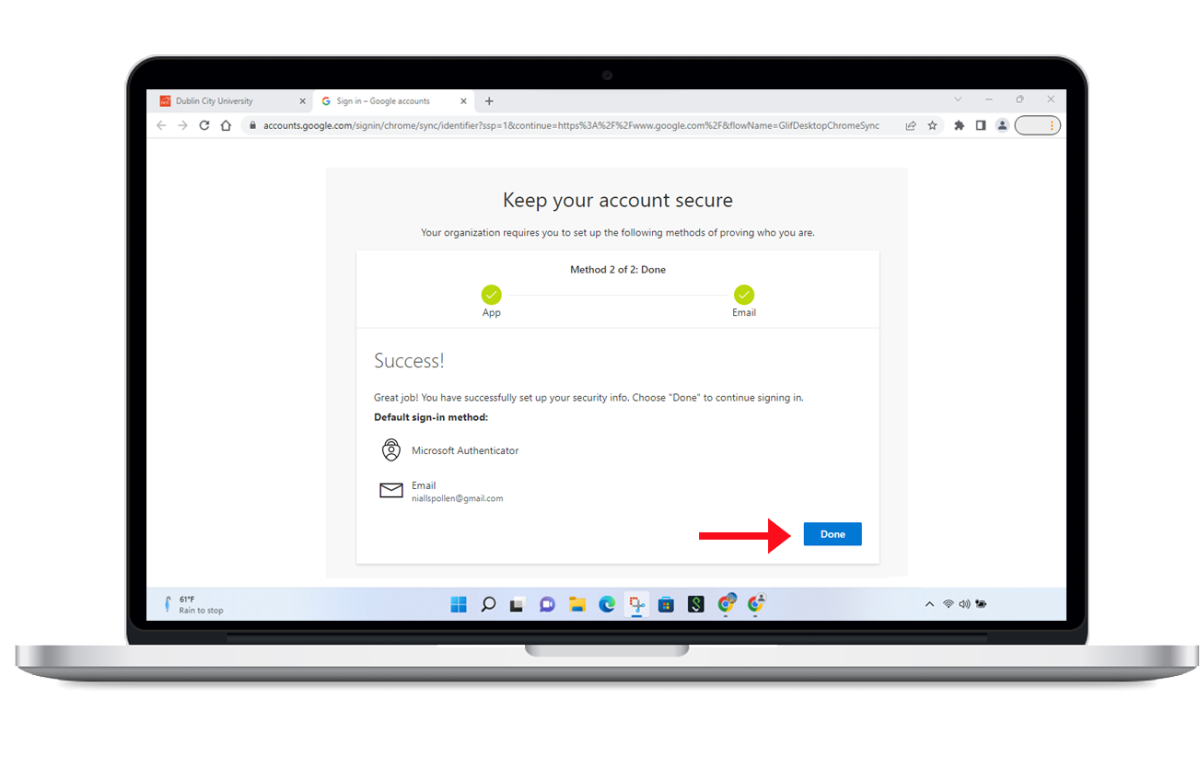 Step 11
Click on the Done button to complete the registration process. 
Frequently Asked Questions (FAQ)
Multi-factor authentication (MFA) is an extra layer of security for your University account. Verifying your identity using an additional factor (something you have and something you know). It prevents others from accessing your account, even if they know your password. The additional factors used for verification include; codes generated by the Microsoft Authenticator app. You may be familiar with some of the practices that are already widely used for online banking.
Multi Factor Authentication is required on all Dublin City University student accounts. Without it enabled you will not be able to access your student account.
MFA will be needed for all DCU online services that you are required to log on to, including LOOP.
You are required to set up MFA initially while on-campus to ensure the highest level of security is maintained.
There is no cost associated with authenticating with your phone.
For Apple devices, visit the App Store and follow the instructions outlined above. For Android devices, visit the Play Store and and follow the instructions outlined above.
Log a ticket with ISS via https://www.dcu.ie/iss Our service desk are at hand to assist with any questions or queries you may have.
You can also use the Microsoft Authenticator app on a compatible Apple or Android tablet.
If you loose your mobile device or do not have access to it, you may have misplaced it or forgotten to bring it with you, please contact ISS via the Log A ticket button on dcu.ie/iss where a member of our service desk team will be able to assist you.
You can also use the Microsoft Authenticator app on a compatible Apple or Android tablet.
Log on to the Office 365 portal. In the top right corner select the widget and choose Office 365 Settings. Click on Additional security verification. On the right, click the link that says Update my phone numbers used for account security. 
An unsolicited request to approve a logon that you have not initiated usually means that someone else knows your logon username and password, and are trying to use it. Do not approve these requests and change your password immediately.
If your phone does not support the Microsoft Authenticator app, it is likely out of date and unsecured as no more security patches are released by the manufacturer for it. You should seek to upgrade the handset as soon as possible as your personal data may no longer be secure on the device.
You can also use the Microsoft Authenticator app on a compatible Apple or Android tablet.