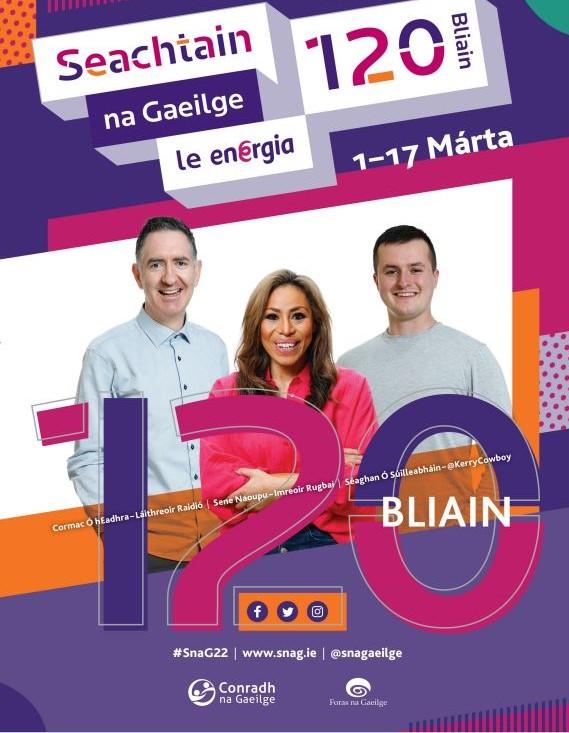 News and Events | Oifig Na Gaeilge
GA: Tá muid ag ceiliúradh Seachtain na Gaeilge go náisiúnta ón 1-17 Márta 2022. An téama atá ann i mbliana ná Traidisiúin Nua. An bhfuil spéis agat traidisiúin nua a thosú? Seo cúpla smaoineamh agus cuid de na himeachtaí atá ar siúil againn san Ollscoil. Gheobhaidh tú nuachtlitir sheachtainiúil faoi imeachtaí Sheachtain na Gaeilge agus acmhainní Gaeillge eile ó seo go dtí deireadh an Fhéile. 
EN: We are celebrating Seachtain na Gaeilge - Irish Language Week - nationally from the 1-17 March 2022. The theme this year is starting a new tradition, with that in mind here are some ideas and events that may be of interest to you. From now until the end of the festival you will get a weekly update on Seachtain na Gaeilge events and Irish language resources. 
#TraidisiúnNua #SnaG22 
Seachtain na Gaeilge le Energia 
---
Seachtain 3 | Week 3 
Seoladh Cóisir Guzzler - Dé Máirt 
Launch of Guzzlers Party - Tuesday
EN: Guzzler's Party is a fun and educational book aimed at primary school children from junior infants to second class. The book follows Alina, an energy savvy schoolgirl, as she teaches Guzzler, the friendly energy monster, all about saving energy and taking climate action, as they prepare to throw an Energy Party.
This book has been written by Lucinda Jacob, DCU Library and illustrated by Alan Nolan for SEAI and edited by Dr Orla Kelly from DCU, Institute of Education. 
Guzzler's Party was first launched during the national Science Week in November 2021. Now the book's Irish version is launched as part of the Seachtain na Gaeilge 2022.
To celebrate the launch, SEAI is organising a reading of the book and an art session (as Gaeilge) on March 15th at Cregan Library at 11 am with Sadhbh Devlin - DCU Irish Language Writer in residence - hosting. If you are interested in attending please email magdalene.hayden@seai.ie. Please note that numbers of participants are limited.
Eagraithe ag | Orgainsed by: #DCULibrary #SEAI
---
SEALBHÚ: Seimineáir an Earraigh 2022: Dé Máirt, Ar Líne
SEALBHÚ: Springs Seminars 2022 - Tuesday, Online
GA: Seimineáir an Earraigh 2022 - 15, 22, 29 Márta 2022 7.00pm 
Sealbhú na Gaeilge i Scoileanna T2: Inspreagadh agus dúshláin. An tOllamh Muiris Ó Laoire, Ollscoil Teicneolaíochta na Mumhan OTM
EN: Spring Seminars 2022 - 15, 22, 19 March 2022 7.00pm 
Language acquisition in T2 Schools: Inspiration and challenges. An tOllamh Muiris Ó Laoire, Munster Technological University MTU
Eagraithe ag | Orgainsed by Dr. Pádraig Ó Duibhir  @sealbhu
---
Tae & Plé: 10.30 Campas Glas Naíon - Dé Céadaoin 
Tae & Plé: 10.30 Glasnevin Campus - Wednesday
GA: 'Tae agus Plé', Deis chomhrá a dhéanamh agus bualadh le chéile. 
1883, Urlár na talún, Campas Glas Naíon, 10.30 Dé Céadaoin, 16.03.22
EN: 'Tae & Plé' an opportunity to use whatever Irish you have.
1883, Ground Floor, Glasnevin Campus,10.30 Wednesday, 16.03.22
Eagraithe ag | Orgainsed by @DCUGaeilge
---
Seimineáir Thaighde: Fiontar & Scoil na Gaeilge Dé Céadaoin Fiontar & Scoil na Gaeilge: Research Seminars Wednesday 
GA: Tá seimineáir thaighde faoi lán seoil ag Fiontar & Scoil na Gaeilge nach mór gach céadaoin7 ag 13.05. 16 Márta: An Dr Mícheál Hoyne, Coláiste na Tríonóide, 'Clóliosta: Clódóireacht sa Ghaeilge 1571-1871'. Má tá tuilleadh eolais is féidir teagmháil a dhéanamh leis an Dr Pádraig Ó Liatháin Ollamh Cúnta, Fiontar & Scoil na Gaeilge by email: padraig.oliathain@dcu.ie 
EN: Fiontar & Scoil na Gaeilge are running research seminars each Wednesday 13.05.  16 March: An Dr Mícheál Hoyne, Coláiste na Tríonóide, 'Clóliosta: Clódóireacht sa Ghaeilge 1571-1871'. If you need any additional information please contact Dr Pádraig Ó Liatháin, Ollamh Cúnta, Fiontar & Scoil na Gaeilge by email: padraig.oliathain@dcu.ie 
Eagraithe ag | Organised by: Fiontar Scoil na Gaeilge @FiontarGaeilge  @HumanititesDCU Nasc