Professional Master of Education (Primary Teaching)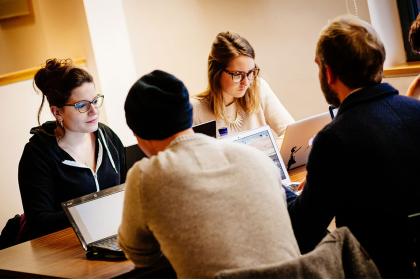 Course Type:
Postgraduate

+353 (0) 1
700 9161

ioe@dcu.ie
The Professional Master of Education (Primary Teaching) (PMEP) programme equips students with the principles, curriculum knowledge and pedagogical understanding with which to begin their teaching careers as competent and committed professionals. The programme is responsive to the changing contexts of primary education, offering student teachers opportunities to engage critically with the interface between society and education.
As with any professional course, the Professional Master of Education is intensive and requires a considerable commitment from students. It is also a rewarding and interesting experience and you will find that you have been comprehensively prepared for your teaching career.
The programme aims to develop graduates who:
Are competent, professional and knowledgeable in their approach to teaching, learning, curriculum and assessment;
Become adaptive experts and critically reflective practitioners who continue to grow and learn throughout their careers;
Facilitate the holistic development of all children in terms of their emotional, social, personal, physical, creative, spiritual and intellectual capacities, promoting their agency across all areas of school life;
Recognise and meet the needs of all learners with insight, expertise and respect;
Become collaborative, supportive and committed members of school communities, learning communities and the teaching profession;
Engage in ethical practice informed by a critical concern for social justice, equality and care and respect for others locally and globally, and recognise all children as citizens, rights-holders and active agents in their own learning.
View Year 1 course structure » | View Year 1 optional modules » | View Year 2 course structure »
As a student of the DCU Institute of Education you will have access to more opportunities in Teacher Education than any other Irish institution and will study in the context characterised by innovation and development, scholarship, research and excellence in teaching and learning. Embedded in our programmes is a deep commitment to equity, social justice and inclusion.
You will be taught by internationally recognised experts in (primary) teacher education.Committed to academic excellence and innovation, the DCU Institute of Education is confident its graduates will flourish in the challenging and complex contexts of the 21st century societies.
The PME is not only a gateway to the primary teaching profession, but also to a number of other careers in the areas of educational administration, consulting, content writing, research and educational policy
Fees
Requirements
General Entry Requirements
APPLICATIONS FOR 2020/21 are now closed
Note : To view Entry Requirements for DC970 (2020-2021) click here
ENTRY PROCESS FOR DC970
Candidates wishing to apply for the Professional Masters of Education (Primary Teaching) MUST take Teastas Eorpach Gaeilge (TEG) Level B1 Oral Irish examination. A minimum of 65% must be attained on this examination to be eligible to apply for the PME (Primary) programme. 
The TEG B1 Oral Irish examination dates for the Professional Masters of Education (Primary Teaching) 2020-21 applications at a cost of €100 are:
24 & 25 January 2020

7 & 8 February 2020

For entry to the PMEP application process for 2020-21, the closing date for applying for the TEG oral examination is 12 noon, Wednesday 8 January 2020

A successful result in the TEG B1 Oral Irish examination will be valid for two years before the examination needs to be retaken

Applications for the TEG B1 Oral Irish examination will made directly through TEG

Further information can be found on the TEG website:
To view FAQs about the changes to entry process please click here
Applicants who are successful in the TEG B1 Oral Irish examinations and who meet all other entry requirements will be required to take a general interview as part of the entry process (Note: Shortlisting may apply). For sample General Interview Assessment Form, please click here
Make an Application
All Applicants should apply through the Postgraduate Applications Centre (PAC) by visiting www.pac.ie and selecting course DC970
Applicants are advised to make your application as early as possible to ensure documentation validation is complete prior to the application closing date of 30th March 2020.
Documentation Required:
The following documentation MUST be uploaded to your PAC application:
Copy of Leaving Certificate/or equivalent

Academic Transcripts of Results for UG honours degree, with overall results of H2.2 or higher.  (Applicants completing their final year of a degree in 2020 must submit a final transcript by 5pm, 19th July 2020.  N.B. Portal Page Printouts or screen shots of results are NOT acceptable

Evidence of achieving 65% or higher in Teastas Eorpach na Gaeilge (TEG) Meánleibhéal 1 (B1) Irish-language oral examination.

Passport Photograph

Student Declaration page (this will be provided to applicant when he/she applies through PAC)
All of the above documentation MUST be uploaded by the closing date of 30th March 2020 (or in the case of final year degree applicants your final year must be uploaded by 5pm on 19th July 2020).  
N.B. Failure to submit by these dates will result in the applicant failing to meet the application requirements and their application will be declined.
Interviews will take place for short listed applicants on the 26th May 2020. You will be invited to select your interview time through PAC in mid April.
Please note that all PMEP students must undertake two mandatory Gaeltacht Placement periods as part of the programme.* 
Year 1: Thursday, 27 August - Thursday, 10 September 2020*
Year 2: August/ September 2021 (Dates TBC)
*Please note, the Gaeltacht Placement that was scheduled for Thursday, 27 August - Thursday 10 September 2020 has been postponed. We will plan for the rescheduling of the Gaeltacht Placement as matters concerning COVID-19 become clearer. Any future dates may be subject to change and will be dependent upon Government guidelines in relation to COVID-19.
Deferral Requests
Deferrals are not permitted on the DC970 PMEP Programme