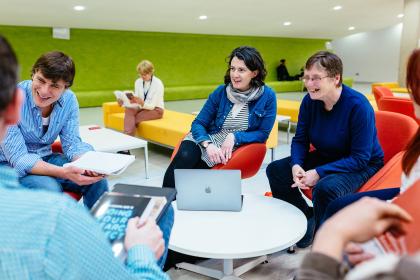 Course Type:
Postgraduate

+353 (0) 1
700 9273

Maeve.Power@dcu.ie
The Master of Education is designed for educators who wish to pursue in-depth study in education for both professional and personal development. This programme offers the opportunity to educators to expand their knowledge within a special option.
The MEd is a two year part time programme. In the first year students undertake three core modules and three modules in their chosen special option. In the second year of the programme students undertake a thesis with the support of a supervising tutor.
2020/21 Special Options:
On campus
On-Line
Teaching and Learning 
Educational Leadership
Blended
Further Special Options information on IoE Postgraduate Programme page
Closing date: 29th May 2020
The Master of Education programme combines educational theory and applied studies and assists learners in the development of up-to-date knowledge in a chosen area of specialisation and beyond. The programme incorporates current educational thinking and the most effective pedagogical practices within a wide range of contemporary educational issues.
The key focus of the programme is that it offers students an opportunity to develop expertise in a chosen field, to critically reflect on your own practice and thinking, while also engaging with educational research and theory. It provides a grounding in research methodology and contemporary educational issues.
The on-going commitment is to provide our students with the highest academic standards in teaching, learning and research, while supporting and fostering differing learning styles and needs.
Overview Document »
View the current course structure
A benefit of the Master of Education at DCU is that students may choose from a range of special options. The programme is designed for those working within the education sector. This diversity of backgrounds of students, which the special options of the course attracts, leads to a dynamic learning environment.
The programme is delivered by a team of academics and practising experts with applied experience in their fields. A number of special options allow students to pursue the Masters of Education online.
The Master of Education programme is designed to meet the professional and personal needs of teachers and educators.
The course is intended for those who wish to make a significant contribution to the enhancement of professional practice in their chosen special option by reviewing and systematically applying appropriate theories and research to their professional practice.
Fees
Requirements
General Entry Requirements
Candidates are required to have a Level 8, Lower Second Class Honors Degree, minimum H2.2.  Candidates may be interviewed for places. 
International Applications
International candidates are expected to have educational qualifications of a standard equivalent to those outlined above.  In addition, where such candidates are non-native speakers of the English language they must satisfy the university of their competency in the English language. For further information on international applications click here.
Make an Application
How to Apply
All Applicants must submit
Certified academic transcripts for each and every year of study, with certified English translations if applicable
Detailed CV
Personal statement of 250 words maximum outlining your reasons for applying
Non Native English Speakers - Additional
Evidence of English competency which meets DCU entry requirements - see link
EU Applicants
Please apply through PAC ( www.pac.ie ) by 29th May 2020 using DC984 and selecting the appropriate programme specialism as listed below
Non-EU applicants
Please apply through PAC ( www.pac.ie ) by 29th May 2020 using DC984 and selecting the appropriate programme specialism as listed below.  If you require a study visa and are a Non EU student, you are not eligible to apply for part-time programmes as study visas are only granted for full-time programmes.
Applying through the Postgraduate Applications Centre
When applying for the programme ( www.pac.ie ) use the following PAC code DC984: : 
Please select the specialism: 
Special Option 1 - Teaching and Learning (on-line)

Special Option 2 - Educational Leadership (on-line)

Special Option 3 - Physical Education (blended)

Special Option 4 - Literacy Education