Master of Education in Early Childhood Education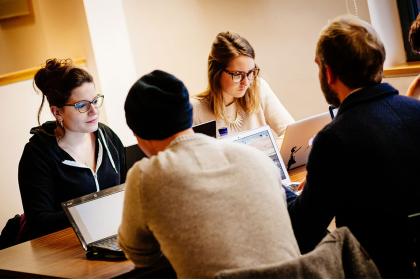 Course Type:
Postgraduate

+353 (0) 1
700 9043

geraldine.french@dcu.ie
The University has launched a new student application portal. For applications to this programme see the Make an Application section below.
The Master of Education in Early Childhood Education incorporates current educational research and theory and the most effective pedagogical practices within a wide range of contemporary educational issues. The programme is designed for those working to enhance children's learning and development, in the age range from birth to six years across the full diversity of early childhood settings, including the early years of primary school.
It will be of interest to professionals who have a desire to lead early childhood education, in particular:
Early childhood educators working with babies, toddlers and/or young children
Teachers working with children in Early Start units and the early years (junior and senior infants) of primary school
Personnel involved in mentoring, inspecting and/or the leadership and management of early childhood settings and advocacy
Educators who wish to further develop their expertise in early childhood education in relation to content knowledge, research, policy and practice
The Master of Education in Early Childhood Education is a two-year part time taught programme delivered on campus and online. In Year 1, students undertake five modules, with two of the modules Leading and Mentoring for Professional Practice and Quantitative Research Methods delivered in a blended learning environment and one module Qualitative Research Methods delivered online.
On campus lectures normally take place on Tuesday and Thursday evenings between September – November and January-April.
In Year 2, students undertake a sixth module and a thesis with the support of a supervising tutor.
Orientation will take place on a Saturday mid-September.
The programme aims to develop graduates who will:
Conduct research on a specialised area in early childhood education;
Critically interrogate ubiquitous concepts, grand narratives, and perceived certainties that have come to dominate the early childhood field; 
Engage in ethical practice informed by a critical concern for social justice, equality and care and respect for others locally and globally
Critically reflect on their own practice to enhance and lead early childhood education;
Acquire the knowledge and skills to pursue further studies at doctoral level in early childhood education.
The Master of Education in Early Childhood Education at DCU Institute of Education is designed for educators who wish to pursue in-depth study in education for both professional and personal development. A benefit of this programme is the particular focus on connecting early childhood settings with the early years of primary school. Also, the programme is delivered by a team of academics and practising experts with applied experience in their fields, and are affiliated to DCU's Early Childhood Research Centre.
The diversity of the students' professional contexts, being supported by internationally-recognised experts in early childhood education, policy, research, will lead to a dynamic learning environment for students.
 The Master of Education in Early Childhood Education is intended for those who wish to make a significant contribution to the enhancement of professional practice and/or policy development in early childhood education. 
Graduates will acquire advanced knowledge and skills and afford further career opportunities in a variety of contexts, for example:
Early childhood agencies and committees
Government organisations and departments
Educational management
Consultancy
Requirements
General Entry Requirements
The minimum entry requirement is a Level 8 award with a minimum of a H2.2.
In general, applicants will have degrees in education, early childhood education or studies, education and training, or other related and cognate fields, and two years' experience in setting(s) supporting children from birth to six years, which may be post or prior to their Level 8 award.
Recognition of prior learning/transfer/exemption procedures apply.
Students on the programme will need to have access to an early childhood setting or an Infant classroom.
Fees