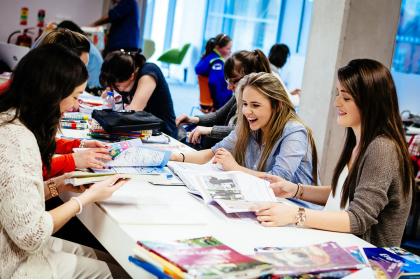 Course Type:
Undergraduate

+353 (0) 1
700 9270

jane.okelly@dcu.ie
There's a strong demand for educators across Ireland, from individual communities through to large organisations, and the Education and Training degree will give you a firm foothold in an area with excellent employment opportunities. Our practice-based approach to learning, teaching and assessment includes psychological foundations and a wide range of methodologies.
You will acquire practical knowledge on key areas such as curriculum design, implementation, assessment and education policy, while also developing skills in information technology for education and interpersonal communications for multicultural/diverse societies.
The degree contains two strands of study:
3 year option - level 8 honours degree
4 year option - level 8 honours degree which allows registration with the teaching council of Ireland as a teacher in Further Education
Completion of the degree in three years earns you a level 8 hons BSc in Education and Training. Completion of the optional placement year extends the degree to four years and awards the level 8 hons BSc in Education and Training (Further, Adult and Continuing Education), and enables you to register with the Teaching Council of Ireland as a Further Education Teacher. 
Delivery Modes:
The full-time delivery mode is delivered during traditional university hours.
The flexible delivery mode is delivered two evenings per week and on occasional Saturdays and is also a designated full-time programme. (Please note flexible delivery mode will not run until September 2020).
It's been such a stepping stone for me in creating a great career for the future
The B.Sc. in Education and Training will develop your skills in teaching and training by: 
Developing your understanding of all aspects of education and training, both in the formal and informal sectors (adult education, community education and workplace education and training) as they have evolved in the social and historical context in Ireland
Enhancing your understanding of the key theories underpinning education, community development and organisational learning
Providing you with the practical and theoretical skills necessary to deliver quality education and training
Enhancing your abilities to communicate effectively in a learning environment
The course focuses on the development of specialist knowledge and skills in:
Social and personal development
Practice based teaching and learning
Curriculum design, implementation, assessment and evaluation
Instructional design
Interpersonal communications and education for multicultural and diverse societies
Information and communications technology applications in education and training
Learning styles, group development and special educational needs
Policy and practice in education and training contexts
Qualify as a Further Education Teacher, fully recognised by the Teaching Council
Develop your skills in a course that blends education and training
Diversify your career prospects
View the current course structure
We have a unique and vibrant culture on our modern campus close to Dublin city centre. We provide state-of-the-art study facilities for all our courses and everything else you need for a healthy, fun and active student life.
Exceptional Facilities
DCU students enjoy exceptional teaching and learning facilities across our 3 academic campuses. These include modern learning theatres, research centres, television and sound studios, classrooms, computer suites and advanced laboratories in the areas of languages, engineering, physics, chemistry and biotechnology, as well as a sports performance centre and a virtual hospital ward.
A Vibrant, Dynamic Social Environment
Student facilities include a superb sports complex with a 25 metre pool, two libraries and The Helix, our renowned performing arts centre. In 2016 we announced plans to invest over €230m in developing new, world-class facilities across our three academic campuses. Already building has begun on an exciting, new €14m Student Centre that will be home to the more than one hundred and twenty student clubs and societies. This commitment to student facilities means that our world-class learning experiences are complemented by a vibrant, dynamic social environment.
Melanie Murphy (Daytime Delivery Mode)
It's been such a stepping stone for me in creating a great career for the future
Career Areas
Adult Education
Community Education
Private Sector
Public Sector
Requirements
Leaving Cert
There are no additional entry requirements for this programme apart from the general entry requirements for admission to the university.
GCE A Level
There are no additional entry requirements for this programme apart from the general entry requirements for admission to the university.
FET Level 5
For details of QQI requirements and relevant codes please click here. Simply enter the DC code for the programme you are interested in or if you are not sure of the code enter DC in the Select by Institution option, then click on Go. 
EU Transfer Applications
Applications are welcome from applicants who have studied at level 6, 7 & 8 in relevant areas. Please apply directly to DCU using the R10 form. Closing date for applications 1st July.
International Applications
International candidates are expected to have educational qualifications of a standard equivalent to those outlined above. In addition, where such candidates are non-native speakers of the English language they must satisfy the university of their competency in the English language. For further information on international applications click here.
Fees
Full time
Student Contribution
€3,043 per annum
EU Status Fee
€6,679 per annum
Non EU Fee
€12,600 per annum