Foundation Programme in Education and Training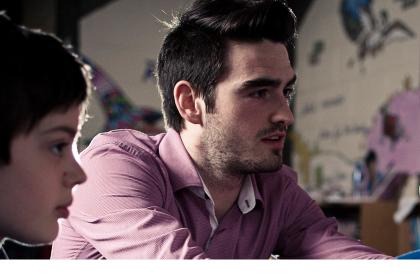 Course Type:
Undergraduate
NFQ Level:
Foundation Programme - no corresponding NFQ award - Please see
www.qqi.ie
for further information

+353 (0) 1
700 9238

justin.rami@dcu.ie
This course serves as an inroad to the teaching and training and associated professions for those who have recently completed the Leaving Certificate (or equivalent) but are not in University or to mature students who wish to progress to Higher Education.
You will gain an understanding of all aspects of education and training; learn the key theories behind education, community development, instructional and training design and organisational learning; and master the skills to confidently deliver quality education and training across a range of environments.
The Foundation Programme in Education and Training offers modules at QQI Level 5 and QQI Level 8. This course is delivered collaboratively with Whitehall College of Further Education. Learners will spend one day a week per semester and a further 4 days in Whitehall College of Further Education. The DCU modules will be delivered at first year degree level and are part of the suite of modules offered on the BSc in Education and Training (DC235). The course aims to provide a foundation for students who wish to progress to the BSc in Education and Training.
This one-year course offers modules at QQI NFQ 5, including two modules (at NFQ 8) that form part of the undergraduate degree in Education and Training. Students who successfully pass the two DCU modules and achieve the full award Education and Training 5M3635 with 3 Distinctions and 3 Merits will have the opportunity to progress to year 1 of the full-time BSc in Education & Training in DCU. In addition students may be eligible to apply to other Third Level Colleges through the Higher Education Links Scheme. 
Between DCU and Whitehall College of Further Education you will cover:
Communications
Concepts in Education and Training
Interpersonal and Group Behaviour
Personal and Professional Development
Approaches to Early Childhood Education
Social Studies
Legal Practice and Procedures
Word Processing
Concepts and Contexts in Education and Training (DCU Component)
Social and Personal Development and Communication Skills (DCU Component)
View the current course structure
Life on Campus
We have three academic campuses close to Dublin City centre - they are located in Glasnevin and Drumcondra, and can be reached by public transport (Dublin Bus).
Each campus has libraries, study spaces, restaurants, and on-campus residencies. Sports facilities are located on two of the academic campuses. We also have a dedicated sports campus in the form of St Claire's. 
Exceptional facilities
DCU students have access to exceptional teaching and learning facilities across our three academic campuses. 
These include modern learning theatres, research centres, new media and TV studio, radio/podcast studios, classrooms, computer suites and advanced labs in the areas of languages, engineering, physics, chemistry and biotechnology, as well as a sports performance centre and training hospital ward. In 2021, we opened our first virtual reality 'Leadership Lab', which is located in our Business School.
Construction on our FutureTech building on the Glasnevin campus will get underway in 2022. Once completed, this facility will advance DCU's international reputation for excellence in science and health, computing and engineering disciplines. It will have the capacity to accommodate an additional 3,000 STEM students on the university's Glasnevin campus.
Campus life
DCU student facilities boast a fully equipped sports complex with a 25-metre pool, three libraries and The Helix, our renowned performing arts centre.
Our purpose built, state-of-the-art new student centre known as 'The U' serves the needs of a rapidly growing student body of 18,500. It is home to the Student Leadership and Lifeskills Centre, performing arts and cultural spaces for students and the wider community, and the Entrepreneurship and Innovation Hub.
DCU Students' Union and the Office of Student Life are also based in the U. The centre is a space for students where they can meet, with lots of charging points and isolation booths. Clubs and socs avail of meeting rooms here and it's also home to DCUFM. NuBar, Londis and the Venue are also located here.
There are more than 140 clubs and societies for students in DCU, with 'Clubs & Socs' days taking place on both the Glasnevin and Drumcondra campuses at the start of the academic year.
Student Supports
We have a number of academic, professional and social supports for students.
Student Advice Centre: Offers a wide range of supports and services to students and advice.
The Writing Centre - drop-in writing workshops for students through the academic year.
Maths Learning Centre - provides maths support for students of all ability levels with maths modules.
Student Learning: facilitate the transition from passive to active learning for students at DCU, by teaching study skills, nurturing critical thinking and building student confidence. 
Careers work with students to help them on their professional journey into graduate employment.
Our student support team offers a comprehensive support programme, helping students make that all important transition into university life and focusing on building confidence and skills which are key to success at third level.
Career Areas
Adult Education
Community Education
Private Sector
Public Sector
Career Prospects
The Adult and Further Education and Training sector
The growing Community Sector
Trade Unions
Voluntary Bodies
Training departments in large organisations and businesses
FET Teacher/Trainer
Instructional Designer
HR and Training
As a graduate of the course you may be considered for admission to the B.Sc. in Education and Training course.
If you want to begin work, you can look toward:
Requirements
General Entry Requirements
All suitable applicants will be invited to interview and asked to submit a written assignment during the application process.
Leaving Cert
This course is offered jointly by DCU and Whitehall College of Further Education. See whitehallcollege.com
International Applications
International candidates are expected to have educational qualifications of a standard equivalent to those outlined above. In addition, where such candidates are non-native speakers of the English language they must satisfy the university of their competency in the English language. For further information on international applications click here.
Fees