Professional Master of Education (Post Primary Education)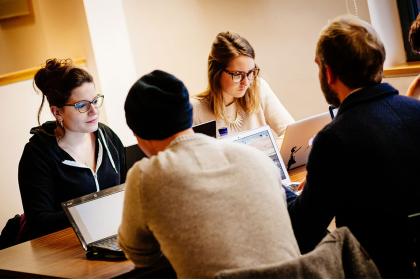 Course Type:
Postgraduate

+353 (0) 1
700 9161

ioe@dcu.ie
The Professional Master of Education (Post Primary) is a full-time teacher education qualification delivered through evening and flexible learning modes for those who hold an approved undergraduate degree and wish to become a teacher in a post primary school. 
The PME programme in DCU provides graduates with the knowledge and skills required for twenty first century classrooms. The programme prepares teachers to respond to current curricular developments at second level and promotes teacher autonomy and collegiality in the design, delivery and assessment of curriculum. A wide range of teaching strategies and methodologies are used to encourage an equitable, student-centred and creative approach to teaching and learning. 
The DCU Institute of Education is home to leading global research centres in the areas of Assessment, Evaluation, Citizenship and Human Rights Education and Anti-Bullying. Students will benefit from the expertise in these centres to develop knowledge, skills and opportunities. DCU promotes a spirit of leadership, inquiry, reflection and evaluation as students develop professional practice and recognise the importance of their own lifelong learning.  
Dates for 2021 Applications are as follows:
Application Opening Date Monday 9 November 2020
Application Closing Date Friday 12 February 2021
Documentation Closing Date (Uploading only allowed) 26 February 2021
In line with the current government campaign to increase the supply of teachers in subjects of national priority, additional places will be reserved for applicants who meet the requirements for the priority subjects listed below:  
Mathematics, Applied Mathematics, Physics, Chemistry, Irish, German, French, Italian and Spanish.
The Professional Master of Education (PME) programme starts in late August each year. Students are required to complete a Placement Induction Programme which runs in advance of formal lectures. During this induction period students complete systematic observations in their host school. Formal lectures begin in September and are held in DCU St. Patrick's Campus, Drumcondra on Tuesday and Wednesday from 4pm to 8pm. Students will participate in lectures, seminars, tutorials and online components.
School Placement
The programme includes two school placements. Students complete placement in one school in Year 1 and in a different school in Year 2. Placements can occur in a variety of school settings including Voluntary Secondary Schools, Educate Together Secondary Schools, Community Colleges, Community Schools and Comprehensive Schools.
Students must secure their own placements in a recognised post-primary school within the Republic of Ireland. Only the first placement needs to be secured at the time of application.
Placement Hours Required: Over the course of two years all students must engage in a minimum number of hours of direct teaching, placement related activities and observation as outlined in the table below.
| | | |
| --- | --- | --- |
| Activity | Year 1 (Sept to June) | Year 2 (Sept to June) |
| Direct Teaching | 4 hours per week | 4 hours per week |
| Placement Related Activities | 4 hours per week | 4 hours per week |
| Observation | 24 classes | 24 classes |
Please see information on Getting a School Placement.
View the current course structure
Expertise and Excellence
The DCU Institute of Education is the largest provider of education and training in Ireland with more than 150 academic staff with expertise in education and over 4000 students. We take a modern, innovative and creative approach to teaching and learning. 
Choice and Flexibility
Our two year full time flexible delivery PME programme addresses the need for a flexible teacher education qualification for individuals who wish to work in second-level schools but who are not in a position to engage in a traditional day-time programme of study.
Employability
DCU Graduate Teachers experience high employment success rates. Our school partnerships and professional development initiatives for in-service teachers ensure continued commitment to our students and beyond.
Career Areas
Adult Education
Education
Government Departments
Post Primary Education
Career Prospects
While most of our graduates will work as teachers in post-primary schools, others will pursue further studies in education and related fields, such as guidance, pastoral care, school leadership and management. Others again will work in Further Education, Higher Education, government departments and other education and training settings.
Requirements
General Entry Requirements
Applications open on PAC from Monday 9th November 2020
Closing Date for EU applications is Friday 12th February 2021
Closing Date for non EU applications is Friday 12th February 2021
In order to obtain information about the DCU PME programme, candidates should consult these pages and the Frequently Asked Questions (FAQ's) in advance of contacting DCU.
Applicants will normally hold at least a primary honours degree (NFQ Level 8),  that complies with the Teaching Council's Curricular Subject Requirements for at least one subject from the second-level school's curriculum.
International Applications:
International candidates are expected to have educational qualifications of a standard equivalent to those outlined above. In addition, where such candidates are non-native speakers of the English language they must satisfy the University of their competency in the English language. For further information on international applications click here.
Fees
Full time
EU Status Fee
Year 1 €4,500 - Year 2 €5,200
Non EU Fee
Year 1 €9,000 - Year 2 €9,173