Overview
This exciting programme blends theory and practice, preparing you to be an effective and inspiring teacher in two distinct subjects. Graduates are qualified to teach Religious Education and Music to Honours Leaving Certificate level.
You will explore the ideas behind Theology, Religious Studies and Ethics. You'll also develop your musicianship to an advanced level and learn about composition. Alongside the core subject areas, the course has a focus on teamwork, leadership, communication and creativity - skills that will serve you well in a teaching career and can also transfer to a number of other professions.
This programme also prepares you for the modern-day teaching environment by offering valuable and extensive teaching experience, both within the university and in school-based placements.
Careers & Further Options
Careers
This course is fully recognised by the Teaching Council of Ireland, and upon graduation, you can register as a Newly Qualified Teacher (NQT) and apply immediately for employment in second level schools.
Government Departments

International Development Agencies

Media

Post Primary Schools

Private Sector

The Arts
Second-Level Teachers
Principals
Educational Leaders
Educational Administrators
Consultants
Broadcasters
Journalists
Chaplains
Parish Ministers
Course Structure
The study of music combines an opportunity to develop your own musicianship to a high level with a chance to experience and engage with a wide range of musical styles through performance, through historical, analytical and contextual inquiry, and through composition.
Subject areas include compositional techniques, music history and contextual studies, solfège/musicianship and keyboard skills, choral and instrumental performance, Irish traditional music, choral conducting, and music technology.
All students participate in performance ensembles (choir, trad group, orchestra), which play an active role in the university's cultural life, and which prepare you for the diverse challenges involved in music teaching and musical life more broadly.
Specialised centre of excellence with a long and rich background in Teacher Education

25% School Placement preparing you to teach in the 21st-century classroom

Qualify to teach RE & Music to Honours Leaving Certificate level

Track record of graduate employment in key educational positions in Ireland, Europe and Internationally
For more information on the course structure click here
Fees and Funding
Fees
Student Contribution
€3,043 per annum
EU Status Fee
€6,679 per annum
Non EU Fee
€14,500 per annum
Life On Campus
At DCU, our students can expect a unique campus experience. We are known for our excellent teaching and learning facilities, our active clubs and societies, and our great social and sporting facilities. All this makes DCU an exciting place to be. 
DCU has three academic campuses; Glasnevin, St. Patrick's and All Hallows (both in Drumcondra), all close to Dublin City centre. 
They can be reached by public transport, Dublin Bus and Bus Éireann, with our Drumcondra campuses a ten minute walk from Drumcondra Train Station. Glasnevin is a 20 minute walk from St Patrick's and All Hallows. They are also linked by Dublin Bus.
Each campus has a library (O'Reilly, Cregan and Woodlock Hall), study spaces, restaurants, and on-campus residencies. There are sports facilities on Glasnevin and St. Patrick's, and there is a dedicated sports campus, St Claire's, located near Glasnevin on the Ballymun Road.
DCU's 19,000 students have access to exceptional teaching and learning facilities across our three academic campuses. 
These include modern learning theatres, research centres, a new media and TV studio, radio/podcast studios, computer suites and advanced labs in the areas of Languages, Engineering, Physics, Chemistry and Biotechnology, as well as a Sports Performance centre and a training hospital ward. In 2021, we opened our first virtual reality 'Leadership Lab', which is located in our Business School.
We continue to improve and update our facilities. For example, construction of a new world-class STEM facility is underway on the Glasnevin campus. With capacity for an extra 3,000 STEM students, this facility will advance DCU's international reputation for excellence in science and health, computing and engineering disciplines.
Studying in DCU isn't just about course work. The university is rich in student life and activities.
There are more than 140 clubs and societies for students in DCU, with 'Clubs & Socs' days taking place on both the Glasnevin and Drumcondra campuses at the start of the academic year. They span everything from rugby to rock climbing, anime to jazz.
For many students, sport is an important part of the DCU experience. DCU's Sports Complex boasts a 25 metre swimming pool, fitness centre gym, all-weather pitches and squash courts, as well as soccer, GAA and rugby pitches. DCU Dóchas Éireann, the university's GAA club, is the largest third level Gaelic Games club in the country. Meanwhile, DCU Athletics has been Ireland's highest achieving university club for many years. And DCU has dozens of other clubs to get involved in, from Archery to Weightlifting. 
The Glasnevin campus is home to our purpose built, state-of-the-art student centre, The U, which serves the needs of a rapidly growing student body. Here, you will find the Student Leadership and Lifeskills Centre, performing arts and cultural spaces for students and the wider community, and the Entrepreneurship and Innovation Hub. Also located on our Glasnevin campus is The Helix, our renowned performing arts centre.
On our St Patrick's campus, we have the Java Student Hub, a vibrant, warm and welcoming space where students can meet for coffee, play music, use the projector to watch events, or just relax. The walls of the Java Hub were designed based on the cultural history of St Patrick's Campus, including the special references to the notable sporting history and history of the arts.
We have a number of academic, professional and social supports for students.
Student Advice Centre - Offers a wide range of supports and services to students and advice 
The Writing Centre - drop-in writing workshops for students through the academic year 
Maths Learning Centre - provides maths support for students of all ability levels with maths modules 
Student Learning - facilitate the transition from passive to active learning for students at DCU, by teaching study skills, nurturing critical thinking and building student confidence. 
Careers work with students to help them on their professional journey into graduate employment.
Our student support team offers a comprehensive support programme, helping students make that all important transition into university life and focusing on building confidence and skills which are key to success at third level.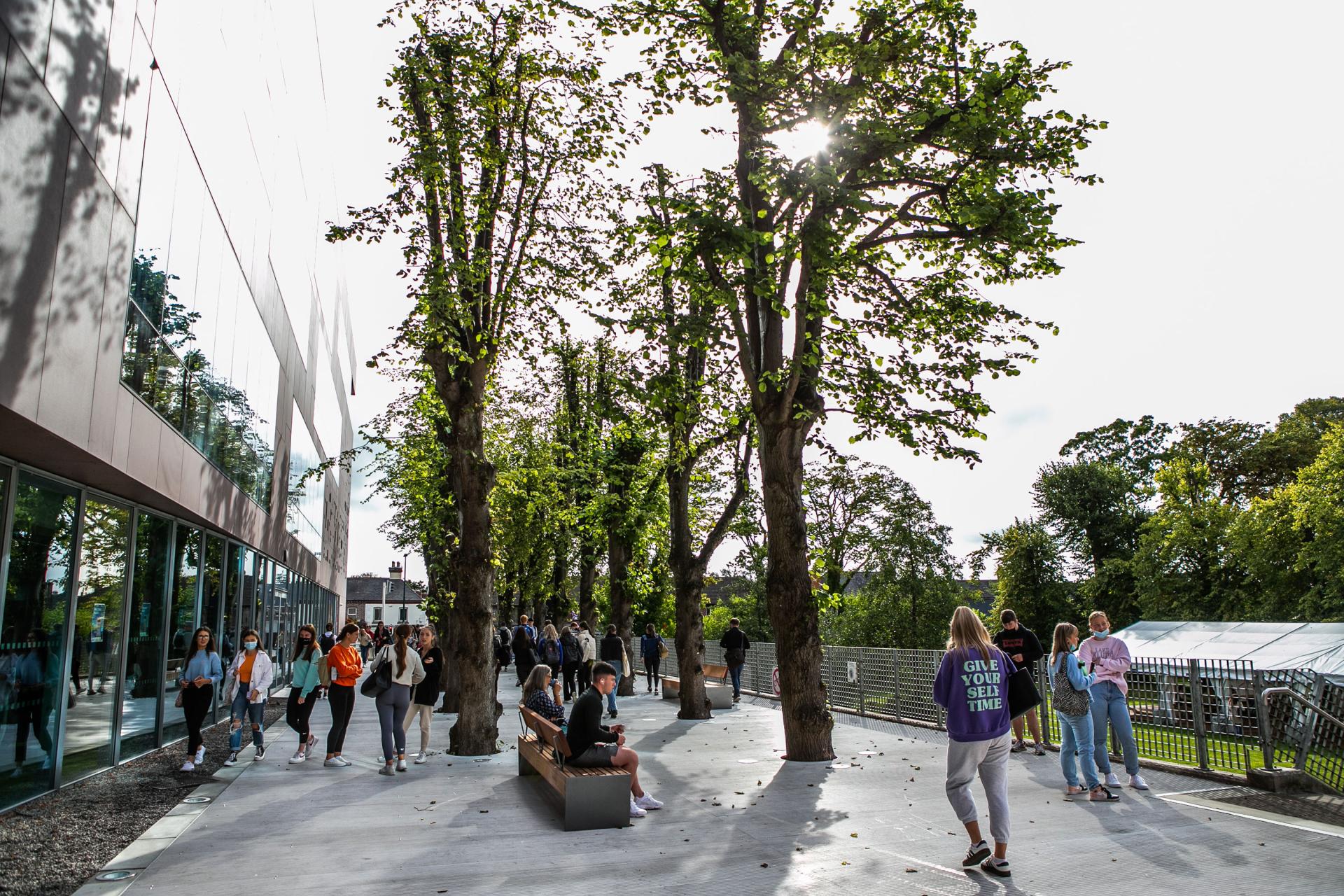 FAQs
I am interested in studying Religious Education and would like to teach it at post primary level. What other subjects can I study along with Religious Education?
DCU Institute of Education offers three different combinations for those who wish to teach Religious Education and another subject at post-primary level. These courses are fully recognised by the Teaching Council of Ireland, and upon graduation, you can register as a Newly Qualified Teacher (NQT) and apply immediately for employment in post-primary schools:
*DC012: In addition to the general entry requirements for admission to the University, the following entry requirements apply: H4 in Music or equivalent (this requirement may be waived by the Head of Music). DC012 is a restricted entry course. Applicants must apply through CAO by 1 February. Late applications cannot be accepted. Applicants must take music aural and performance tests. For details, please visit: https://www.dcu.ie/registry/dc012-music-test-information.shtml
If you have any questions about Music on the Bachelor of Religious Education and Music programme (DC012), please contact Dr Seán Doherty: sean.doherty@dcu.ie directly.
What courses are offered by the DCU Institute of Education?
DCU Institute of Education brings together students of education and provides a rich menu of undergraduate courses across all sectors from early childhood, to primary and post-primary and further and higher education. We offer a range of taught and research postgraduate courses at doctoral, masters, diploma and certificate level and have a distinguished record in providing continuing professional development.
Is there Garda vetting for students who study DCU Institute of Education courses?
Garda vetting is required for all students who have unsupervised access to children and vulnerable adults as part of their studies at DCU. Applicants must successfully pass the Garda vetting process in order to complete the registration process.
What are the potential teaching pathways for primary, post-primary and further education and training offered by DCU?
Primary Teaching Pathways
Undergraduate*
Postgraduate**
Professional Master of Education (Primary Teaching) - DC970
* Please ensure that you consult minimum entry requirements and CAO points for all undergraduate programmes
** Please ensure that you consult minimum entry requirements for all postgraduate programmes
Post-Primary Teaching Pathways
Undergraduate*
Postgraduate**
Professional Master of Education (Post-Primary Teaching) - DC905
* Please ensure that you consult minimum entry requirements and CAO points for all undergraduate programmes
** Please ensure that you consult minimum entry requirements for all postgraduate programmes
Further Education and Training Teaching Pathways
Undergraduate*
BSc (Hons) in Education and Training (Further, Adult and Continuing Education) - DC235
* Please ensure that you consult minimum entry requirements and CAO points for all undergraduate programmes