DCU President's Office | Oifig an Uachtaráin
Honorary Conferring Ceremonies
We look forward to welcoming you to the Honorary Conferring of Annette Kennedy and Vivien Lusted on Friday 7 May at 12.00 noon. The Ceremony will be available to view here, and we hope you can join us.
 
The Doctor of Philosophy (honoris causa) is the highest award that Dublin City University can bestow. The award not only recognises outstanding achievements, it also serves as an inspiration for our younger citizens, including our students, who aspire to excellence. DCU honorary graduates include Nobel Prize winners ETS Walton, Mother Teresa, John Hume, Muhammad Yunus and Seamus Heaney. A complete list of DCU's honorary graduates is available here. Below you will find details of our recent honourees.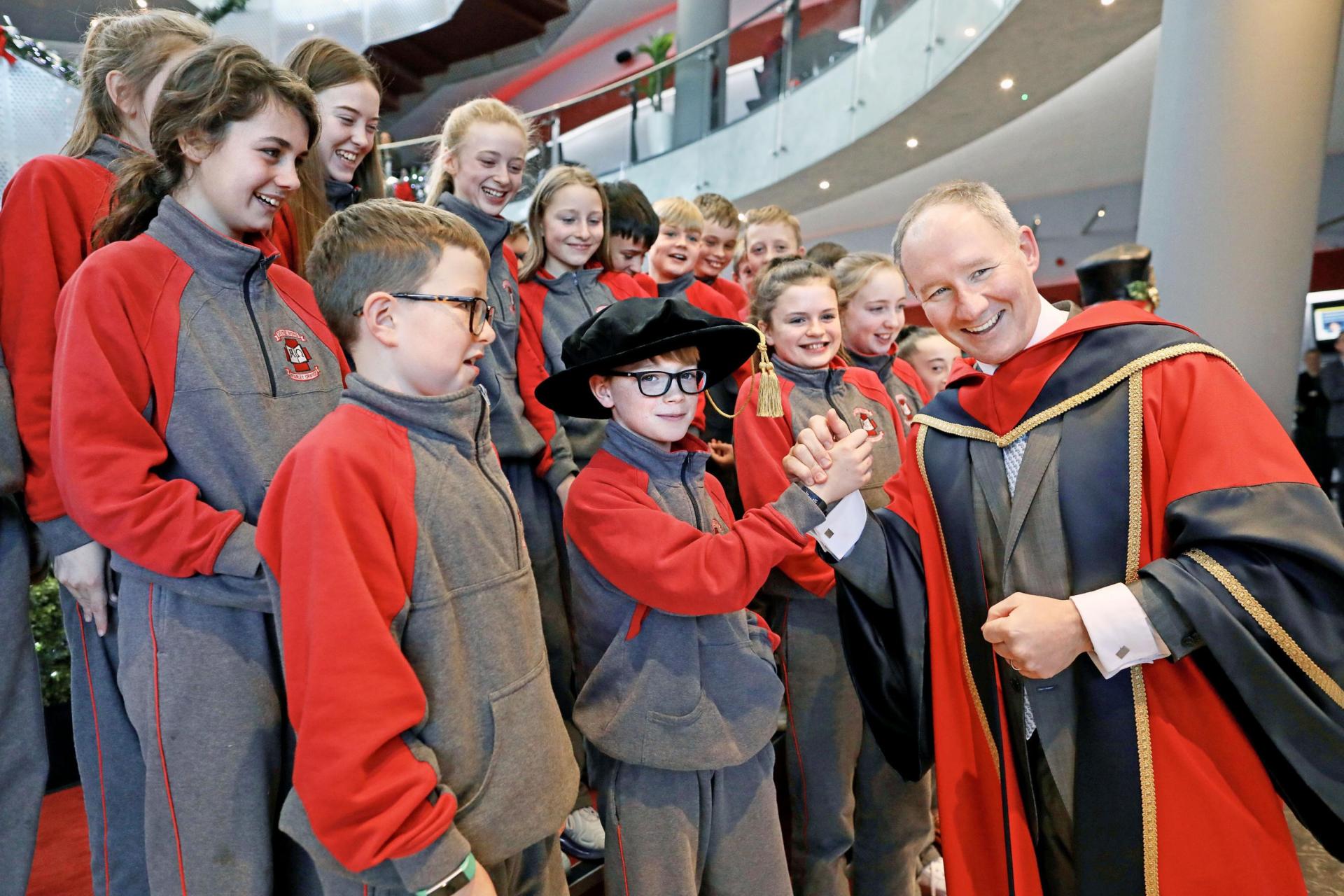 Jim Gavin
Record-breaking Dublin Football Manager Jim Gavin was conferred with the award Doctor of Philosophy (Honoris Causa) on December 11th 2019. The doctorate was awarded in recognition of his achievements in guiding Dublin's Senior Men's Football team to five All-Ireland victories in a row.
"The accomplishments of the Dublin men's Gaelic Football senior team, while Jim Gavin has been in charge, have been truly astounding. Jim's meticulous, detailed, forensic level of preparation has led Dublin to become the first ever men's GAA team to win five All-Irelands in a row. But that is just one of an impressive array of achievements."

Micheál O'Muircheartaigh and Joe Schmidt
Legendary RTÉ sports commentator and writer Micheál O'Muircheartaigh, and Ireland's most successful ever Ireland Rugby Head Coach, Joe Schmidt, were conferred with the award of Doctor of Philosophy (Honoris Causa) on April 30th 2019.
"Throughout his life, Micheál has lived life to the full. Brimming over with equal measures of energy and curiosity, Micheál has lived by the motto Why put off until tomorrow what you can do today." Micheál O'Muircheartaigh's Citation
 "Joe is a humble man who shuns the limelight... Yet, behind the quiet exterior, he is an ambitious, dedicated and driven individual with an extraordinary work ethic. His values are those that he demands of his players: humility, discipline (on and off the pitch) and relentlessness." Joe Schmidt's Citation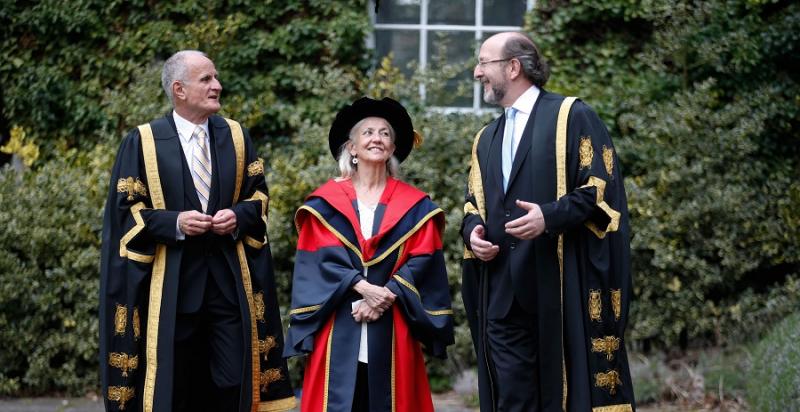 Paula Meehan
One of Ireland's foremost poets, Paula Meehan, was conferred with the award Doctor of Philosophy (Honoris Causa) on March 21st 2019. The doctorate was awarded in recognition of Paula's extensive literary contribution, including a number of poetry collections. The Dublin-born poet's works reflect the local lore and powerful oral traditions of the inner city community where she grew up.
"Her verse is elegantly wrought, often magically incantatory, and always accessible, but, like Seamus Heaney's, charged with a challenging undercurrent. In it Paula Meehan gives voice to her people and her place." Paula Meehan's Citation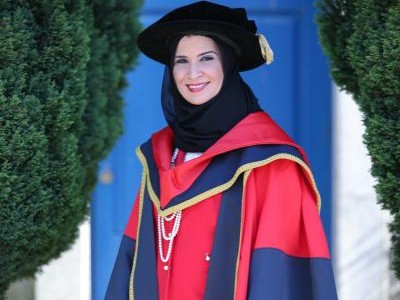 H.E. Dr Amal Al Qubaisi 
H.E. Dr Amal Al Qubaisi, Chairperson and Speaker, Federal National Council, UAE, was conferred with the award Doctor of Philosophy (Honoris Causa) on June 21st 2018. Dr Al Qubaisi was recognised for her efforts in championing diversity and inclusion in the Arab world. 
"It is impossible to summarise her achievements without reaching for superlatives, and constantly re-using words such as "first" and "only". Dr Al Qubaisi has made history on several occasions, but more importantly, she has used her position not only to defend the rights of her fellow human beings, and to promote tolerance, respect and dialogue, but also to challenge other leaders to do likewise." H.E. Dr Amal Al Qubaisi's Citation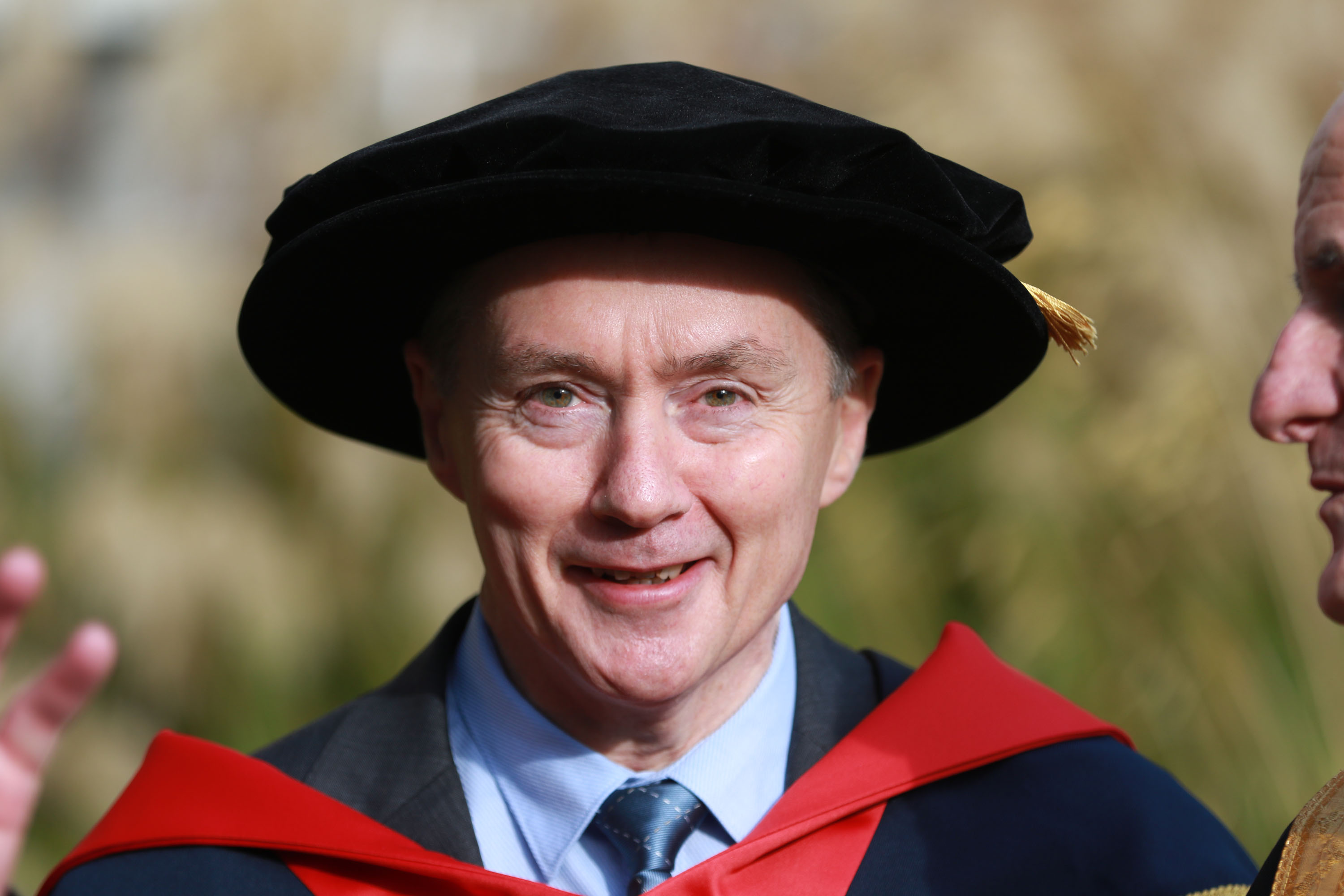 Willie Walsh
Willie Walsh, Chief Executive of International Airlines Group, was conferred with the award Doctor of Philosophy (Honoris Causa) on 4th November 2017. He was recognised for his entrepreneurial ambition and significant contribution to the aviation industry. 
"Today, we are recognizing a local man who has led and continues to lead an extraordinary career in aviation… At the time when Willie Walsh took over as its CEO, Aer Lingus was losing millions of euro a day and was facing rapid oblivion. Several significant European airlines at that time did collapse. However, by 2003, under Willie's leadership, Aer Lingus had become a budget airline and was back in profit."  Willie Walsh's Citation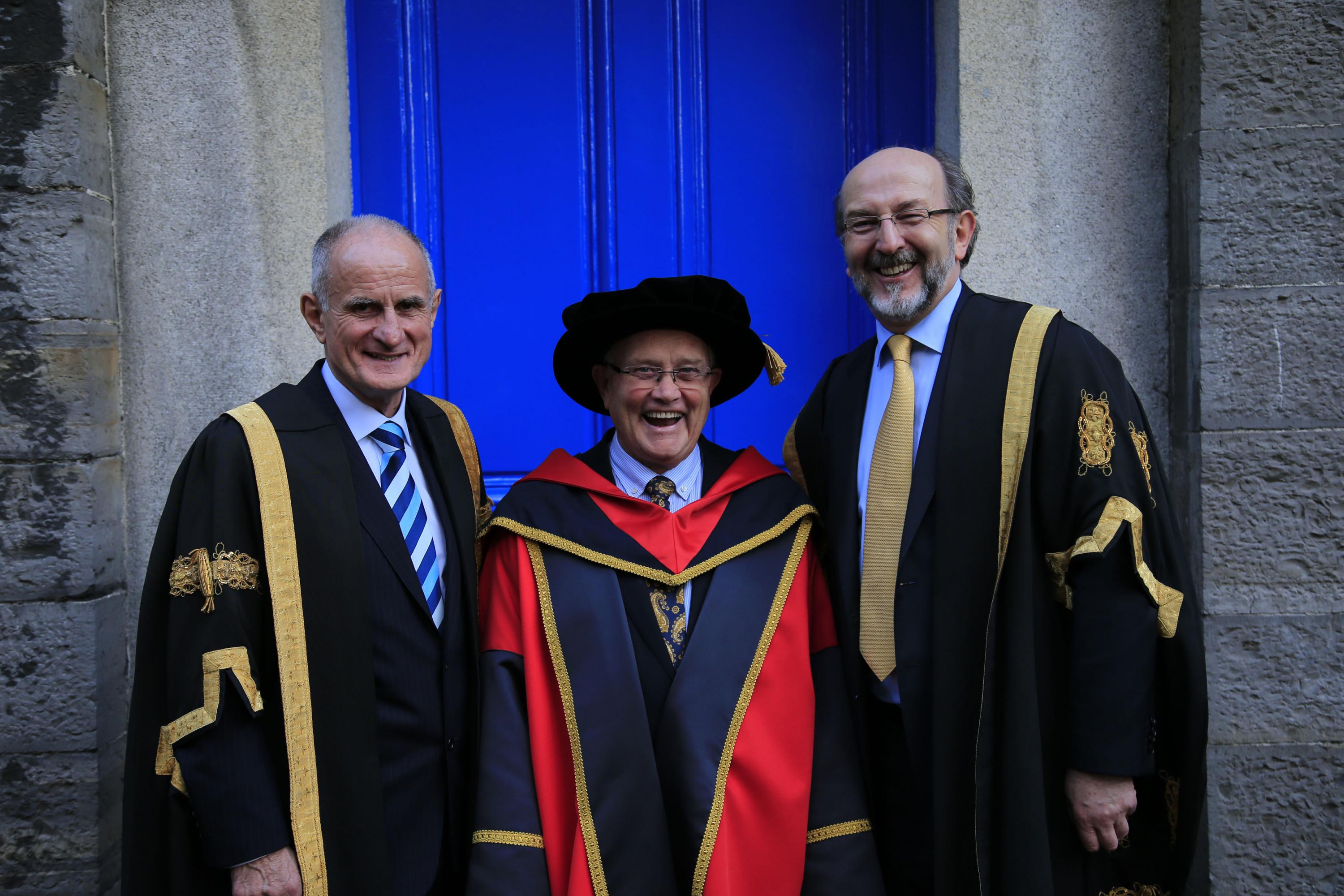 Prof Steve Myers
World-renowned physicist Professor Steve Myers, OBE, was conferred with the award Doctor of Philosophy (Honoris Causa) on November 3rd 2017.
The work of Belfast-born scientist, who has spent most of his career at the European Organisation for Nuclear Research (CERN) has led to key developments in our understanding of the nature of the universe.
"Professor Myers' career has been characterised by the creation and translation of knowledge, and most recently the translation of knowledge gleaned from a lifetime's work of developing accelerator and detector instrumentation for basic science at the highest level into applications in the area of medicine with a direct impact on people's lives." Professor Steve Myers Citation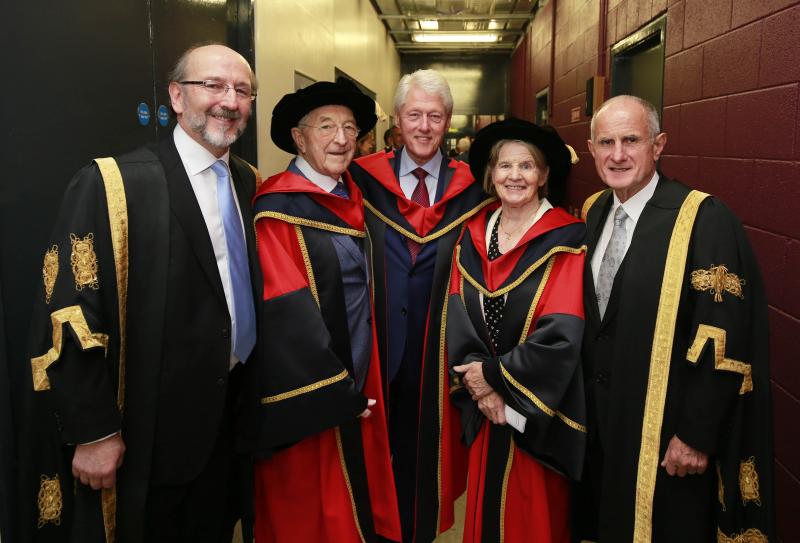 President Bill Clinton, Sr Stanislaus Kennedy, Martin Naughton
President William J Clinton, 42nd President of the United States; Sr Stanislaus Kennedy, social innovator and campaigner on homelessness and Mr Martin Naughton, entrepreneur and founder of Glen Dimplex were conferred with the award Doctor of Philosophy (Honoris Causa) on 17th of October 2017.
"Peace-making is always difficult, but there can be little doubt that the conflict in Northern Ireland was ultimately resolved because that great beacon of liberty, the United States of America, decided that it could use its influence to make the vital difference. That fateful decision was taken in the Oval Office by President Bill Clinton." President Bill Clinton's Citation 
"Her core commitment is to equality and to self-respect and dignity for all members of society, regardless of their abilities or disabilities, their faith or ethos.  She sees the stillness and beauty within all people and encourages us all to do so. In her own words, 'Through listening you can learn how to rise above adversity, and learn to truly value other people who are very different from you." Sr. Stanislaus Kennedy's Citation
"Martin received very little handed to him on a silver platter and has been described as a "self-made" man. His global business success has been, in large measure, due to his vision, his perseverance, his dedicated focus on research and development and his ability to motivate and bring people with him on an extraordinary business success story." Mr. Martin Naughton's Citation