Nobel Laureate Lecture Series | President's Office

An early strategic initiative of the President was to establish a Nobel Laureate Lecture Series for DCU. The primary focus of this initiative is on students, with a view to raising their aspirations and stimulating their ambitions by exposing them to excellence.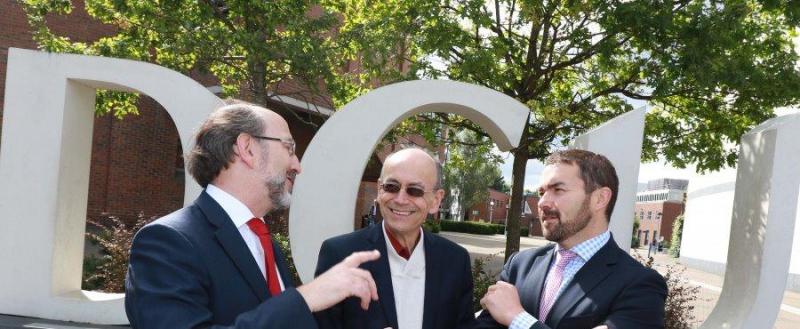 Professor Thomas Sudhof
Wednesday, 2nd September 2015
Molecular mechanisms of neurotransmitter release
Professor Thomas Südhof, a neuroscientist at Stanford University School of Medicine and Nobel Prize Winner in Physiology or Medicine 2013, delivered a lecture yesterday as part of Dublin City University's Nobel Laureate Series in association with Magnet Networks.
Pictured are DCU President Brian MacCraith, Thomas Südhof and CEO Magnet Networks, Mark Kellett
The lecture is available to watch
here
Ms Leymah Gbowee
Monday, 13th April 2015
Living Peace, Leaving Peace
Ms Gbowee is a Liberian peace activist and women's rights advocate. She was awarded the Nobel Peace Prize in 2011 in recognition of her "non-violent struggle for the safety of women and for women's rights to full participation in peace-building work". She led the Women of Liberia Mass Action for Peace, which brought Christian and Muslim women together in a peaceful movement that played a critical role in ending the civil war in Liberia in 2003. Ms. Gbowee is an advocate for human rights, peace and security.
The lecture is available to watch here.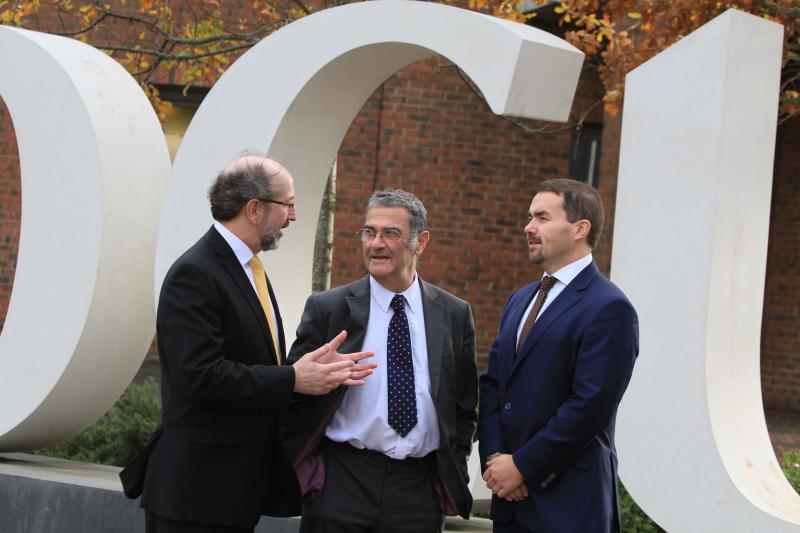 Prof Serge Haroche
Monday, 11th November 2013
Shedding New Light Schrödinger's Cat
Prof Serge Haroche, Ecole Normale Supérieure and Collège de France, won the Nobel Prize for Physics in 2012. His lecture entitled "Shedding New Light Schrödinger's Cat" will offer the general public a unique insight into the strange world of Quantum Physics and how its applications can transform life as we know it, now and in the future.
The President's welcome address is available here.
The lecture is available to watch here.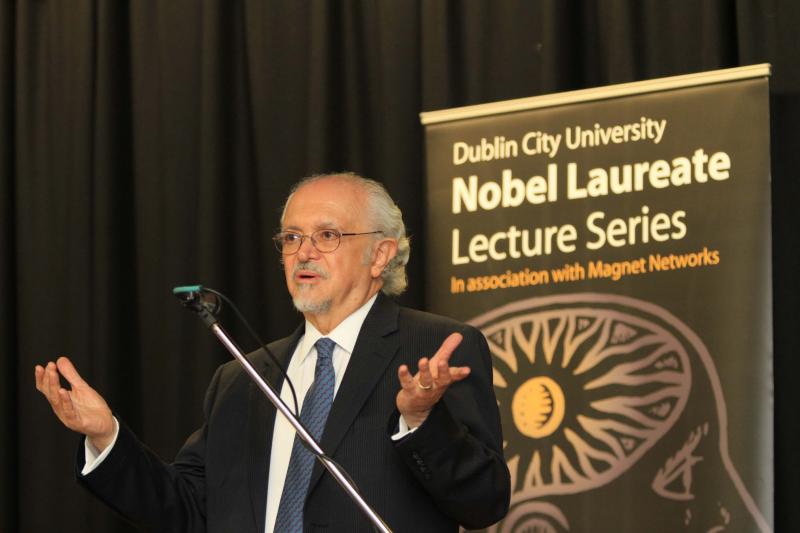 Professor Mario Molina
Wednesday, 21st November 2012
Climate Change: Science, Policy and Solutions.
A 1995 Chemistry Nobel Prize winner, Professor Molina rose to prominence for highlighting the threat of CFC's to the ozone layer and now concentrates his research on climate change and air pollution.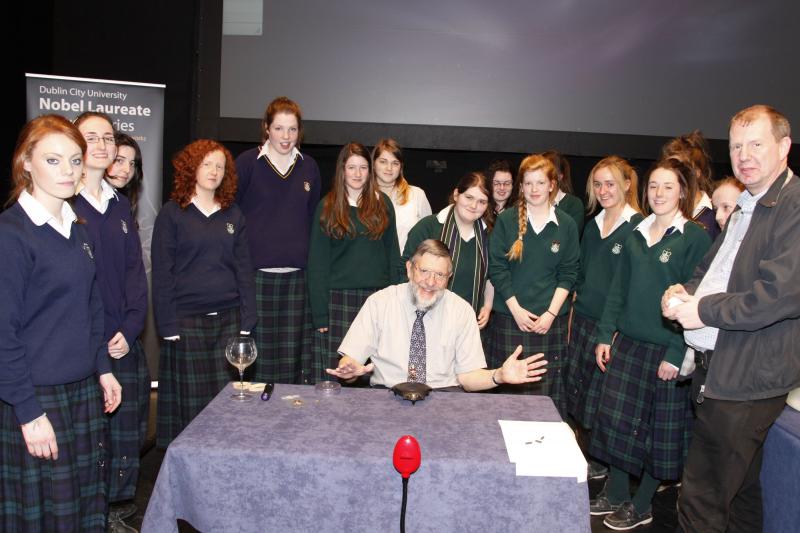 Dr. William Phillips
Thursday, 29th March 2012
Times, Einstein and the Coolest Stuff in the Universe.
Ordinary Faith, Ordinary Sciences.
Dr William Phillips, Nobel Prize Winner in Physics 1997, delivered two addresses as part of the Nobel Laureate Lecture Series hosted by Dublin City University in association with Magnet Networks. More than one thousand guests, including primary, second-level and DCU students, as well as academic staff enjoyed Dr Phillip's afternoon presentation Time, Einstein and the Coolest Stuff in the Universe, a lively, multimedia spectacle demonstrating how Einstein's thinking is shaping one of the key scientific and technological wonders of life - atomic clocks.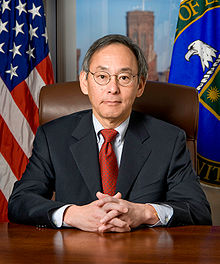 Dr Steven Chu
Friday, 5th November 2010
A Random Walk in Time: From Laser Cooling to Global Warming.
Nobel Laureate and US Energy Secretary, Dr Steven Chu, launched DCU's Nobel Laureate Lecture Series. An audience of over 1,000 comprising of staff, students, businesses, and members of the general public, attended the lecture. Secretary Chu highlighted the key issues surrounding global warming.
Dr Steven Chu won the 1997 Nobel Prize for Physics for his work in developing a technique to cool down an atom to a very low temperature (nearly absolute zero or -273 degrees Celsius) in order to trap and manipulate with light. The US Senate confirmed Dr Chu as Energy Secretary in January 2009. He is the first Nobel Laureate appointment to a US cabinet post.