Paola Rivetti
Dr
Contact Details

Cg19d

T: Ext. 6898
E: paola.rivetti@dcu.ie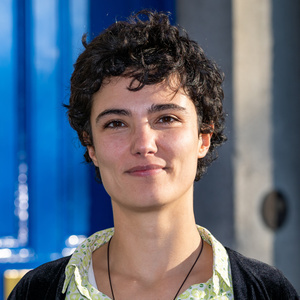 I am Associate Professor in Politics and International Relations. I joined DCU in 2011, as an IRC postdoctoral fellow. I hold a PhD in History and Social Sciences from Siena U and an MA in Political Science and IR from Turin U. I held previous positions at Milano Bicocca U, Turin U, the Catholic University of Milan, Ecole de Management de Normandie. I held visiting positions at Boğaziçi U, Laval U, University of Montreal (UdeM), Palermo U. I was awarded the 2018 Early-Career Researcher of the Year Prize by the Irish Research Council and in 2018, I received the DCU President's Award for Early-Career Researcher. In 2018, I was a
TED talk
speaker for Trinity College Dublin. My talk was titled "What's wrong with solidarity".

My research interests focus on the government of societies and polities in the Middle East and North Africa from a comparative perspective; and on social and political mobilisations. I am in the process of developing a new project on sexual politics and technology in the region and I am part of the EROSS research group. I authored numerous scientific as well as non-academic publications on these topics, published in several languages (Persian, English, French, Spanish, Italian). I carried out extensive field research in the region.

To learn more about my research, yo
u can watch some book talks/conversations in English and Italian at
Princeton U
, Rethinking Iran series at
Johns Hopkins' SAIS
,
Cagliari U
,
Diruz.it
, and listen to
the SEPAD podcast project (in Italian: Intervistautori podcast).
I also worked and published on the topics of precarity in academia and academic freedom both in the Middle East and North Africa, and in the EU and US. I am also involved in non-academic reaching-out activities, engaging both the media and public speaking.

As an academic and an intellectual, I contribute to public discussions about controversial issues. I am involved in a number of initiatives of
"cultural organisation", in both the academic and non-academic world. I am a member of the Advisory board of the Cambridge Centre for Palestine Studies and I serve as the representative for
Scholars at Risk
at DCU. I am a member council of the
British Society for Middle Eastern Studies
and a co-founding member of the
Irish Network for MENA Studies
. I am Associate Editor of the journal
Iranian Studies
and a member of the editorial boards of the journal
Partecipazione e conflitto
and the blog
Lavoro culturale
. I am also a member of the board of the book series
Mediterraneo, Nord Africa e Medio Oriente
for Mimesis publisher (Milan). I lead the Erasmus Plus International Credit Mobility (ICM) Exchange with Bethlehem University and I have been a member of the advisory board for a number of research projects. In the past, my research was funded by the Irish Research Council, the European Union, Gerda Henkel Foundation and Giovanni Goria Foundation. I was the General Secretary of the Italian Society for Middle Eastern Studies (SeSaMO) between 2013 and 2016. Before joining DCU, I worked in the field of NGOs and asylum-seekers assistance.
I am author of
Political Participation in Iran from Khatami to the Green Movement
(Palgrave, 2020). I am the co-editor of
Islamists and the Politics of the Arab Uprisings: Governance, Pluralisation and Contention
(Edinburgh University Press, 2018) and
Continuity and change before and after the Arab uprisings: Morocco, Tunisia and Egypt
(Routledge, 2015).
I welcome applications from prospective research students interested in comparative politics, mobilisation, comparative governance and public policy, Middle East politics and Area studies.



Year
Publication
2020
Political Participation in Iran from Khatami to the Green Movement.
Paola Rivetti (2020) Political Participation in Iran from Khatami to the Green Movement. Basingstoke: Palgrave McMillan. [Details]
Year
Publication
2018
Islamists and the Politics of the Arab Uprisings: Governance, Pluralisation and Contention
Hendrik Kraetzschmar and Paola Rivetti (Ed.). (2018) Islamists and the Politics of the Arab Uprisings: Governance, Pluralisation and Contention Edinburgh: Edinburgh University Press. [Details]
2015
Continuity and change before and after the Arab uprisings: Morocco, Tunisia and Egypt
Rivetti P.; Di Peri R (Ed.). (2015) Continuity and change before and after the Arab uprisings: Morocco, Tunisia and Egypt London: Routledge. [Details]
2010
The civil society effect. Practices and rhetoric in Iran, Lebanon, Egypt and Morocco [in Italian]
Rosita Di Peri and Paola Rivetti (Ed.). (2010) The civil society effect. Practices and rhetoric in Iran, Lebanon, Egypt and Morocco [in Italian] Rome: Bonanno. [Details]
 
Year
Publication
2021
'Revolution and Counter-Revolution in the Middle East and North Africa. Global Politics, Protesting and Knowledge Production in the Region and Beyond'
Rivetti P., Cavatorta F. (2021) 'Revolution and Counter-Revolution in the Middle East and North Africa. Global Politics, Protesting and Knowledge Production in the Region and Beyond'. Partecipazione e Conflitto, 14 (2):511-529 [Details]
2020
'What happens in-between mobilizations? Building and organizing contentious politics at the University of Tehran (2007-2017)'
Rivetti Paola (2020) 'What happens in-between mobilizations? Building and organizing contentious politics at the University of Tehran (2007-2017)'. Partecipazione e Conflitto, 13 (1):587-606 [Details]
2020
'The Museum of the Islamic Revolution and Holy Defence in Tehran'
Paola Rivetti (2020) 'The Museum of the Islamic Revolution and Holy Defence in Tehran'. International Journal of Middle East Studies, 52 (2):349-355 [Details]
2019
'race, identity and the state after the Irish abortion referendum'
Rivetti, P (2019) 'race, identity and the state after the Irish abortion referendum'. Feminist Review, :181-188 [DOI] [Details]
2019
'The Transnational Engagement of Second Generations in Italy: Young People of Egyptian Background and the Arab Uprisings'
Ilenya Camozzi, Daniela Cherubini, Paola Rivetti (2019) 'The Transnational Engagement of Second Generations in Italy: Young People of Egyptian Background and the Arab Uprisings'. Polis (Italy), 33 (3):373-392 [DOI] [Details]
2018
'Arab Mediterranean youth norms and values: a gender analysis'
Camozzi, I;Cherubini, D;Leccardi, C;Rivetti, P (2018) 'Arab Mediterranean youth norms and values: a gender analysis'. Revista Cidob D Afers Internationals, :201-224 [DOI] [Details]
2017
'Out of Space: Securitization, Intimacy, and New Research Challenges in Post-2009 Iran'
Saeidi S.;Rivetti P. (2017) 'Out of Space: Securitization, Intimacy, and New Research Challenges in Post-2009 Iran'. International Journal of Middle East Studies, 49 (3):515-520 [DOI] [Details]
2017
'Labor and Class in Iran. An Interview with Mohammad Maljoo'
Paola Rivetti (2017) 'Labor and Class in Iran. An Interview with Mohammad Maljoo'. Middle East Report, [Details]
2017
'Political Activism in Iran: Strategies for Survival, Possibilities for Resistance and Authoritarianism'
Paola Rivetti (2017) 'Political Activism in Iran: Strategies for Survival, Possibilities for Resistance and Authoritarianism'. DEMOCRATIZATION (PRINT), [Details]
2017
'Methodology Matters in Iran: Co-Research and Non-Mainstream Methods in Researching Social Movements in Authoritarian Contexts'
Paola Rivetti (2017) 'Methodology Matters in Iran: Co-Research and Non-Mainstream Methods in Researching Social Movements in Authoritarian Contexts'. Anthropology of the Middle East, [Details]
2015
'Continuity and change before and after the uprisings in Tunisia, Egypt and morocco: Regime reconfiguration and policymaking in north Africa'
Rivetti P. (2015) 'Continuity and change before and after the uprisings in Tunisia, Egypt and morocco: Regime reconfiguration and policymaking in north Africa'. British Journal of Middle Eastern Studies, 42 (1):1-11 [DOI] [Details]
2014
'Between training and work. The institutionalized precariousness of psychologists psychotherapists''
Sandro Busso, Paola Rivetti (2014) 'Between training and work. The institutionalized precariousness of psychologists psychotherapists''. Sociologia del lavoro, [Details]
2014
'Iranian student activism between authoritarianism and democratization: patterns of conflict and cooperation between the Office for the Strengthening of Unity and the regime'
Rivetti, P;Cavatorta, F (2014) 'Iranian student activism between authoritarianism and democratization: patterns of conflict and cooperation between the Office for the Strengthening of Unity and the regime'. Democratization, 21 :289-310 [DOI] [Details]
2014
'EU–MENA Relations from the Barcelona Process to the Arab Uprisings: A New Research Agenda'
Francesco Cavatorta, Paola Rivetti (2014) 'EU–MENA Relations from the Barcelona Process to the Arab Uprisings: A New Research Agenda'. Journal of European Integration, [Details]
2014
'What's Love Got to Do with it? Precarious Academic Labour Forces and the Role of Passion in Italian Universities'
Sandro Busso, Paola Rivetti (2014) 'What's Love Got to Do with it? Precarious Academic Labour Forces and the Role of Passion in Italian Universities'. RECHERCHES SOCIOLOGIQUES ET ANTHROPOLOGIQUES, [Details]
2013
'Empowerment without emancipation: Performativity and political activism among iranian refugees in italy and Turkey'
Rivetti P. (2013) 'Empowerment without emancipation: Performativity and political activism among iranian refugees in italy and Turkey'. Alternatives, 38 (4):305-320 [DOI] [Details]
2013
''The importance of being civil society': Student politics and the reformist movement in Khatami's Iran'
Rivetti P.;Cavatorta F. (2013) ''The importance of being civil society': Student politics and the reformist movement in Khatami's Iran'. Middle Eastern Studies, 49 (4):645-660 [DOI] [Details]
2013
'Governing Chaos: Uncertainty and the Comparative Examination of the 2010/2011 Uprisings in North Africa'
Paola Rivetti (2013) 'Governing Chaos: Uncertainty and the Comparative Examination of the 2010/2011 Uprisings in North Africa'. EUROPEAN JOURNAL OF ECONOMIC AND POLITICAL STUDIES, [Details]
2013
'Ideology, democracy and secularism in contemporary Iran. Lessons for the Arab Spring?''
Paola Rivetti (2013) 'Ideology, democracy and secularism in contemporary Iran. Lessons for the Arab Spring?''. MEDITERRANEAN POLITICS (PRINT), [Details]
2011
'Iran: Starting from land and history. A tentative interpretation''
Paola Rivetti (2011) 'Iran: Starting from land and history. A tentative interpretation''. Storia urbana, [Details]
2011
'Italian Alpine expeditions to Iran according to archives''
Paola Rivetti (2011) 'Italian Alpine expeditions to Iran according to archives''. Storia urbana, [Details]
 
Year
Publication
2020
'Islam and Factional Politics in Iran'
paola rivetti (2020) 'Islam and Factional Politics in Iran' In: Jeff Haynes (eds). The Routledge Handbook to religion and Political Parties. Oxon: Routledge. [Details]
2020
'La fabbrica della conoscenza e delle precarietà. Riflessioni da un'autoinchiesta nell'università al tempo della crisi'
Armano Emiliana, Rivetti Paola, Busso Sandro (2020) 'La fabbrica della conoscenza e delle precarietà. Riflessioni da un'autoinchiesta nell'università al tempo della crisi' In: Emiliana Armano (eds). Pratiche di inchiesta e conricerca oggi. Milan: Ombre corte. [Details]
2018
'Governing after Protests. The Case for Political Participation in Post-2009 Iran'
Paola Rivetti and Alam Saleh (2018) 'Governing after Protests. The Case for Political Participation in Post-2009 Iran' In: Islamists and the Politics of the Arab Uprisings: Governance, Pluralisation and Contention. Edinburgh: Edinburgh University Press. [Details]
2018
'What is so special about field research in Iran?: Doing fieldwork in religiously charged authoritarian settings'
Rivetti P.;Saeidi S. (2018) 'What is so special about field research in Iran?: Doing fieldwork in religiously charged authoritarian settings' In: Political Science Research in the Middle East and North Africa: Methodological and Ethical Challenges. [DOI] [Details]
2017
'Functions of political trust in authoritarian settings'
Rivetti, P;Cavatorta, F (2017) 'Functions of political trust in authoritarian settings' In: HANDBOOK ON POLITICAL TRUST. CHELTENHAM: EDWARD ELGAR PUBLISHING LTD. [Details]
2018
'Political Islam and the Arab Uprisings'
Paola Rivetti and Hendrik Kraetzschmar (2018) 'Political Islam and the Arab Uprisings' In: Islamists and the Politics of the Arab Uprisings: Governance, Pluralisation and Contention. Edinburgh: Edinburgh University Press. [Details]
2018
'What is so special about field research in Iran? Doing fieldwork in religiously charged authoritarian settings'
Paola Rivetti, Shirin Saeidi (2018) 'What is so special about field research in Iran? Doing fieldwork in religiously charged authoritarian settings' In: Janine Clark, Francesco Cavatorta (eds). Doing Political Science Research in the Middle East and North Africa: Methodological and Ethical Challenges. Oxford: Oxford University Press. [Details]
2018
'Algeria: Oil and public opinion'
Paola Rivetti and Francesco Cavatorta (2018) 'Algeria: Oil and public opinion' In: Public Brainpower. Civil Society and Natural Resource Management. Basingstoke: Palgrave Mcmillan. [Details]
2018
'Transformations of cultural norms and values among youth through a gendered perspective'
Daniela Cherubini, Ilenya Camozzi, Paola Rivetti, Carmen Leccardi (2018) 'Transformations of cultural norms and values among youth through a gendered perspective' In: Youth at the Margins: Perspectives on Arab Mediterranean Youth. London: Routledge. [Details]
2017
'La fabbrica della conoscenza e della precarietà. Riflessioni da un'autoinchiesta nell'università al tempo della crisi'
Armano E.; Rivetti P.; Busso S. (2017) 'La fabbrica della conoscenza e della precarietà. Riflessioni da un'autoinchiesta nell'università al tempo della crisi' In: Coin F., Giorgi A., e Murgia A (eds). In/disciplinate: soggettività precarie nell'università italiana. Venice: Ca' Foscari University Press. [Details]
2017
'Algeria: Oil and public opinion'
Rivetti P.;Cavatorta F. (2017) 'Algeria: Oil and public opinion' In: Public Brainpower: Civil Society and Natural Resource Management. [DOI] [Details]
2017
'Functions of political trust in authoritarian settings'
Paola Rivetti, Francesco Cavatorta (2017) 'Functions of political trust in authoritarian settings' In: S. Zmerli and T. van der Meer (eds). Handbook on Political Trust. Germany: Edward Elgar Publishing. [Details]
2016
'Divided we stand? The heterogeneous political identities of Iran's 2009-2010 uprisings'
Holliday S.; Rivetti p. (2016) 'Divided we stand? The heterogeneous political identities of Iran's 2009-2010 uprisings' In: Holliday S., Leech P (eds). Political identities and popular uprisings in the Middle East. Lanham: Rowman and Littlefield. [Details]
2015
'Continuity and Change before and after the Uprisings in Tunisia, Egypt and Morocco: Regime Reconfiguration and Policymaking in North Africa'
Rivetti P. (2015) 'Continuity and Change before and after the Uprisings in Tunisia, Egypt and Morocco: Regime Reconfiguration and Policymaking in North Africa' In: Rivetti P. and Di Peri R (eds). Continuity and Change before and after the Uprisings in Tunisia, Egypt and Morocco. London: Routledge. [Details]
2015
'Dublin's boom, burst and slow recovery. Policy variables [in Italian]'
Busso S.; Rivetti P. (2015) 'Dublin's boom, burst and slow recovery. Policy variables [in Italian]' In: De Nardis P (eds). European cities during the crisis: Lisbon, Rome, Dublin and Santander. Rome: Bordeaux Edizioni. [Details]
2013
'Civil society in Iran'
Rivetti P. (2013) 'Civil society in Iran' In: Baracani E., Di Quirico D (eds). Alternatives to Democracy. Non-democratic regimes and the limits of democracy diffusion in Eurasia. Florence: European Academic Press Publishing. [Details]
2013
'Co-opting civil activism in Iran'
Rivetti P. (2013) 'Co-opting civil activism in Iran' In: Aarts P., Cavatorta F (eds). Civil society in Syria and Iran: activism in authoritarian contexts. Boulder CO: Lynne Rienner. [Details]
2012
'The Arab spring and the Iranian winter [in Italian]'
Readelli R.; Rivetti P. (2012) 'The Arab spring and the Iranian winter [in Italian]' In: Mercuri M., Torelli S (eds). The Arab spring. Origins and consequences of the uprisings that are changing the Middle East. Milan: Vita & Pensiero Editrice. [Details]
2012
'Conditional Freedom. The strategies of the precarious workers in universities between agency and constraints [in Italian]'
Busso S,; Rivetti P. (2012) 'Conditional Freedom. The strategies of the precarious workers in universities between agency and constraints [in Italian]' In: Armano E., Murgia A (eds). Maps of precariousness. Forms and processes, social imaginary and subjectivity. Bologna: Odoya. [Details]
2012
'Religion and international relations in the Middle East [in Italian]'
Di Peri R.; Rivetti P. (2012) 'Religion and international relations in the Middle East [in Italian]' In: Coralluzzo W, Ozzano L (eds). Religion and international relations. Turin: UTET Università. [Details]
2010
''Civil Society' in Iran. Notes on consensus, power and politics [in Italian]'
Rivetti P. (2010) ''Civil Society' in Iran. Notes on consensus, power and politics [in Italian]' In: Di Peri R.; Rivetti P (eds). Civil Society Effect. Practices and Rhetoric in Iran, Lebanon, Egypt and Morocco. Rome: Bonanno. [Details]
2010
'Rhetoric on Civil Society. A Cultural Instrument for Counter-power? [in Spanish]'
Busso S.; Rivetti P. (2010) 'Rhetoric on Civil Society. A Cultural Instrument for Counter-power? [in Spanish]' In: Vianello A., Diaz E (eds). Culture and Politics. Towards a culturalist democracy?. Barcelona: Ediciones Fundació CIDOB. [Details]
2015
'The European foreign relations with the Middle East'
Rivetti P.;Cavatorta F. (2015) 'The European foreign relations with the Middle East' In: K.E. Jorgensen, A. Kalland Aarstad, E. Drieskens, K. Laatikainen, B. Tonra (eds). The SAGE Handbook of European Foreign Policy. London: Sage. [DOI] [Details]
2012
'Student movements in the Islamic Republic: shaping the country's politics through the campus'
Rivetti P. (2012) 'Student movements in the Islamic Republic: shaping the country's politics through the campus' In: Rouzbeh Parsi (eds). Iran: a revolutionary republic in transition. Paris: ISS Europe. [Details]
Year
Publication
2017
Transformations of Cultural Norms and Values Among Youth in Arab Mediterranean Countries Through a Gender Perspective [SAHWA scientific paper].
Ilenya Camozzi, Daniela Cherubini, Carmen Leccardi, Paola Rivetti (2017) Transformations of Cultural Norms and Values Among Youth in Arab Mediterranean Countries Through a Gender Perspective [SAHWA scientific paper]. CIDOB/SAHWA project, Barcelona. [Details]
2017
Young women and men of Arab Mediterranean background in Italy: Transnational involvement of second generation youth in the Arab uprisings [SAHWA scientific paper].
Ilenya Camozzi, Daniela Cherubini, Carmen Leccardi, Paola Rivetti (2017) Young women and men of Arab Mediterranean background in Italy: Transnational involvement of second generation youth in the Arab uprisings [SAHWA scientific paper]. CIBOS/SAHWA project, Barcelona. [Details]
2016
European public policies for gender equality in the Arab Mediterranean region [SAHWA policy paper].
Daniela Cherubini, Paola Rivetti, Carmen Leccardi (2016) European public policies for gender equality in the Arab Mediterranean region [SAHWA policy paper]. CIDOB/SAHWA project, Barcelona. [Details]
2015
Institutions, Laws and Practices Hampering Women Engagement (II) [SAHWA background paper].
Daniela Cherubini, Carmen Leccardi, Paola Rivetti (2015) Institutions, Laws and Practices Hampering Women Engagement (II) [SAHWA background paper]. CIDOB/SAHWA project, Barcelona. [Details]
2015
Youth Cultures: Values, Representations and Social Conditions [SAHWA Background Paper].
Ilenya Camozzi, Daniela Cherubini, Carmen Leccardi, Paola Rivetti, Carles Feixa Pàmpols and Jose Sánchez García (2015) Youth Cultures: Values, Representations and Social Conditions [SAHWA Background Paper]. CIDOB/SAHWA project, Barcelona. [Details]
- The government of societies and polities in the Middle East and North Africa from a comparative perspective
- Social and political mobilisations
- Migration in and from the region
- Public policy
- Gender and sexuality