Colleen Murrell
Prof
Contact Details

Gla.Ca126

T: Ext. 5517
E: Colleen.Murrell@dcu.ie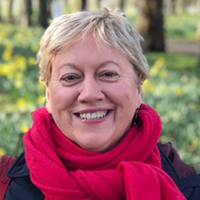 Professor Colleen Murrell researches international news gathering, public service broadcasting, news production and digital and social media. She is currently undertaking research into two projects: philanthropic funding of Australian journalism and foreign correspondence. She teaches audio visual broadcasting and international news and has won several prizes for her teaching and research, including an Australian national citation for teaching excellence and a Deakin VC award for research. She joined DCU in January 2020 after previously working at Monash University, Deakin University and Swinburne University, where she remains an adjunct fellow. In 2021 Colleen will be an external examiner at Queens University, Belfast.
Professor Murrell holds a PhD in media and communications from the University of Melbourne and has held research fellowships at the London School of Economics (2015-16); The University of Oxford - Reuters Institute (2011) and City University (2007). In her previous career she worked as a producer, reporter and news editor for a number of international broadcasters including the BBC, ITN, AP, TF1, CBC and ABC Australia. In these roles she travelled extensively in Europe, and the Middle East.
Colleen is the author of a range of scholarly publications, including the book 'Foreign Correspondents and International Newsgathering: The Role of Fixers' (2015: Routledge). She is currently under contract with Palgrave Macmillan for a monograph (publishing date 2022). She has successfully supervised a number of PhD and Masters by research students and has taught postgraduate research theory and methodology. She is on the editorial boards of the following journals: 'Ethical Space: The International Journal of Communication Ethics'; The Australian Journalism Review'; and 'The Journal of Applied Journalism and Media Studies.' Back in Australia she was also on the executive boards of the Journalism, Education and Research Association of Australia (JERAA), The Junction, national student journalism platform and was the executive editor of Swinburne University's journalism output 'The Standard.' Colleen was a judge for the UNAA Media Awards from 2008-17, and in 2020 was a judge for the Canadian 'Mindset Award for Workplace Mental Health Reporting' and the NewsBrands Ireland Journalism Awards. Colleen speaks fluent French, basic Spanish, and has a rudimentary understanding of Italian and Arabic.
Year
Publication
2015
Foreign Correspondents and International Newsgathering: The Role of Fixers.
Colleen Murrell (2015) Foreign Correspondents and International Newsgathering: The Role of Fixers. New York: Routledge. [Details]
 
Year
Publication
2019
'Foreign Correspondents and Bureaus'
Colleen Murrell (2019) 'Foreign Correspondents and Bureaus' In: Tim P Vos & Folker Hanusch (eds). International Encylopedia of Journalism Studies. USA: John Wiley and Sons, Inc. [DOI] [Details]
2016
'The International newsgathering challenge for public service Australian and Canadian 24/7 Channels'
Colleen Murrell (2016) 'The International newsgathering challenge for public service Australian and Canadian 24/7 Channels' In: Stephen Cushion & Richard Sambrook (eds). The Rise of 24 Hour Television: New Directions, New Challenges. Switzerland: Peter Lang. [Details]
 
Year
Publication
2020
'You need a thick skin in this game: Journalists' attitudes to resilience training as a strategy for combatting online violence'
Martin, F. & Murrell, C. (2020) 'You need a thick skin in this game: Journalists' attitudes to resilience training as a strategy for combatting online violence'. Australian Journalism Review, 42 (1):93-111 [DOI] [Details]
2019
'Ethical Dilemmas in Reporting Terrorist Attacks'
Rupar, V. & Murrell, C. (2019) 'Ethical Dilemmas in Reporting Terrorist Attacks'. Ethical Space, 16 (4):34-41 [Details]
2019
'Fixers as Entrepreneurs'
Murrell, Colleen (2019) 'Fixers as Entrepreneurs'. Journalism Studies, 20 (12):1679-1695 [Details]
2018
''Covering Terrorism Safely in France, Belgium, Russia, Australia the UK and USA'
Murrell, C. & Rupar, V. (2018) ''Covering Terrorism Safely in France, Belgium, Russia, Australia the UK and USA'. Australian Journalism Review, 40 (2):37-53 [Details]
2018
'The global television news agencies and their handling of user generated content video from Syria'
Murrell, Colleen (2018) 'The global television news agencies and their handling of user generated content video from Syria'. Media, War and Conflict, 11 (3):289-308 [DOI] [Details]
2018
'A note from the guest editors'
Baker, Andrea and Murrell, Colleen and Martin, Fiona and others (2018) 'A note from the guest editors'. Australian Journalism Review, 40 (2) [Details]
2016
'The Guardian: Game of Editions'
Murrell, Colleen (2016) 'The Guardian: Game of Editions'. Media@LSE Working Paper Series, 39 :1-25 [Details]
2015
''Fixers, the people behind the foreign correspondents''
Murrell, Colleen (2015) ''Fixers, the people behind the foreign correspondents''. 'Fixers, the people behind the foreign correspondents', :1-1 [Details]
2014
'The vulture club: International newsgathering via Facebook'
Murrell, Colleen and others (2014) 'The vulture club: International newsgathering via Facebook'. Australian Journalism Review, 36 (1) [Details]
2014
'Pommy media causing a stir in Australia'
Murrell, Colleen (2014) 'Pommy media causing a stir in Australia'. POLIS: journalism and society at the LSE, [Details]
2013
'International fixers: Cultural interpreters or'People Like Us'?'
Murrell, Colleen (2013) 'International fixers: Cultural interpreters or'People Like Us'?'. Ethical Space: The International Journal of Communication Ethics, 10 (2/3):72-79 [Details]
2013
'ABC News 24 and BBC World: A study of limited resources and challenging newsgathering'
Murrell, Colleen and others (2013) 'ABC News 24 and BBC World: A study of limited resources and challenging newsgathering'. Australian Journalism Review, 35 (1) [Details]
2012
'Shining a light on TV agency practice [Book Review]'
Murrell, Colleen and others (2012) 'Shining a light on TV agency practice [Book Review]'. Australian Journalism Review, 34 (1) [Details]
2010
'Baghdad bureaux: An exploration of the interconnected world of fixers and correspondents at the BBC and CNN'
Murrell, Colleen (2010) 'Baghdad bureaux: An exploration of the interconnected world of fixers and correspondents at the BBC and CNN'. Media, War \& Conflict, 3 (2):125-137 [Details]
2009
'Fixers and foreign correspondents: News production and autonomy'
Murrell, Colleen and others (2009) 'Fixers and foreign correspondents: News production and autonomy'. Australian Journalism Review, 31 (1) [Details]
2008
'Gatekeepers, going, going, gone-challenge of citizen journalism to traditional practice [Paper in themed articles: Citizen Journalism. Bromley, Michael (ed).]'
Murrell, Colleen and Oakham, Katrina Mandy and others (2008) 'Gatekeepers, going, going, gone-challenge of citizen journalism to traditional practice [Paper in themed articles: Citizen Journalism. Bromley, Michael (ed).]'. Australian Journalism Review, 30 (2) [Details]
1982
'Cultural interpreters or People Like Us?'
Murrell, Colleen (1982) 'Cultural interpreters or People Like Us?'. power, [Details]