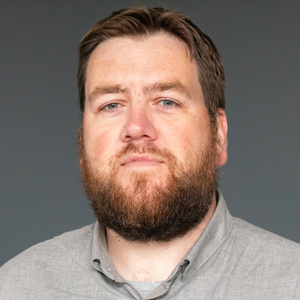 Tom Burke is currently researching a PhD by Artefact with the working title "The Consent Interval: Ethics in Documentary Filmmaking". The project will itself take the form of a documentary film featuring leading practitioners speaking on camera about ethical dilemmas they have encountered while making their work.

Tom has been making film and video projects of varying scales and styles for over a decade. Working primarily in the documentary form, he often assumes a shooting director role, and more often than not will be the editor of his own films. Regardless of format or output medium, the goal is alwaysthe same; telling stories honestly, simply and with respect for those in front of the lens.In 2018, his feature documentary 'Losing Alaska' premiered at the IDFA documentary festival in Amsterdam and is currently touring festivals worldwide. In early 2019, his television documentary 'Shooting the Darkness' premiered to critical acclaim in Ireland, France and Germany and will premiere on the BBC in late 2020.Tom is currently working on a slate of factual projects and is an assistant Professor at Dublin City University where he teaches 'Moving Image' and video production at the School of Communications (@DCU_SoC)
Research Interests
My current PhD by Artefact has the working title "The Consent Interval: Ethics in Documentary Filmmaking". The project will itself take the form of a documentary film featuring leading practitioners speaking on camera about ethical dilemmas they have encountered while making their work.

As a documentary filmmaker I am interested in exploring the ability of that genre to tell complex stories within the constraints of the linear form.



Teaching Interests
I am interested in video production in all its forms. While my own creative practice is primarily in the documentary form, I have also produced a wide array of video material including commercials, promotional videos, music videos, short dramas, art gallery installations and theatrical productions. My aim is to equip all video production students with a strong grasp of first principles: focus, exposure, depth, camera movement, colour, spatial construction, film grammar.

My teaching aims to combine these practical skills with a grounding in both the technological landscape of film/video production (camera specs, file formats, lens choice etc) and the features/evolution of the styles and genres the students may wish to emulate.