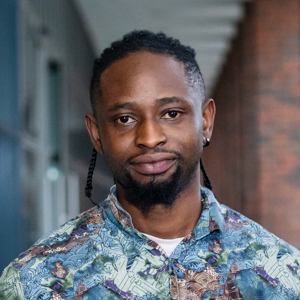 Bashir Otukoya is Assistant Professor in Advanced European Union Law at the School of Law and Government of Dublin City University. His research interests lie in the field of , EU citizenship, national citizenship and constitutionalism, identity and the law, anti-discrimination law, Critical Race Studies, legal philosophy and sociology, globalisation, and the free movement of persons.

Bashir is currently in the final stages of his PhD in the UCD Sutherland School of Law, and also in the UCD School of Politics & International Relations. He holds a BAL an LLB, as well as an LLM in Public Law. In addition, he holds a certificate in Teaching and Learning and is currently undertaking a certificate in Mediatfion. His current research focuses on citizenship, in particular, exploring the politico-legal process of becoming an Irish citizen (by naturalisation), and its influence on the sociological idea of being Irish and a citizen of the European Union.

Over the past few years, Bashir has been visiting researcher at Queen Mary University of London, School of Law, UK; a visiting researcher at the University of Paris II 'Panthéon-Assas', Paris, and the University of Toulouse 1 Capitole, Toulouse, France. In 2019, he was research fellow at the Erasmus School of Law, Rotterdam, Netherlands. Currently, Bashir is undertaking a collaborative research project ("DEmocracy in Crisis: Exploring the CItizen Challenge of DEliberative Democracy in light of the French and Irish Constitutional Experiments (DECIDE2)") with University College Dublin, Ireland and Aix-Marseille University, France.

Bashir is currently affiliated with the Political Studies Association of Ireland, the African Scholars Association of Ireland and the UCD Centre for Human Rights.

Bashir is a member of the national Anti-Racism Committee.

Other Journal
| | Year | Publication |
| --- | --- | --- |
| | 2020 | Bashir Otukoya (2020) 'Autonomous Eurozenship: Addressing the EU Citizenship Tourism Dilemma' 10 . Link |
Published Report
| | Year | Publication |
| --- | --- | --- |
| | 2016 | Bashir Otukoya, Sara Bojarczuk (2016) Integration Roadmap. Dialogue & Diversity, . Link |
Peer Reviewed Journal
| | Year | Publication |
| --- | --- | --- |
| | 2018 | Bashir Otukoya (2018) 'Super Citizens: Defining the Good Character requirement of citizenship acquisition by Naturalisation'. HIBERNIAN LAW JOURNAL, 17 :73-92. Link |
| | 2016 | Otukoya, B.; (2016) 'Bheith Éireannach (Becoming Irish): Privilege or right'. Irish Studies in International Affairs, . |
Certain data included herein are derived from the © Web of Science (2021) of Clarivate. All rights reserved.